{"id":4130454798382,"title":"A2 Home faucet booster shower","handle":"a2-home-faucet-booster-shower","description":"\u003cdiv itemprop=\"offers\" itemscope=\"\" itemtype=\"http:\/\/schema.org\/Offer\"\u003e\u003cform method=\"post\" enctype=\"multipart\/form-data\" class=\"product-single__form\" id=\"AddToCartForm\" action=\"https:\/\/sweetietrends.com\/cart\/add\"\u003e\n\u003cdiv class=\"safelogo\"\u003e\n\u003cdiv class=\"product-single__description rte\" itemprop=\"description\"\u003e\n\u003cp dir=\"ltr\"\u003e\u003cspan\u003e\u003cstrong\u003e\u003cem\u003e[Limited Quantity] -\u003c\/em\u003e\u003c\/strong\u003e\u003cstrong\u003e\u003cem\u003e \u003c\/em\u003e\u003c\/strong\u003e\u003cstrong\u003e\u003cem\u003eWill sell out fast! \u003c\/em\u003e\u003c\/strong\u003e\u003c\/span\u003e\u003c\/p\u003e\n\u003cul\u003e\n\u003cli\u003e\u003cspan\u003e\u003cstrong\u003eShipped within 24 hours\u003c\/strong\u003e\u003c\/span\u003e\u003c\/li\u003e\n\u003cli\u003e\u003cspan\u003e🎯 30-day no risk return policy\u003c\/span\u003e\u003c\/li\u003e\n\u003cli\u003e\u003cstrong\u003e⭐\u003cspan\u003e 99%\u003c\/span\u003e\u003cspan\u003e reviewers recommend this product.\u003c\/span\u003e\u003c\/strong\u003e\u003c\/li\u003e\n\u003cli\u003e\u003cspan\u003e💯 100% Satisfaction Guaranteed\u003c\/span\u003e\u003c\/li\u003e\n\u003c\/ul\u003e\n\u003c\/div\u003e\n\u003ch2\u003e\u003cspan\u003e\u003cstrong\u003eAn Incredible Faucet Spray Head For Your Washing Needs!\u003c\/strong\u003e\u003c\/span\u003e\u003c\/h2\u003e\n\u003c\/div\u003e\n\u003c\/form\u003e\u003c\/div\u003e\n\u003cdiv class=\"product-single__description rte\" itemprop=\"description\"\u003e\n\u003cp\u003e\u003cimg src=\"https:\/\/cdn.shopify.com\/s\/files\/1\/0085\/1043\/9460\/files\/Your-Facebook-Video-fbdown.net_large.gif?v=1563778574\" alt=\"\" width=\"337\" height=\"337\"\u003e\u003c\/p\u003e\n\u003cp\u003eWant to make dishwashing\u003cspan\u003e \u003c\/span\u003e\u003cspan\u003e\u003cstrong\u003eeasier and more convenient?\u003c\/strong\u003e\u003c\/span\u003e\u003c\/p\u003e\n\u003cp\u003eThe\u003cspan\u003e \u003c\/span\u003e\u003cspan\u003e\u003cstrong\u003eSink Spray Tap\u003c\/strong\u003e\u003c\/span\u003e\u003cspan\u003e \u003c\/span\u003e\u003cspan\u003elets you focus the water stream of your kitchen tap for greater control!\u003c\/span\u003e\u003c\/p\u003e\n\u003cp\u003e\u003cspan\u003e\u003cstrong\u003eFeatures 360 degrees rotation\u003c\/strong\u003e,\u003c\/span\u003e\u003cspan\u003e \u003c\/span\u003eit allows you to point the stream of water where you need it!\u003c\/p\u003e\n\u003cp\u003e\u003cspan\u003e\u003cstrong\u003eWith 3 spray modes to select from\u003c\/strong\u003e,\u003c\/span\u003e\u003cspan\u003e \u003c\/span\u003eyou get full control of both the direction and strength!\u003c\/p\u003e\n\u003cp\u003eSelect from Jet, Jet + Shower, and Shower modes!\u003c\/p\u003e\n\u003cp\u003e\u003cspan\u003eYou'll be sure to make your dishwashing experience better!\u003c\/span\u003e\u003c\/p\u003e\n\u003cp\u003e\u003ca data-link=\"\"\u003e\u003cimg alt=\"\" src=\"https:\/\/cdn05.zipify.com\/Vrt1oMnm8NxL7-hEjaC5XMO47t0=\/0x48:500x454\/fit-in\/1080x0\/7d8f9fc93bf0440f81c25a05cd1629cb\/untitled-design-2019-06-28t194133-231.png\" sizes=\"1080px,936px,774px,540px,350px\" srcset=\"https:\/\/cdn05.zipify.com\/QhffS2NtPuAmlHlzB2rDtzQPY8Y=\/0x48:500x454\/fit-in\/350x0\/7d8f9fc93bf0440f81c25a05cd1629cb\/untitled-design-2019-06-28t194133-231.png 350w, https:\/\/cdn05.zipify.com\/jfalXZfABM1gYzWzTyJHdCVJfw0=\/0x48:500x454\/fit-in\/540x0\/7d8f9fc93bf0440f81c25a05cd1629cb\/untitled-design-2019-06-28t194133-231.png 540w, https:\/\/cdn05.zipify.com\/sqTQVaWgIun_zAcfMV-2-PwiW6k=\/0x48:500x454\/fit-in\/774x0\/7d8f9fc93bf0440f81c25a05cd1629cb\/untitled-design-2019-06-28t194133-231.png 774w, https:\/\/cdn05.zipify.com\/9UBdIJRvQzWIySUtctM8z6PGfhg=\/0x48:500x454\/fit-in\/936x0\/7d8f9fc93bf0440f81c25a05cd1629cb\/untitled-design-2019-06-28t194133-231.png 936w, https:\/\/cdn05.zipify.com\/Vrt1oMnm8NxL7-hEjaC5XMO47t0=\/0x48:500x454\/fit-in\/1080x0\/7d8f9fc93bf0440f81c25a05cd1629cb\/untitled-design-2019-06-28t194133-231.png 1080w\" class=\"zpa-img-fluid zp ba-12894966\" data-id=\"12894966\"\u003e\u003c\/a\u003e\u003c\/p\u003e\n\u003cp\u003eThe\u003cspan\u003e \u003c\/span\u003e\u003cspan\u003e\u003cstrong\u003eSink Spray Tap\u003c\/strong\u003e\u003c\/span\u003e\u003cspan\u003e \u003c\/span\u003eis extremely\u003cspan\u003e \u003c\/span\u003e\u003cspan\u003e\u003cstrong\u003eeasy to install and is suitable for most round taps!\u003c\/strong\u003e\u003c\/span\u003e\u003c\/p\u003e\n\u003cp\u003eComes with a white rubber attachment that\u003cspan\u003e \u003c\/span\u003e\u003cspan\u003e\u003cstrong\u003eensures that there is no leakage once installed!\u003c\/strong\u003e\u003c\/span\u003e\u003c\/p\u003e\n\u003cp\u003eExtremely durable, it provides long service life!\u003c\/p\u003e\n\u003cp\u003eThe\u003cspan\u003e \u003c\/span\u003e\u003cspan\u003e\u003cstrong\u003eSink Spray Tap saves energy costs and reduces water usage by up to 70%!\u003c\/strong\u003e\u003c\/span\u003e\u003c\/p\u003e\n\u003cp\u003eAllows for easy and effortless dishwashing and sink cleaning!\u003c\/p\u003e\n\u003cp\u003e\u003cspan\u003eThe \u003cstrong\u003eMoveable Kitchen Tap Head \u003c\/strong\u003ehas been rated the number 1\u003cstrong\u003e \u003c\/strong\u003emust-have\u003cstrong\u003e \u003c\/strong\u003ekitchen tool of 2019.\u003c\/span\u003e\u003c\/p\u003e\n\u003cp\u003e\u003cimg src=\"https:\/\/cdn.shopify.com\/s\/files\/1\/2587\/9754\/files\/001_b5c99668-283e-4f89-b15a-58a02726662f_large.gif?v=1528864204\" alt=\"\" width=\"391\" height=\"291\"\u003e\u003c\/p\u003e\n\u003cp\u003e\u003cspan\u003eIt features a \u003cstrong\u003e360 degrees rotatable\u003c\/strong\u003e tap nozzle and a unique \u003cstrong\u003e3-mode spray\u003c\/strong\u003e function, helping you to clean your sink or wash your food ingredients \u003cstrong\u003eeffortlessly\u003c\/strong\u003e!\u003c\/span\u003e\u003c\/p\u003e\n\u003cp\u003e\u003cimg src=\"https:\/\/cdn.shopify.com\/s\/files\/1\/2587\/9754\/files\/002_691ee15d-8a10-4fed-9d24-2d97e627acee_large.gif?v=1528864263\" alt=\"\" width=\"392\" height=\"291\"\u003e\u003c\/p\u003e\n\u003ch3\u003e\u003cspan\u003e\u003cstrong\u003eFEATURES:\u003c\/strong\u003e\u003c\/span\u003e\u003c\/h3\u003e\n\u003cul\u003e\n\u003cli\u003e3-mode spray: Jet, Jet + Shower and Shower\u003c\/li\u003e\n\u003cli\u003eSuitable for most round taps \u003c\/li\u003e\n\u003cli\u003eEasy to install\u003c\/li\u003e\n\u003cli\u003eReduces energy costs and water usage by up to 70%\u003c\/li\u003e\n\u003cli\u003eExtremely durable\u003c\/li\u003e\n\u003cli\u003e360-Degree Twist and Easy Control\u003c\/li\u003e\n\u003c\/ul\u003e\n\u003cp\u003e\u003cimg src=\"https:\/\/cdn.shopify.com\/s\/files\/1\/2587\/9754\/files\/003_454e933a-d5ac-4bb3-9011-718d4be4d525_large.gif?v=1528866100\" alt=\"\" width=\"388\" height=\"369\"\u003e\u003c\/p\u003e\n\u003ch3\u003e\u003cspan\u003e\u003cstrong\u003eHOW TO USE:\u003c\/strong\u003e\u003c\/span\u003e\u003c\/h3\u003e\n\u003cdiv\u003e\n\u003cstrong\u003e\u003c\/strong\u003e\u003cem\u003eOur customers find it \u003cspan\u003e\u003cstrong\u003every easy to Install\u003c\/strong\u003e.\u003c\/span\u003e\u003cspan\u003e \u003c\/span\u003eThe product comes with a white rubber attachment to fit to your tap to ensure there is no leakage.\u003c\/em\u003e\n\u003c\/div\u003e\n\u003cdiv\u003e\n\u003cp\u003e\u003cem\u003e\u003cimg src=\"https:\/\/cdn.shopify.com\/s\/files\/1\/2587\/9754\/files\/005_dbd81e5d-33ae-4b79-92ba-0bc6608625a8_large.png?v=1528873834\" alt=\"\"\u003e\u003c\/em\u003e\u003c\/p\u003e\n\u003cp\u003e\u003cem\u003eCompatible with most round tap heads. Not compatible with square tap heads.\u003c\/em\u003e\u003c\/p\u003e\n\u003cp\u003e\u003cem\u003e\u003cimg src=\"https:\/\/cdn.shopify.com\/s\/files\/1\/0011\/3980\/2164\/files\/ads444_grande.jpg?v=1528500144\" alt=\"\"\u003e\u003c\/em\u003e\u003c\/p\u003e\n\u003cp\u003e\u003cem\u003eIt's also suitable on these taps too:\u003c\/em\u003e\u003c\/p\u003e\n\u003cp\u003e\u003cem\u003e\u003cimg src=\"https:\/\/cdn.shopify.com\/s\/files\/1\/0011\/3980\/2164\/files\/32_grande.jpg?v=1528501032\" alt=\"\"\u003e\u003c\/em\u003e\u003c\/p\u003e\n\u003c\/div\u003e\n\u003cp\u003e \u003c\/p\u003e\n\u003ch3\u003e\u003cspan\u003e\u003cstrong\u003ePRODUCT DETAILS:\u003c\/strong\u003e\u003c\/span\u003e\u003c\/h3\u003e\n\u003cul class=\"product-packaging-list util-clearfix\"\u003e\n\u003cli\u003e\n\u003cspan\u003eMaterial: ABS\u003c\/span\u003e\u003cbr\u003e\u003cspan\u003eWeight: Long paragraph:73g \/Short paragraph:60g \u003c\/span\u003e\u003cbr\u003e\u003cspan\u003ePackage Size: 10 x 10 x 10 cm \u003c\/span\u003e\u003cbr\u003e\u003cspan\u003eSize: Long paragraph-17mm*55mm\u003c\/span\u003e\u003cbr\u003e\u003cspan\u003e         Short paragraph-85mm*55mm\u003c\/span\u003e\n\u003cul class=\"product-packaging-list util-clearfix\"\u003e\u003c\/ul\u003e\n\u003cstrong\u003e\u003cimg src=\"https:\/\/cdn.shopify.com\/s\/files\/1\/0092\/7137\/8005\/files\/20190820135015_large.jpg?v=1566280278\" alt=\"\"\u003e\u003c\/strong\u003e\n\u003c\/li\u003e\n\u003c\/ul\u003e\n\u003cdiv\u003e\n\u003ch3\u003e\u003cspan\u003e\u003cstrong\u003ePACKAGE INCLUDES:\u003c\/strong\u003e\u003c\/span\u003e\u003c\/h3\u003e\n\u003cdiv class=\"celwidget aplus-module 3p-module-a\" cel_widget_id=\"aplus-3p-module-a\"\u003e\n\u003cdiv class=\"aplus-3p-fixed-width\"\u003e\n\u003cdiv class=\"a-row\"\u003e\n\u003cdiv class=\"a-column a-span4 a-spacing-base a-span-last\"\u003e\n\u003cul class=\"product-packaging-list util-clearfix\"\u003e\u003c\/ul\u003e\n\u003cul\u003e\n\u003cli\u003e\u003cspan\u003e1PC Long paragraph moveable Kitchen Tap Head\u003c\/span\u003e\u003c\/li\u003e\n\u003cli\u003e\u003cspan\u003e1PC Short paragraph moveable Kitchen Tap Head +1PC General purpose\u003c\/span\u003e\u003c\/li\u003e\n\u003cli\u003e\u003cspan\u003e1PC Long paragraph \u0026amp; 1PC  Short paragraph +  ( Free: 2 x General purpose + 2 x Conversion thread +2 x Water stop washer)\u003c\/span\u003e\u003c\/li\u003e\n\u003c\/ul\u003e\n\u003c\/div\u003e\n\u003c\/div\u003e\n\u003c\/div\u003e\n\u003c\/div\u003e\n\u003cp\u003e\u003cimg src=\"https:\/\/cdn.shopify.com\/s\/files\/1\/2587\/9754\/files\/HTB1xHIJoNGYBuNjy0Fnxh45lpXat_1024x1024_5dd89819-f310-489f-a9ff-6754f58d9933_large.jpeg?v=1528864699\" alt=\"\"\u003e\u003c\/p\u003e\n\u003ch3\u003e\u003cspan\u003e\u003cstrong\u003e\u003c\/strong\u003e\u003c\/span\u003e\u003c\/h3\u003e\n\u003c\/div\u003e\n\u003cdiv\u003e\n\u003cul\u003e\n\u003cli\u003e\n\u003cp\u003e\u003cstrong\u003e\u003cb\u003e\u003cspan\u003eSHIPPING \u0026amp; DELIVERY\u003c\/span\u003e\u003c\/b\u003e\u003c\/strong\u003e\u003cstrong\u003e\u003cb\u003e\u003cspan\u003e\u003cbr\u003e\u003c\/span\u003e\u003c\/b\u003e\u003c\/strong\u003eWe processes orders between Monday and Friday. Orders will be processed within 7 business days of ordering and shipped out the next day after the processing day. All orders are shipped with tracking number so you can track it every step of the way!\u003c\/p\u003e\n\u003cp\u003e\u003cimg src=\"https:\/\/cdn.shopify.com\/s\/files\/1\/0237\/6233\/7856\/files\/33333333333f_large.png?v=1560312435\" alt=\"\"\u003e\u003c\/p\u003e\n\u003ch1\u003e\u003cstrong\u003eOUR GUARANTEE\u003c\/strong\u003e\u003c\/h1\u003e\n\u003cp\u003e\u003cspan\u003e📦 \u003cstrong\u003eInsured Worldwide Shipping: \u003c\/strong\u003eEach order includes real-time tracking details and insurance coverage in the unlikely event that a package gets lost or stolen in transit.\u003c\/span\u003e\u003c\/p\u003e\n\u003cp\u003e\u003cspan\u003e💰 \u003cstrong\u003eMoney Back Guarantee: \u003c\/strong\u003eIf your items arrive damaged or becomes defective within 30 days of \u003cem\u003enormal \u003c\/em\u003eusage, we will gladly issue out a replacement or refund.\u003c\/span\u003e\u003c\/p\u003e\n\u003cp\u003e\u003cspan\u003e✉️ \u003cstrong\u003e24\/7 Customer Support: \u003c\/strong\u003eWe have a team of live reps ready to help and answer any questions you have within a 24 hour time frame, 7 days a week.\u003c\/span\u003e\u003c\/p\u003e\n\u003cp\u003e\u003cspan\u003e🔒 \u003cstrong\u003eSafe \u0026amp; Secure Checkouts: \u003c\/strong\u003eWe use state-of-the-art SSL Secure encryption to keep your personal and financial information 100% protected.\u003c\/span\u003e\u003c\/p\u003e\n\u003cp\u003e\u003cspan\u003e\u003cstrong\u003eClick the \"Add to Cart\" button now! \u003cbr\u003eLimited Quantity - Will sell out fast!\u003c\/strong\u003e\u003c\/span\u003e\u003c\/p\u003e\n\u003cp\u003e\u003cspan\u003e\u003cstrong\u003e\u003cimg alt=\"\" src=\"https:\/\/cdn.shopify.com\/s\/files\/1\/0075\/7261\/9323\/files\/LIMITED_STOCk_large.gif?v=1534836902\"\u003e\u003c\/strong\u003e\u003c\/span\u003e\u003c\/p\u003e\n\u003ch3\u003e\u003cspan\u003e\u003cstrong\u003eFind More Products On Our Website: \u003ca href=\"https:\/\/popularbuyonline.com\/\" title=\"www.popularbuyonline.com\" target=\"_blank\" rel=\"noopener noreferrer\"\u003ewww.popularbuyonline.com\u003c\/a\u003e\u003c\/strong\u003e\u003c\/span\u003e\u003c\/h3\u003e\n\u003c\/li\u003e\n\u003c\/ul\u003e\n\u003cdiv class=\"page-full\"\u003e\n\u003cdiv id=\"az_reviews\" class=\"az_reviews\" data-product_id=\"1850023673902\"\u003e\n\u003cdiv class=\"row\"\u003e\n\u003cdiv class=\"large-12 columns main_reviews_container\" data-no-instant=\"\"\u003e\n\u003cdiv class=\"grid-x\"\u003e\n\u003cdiv class=\"large-12 cell main_reviews_titel_div\"\u003e\n\u003cdiv class=\"reviews_main_title\"\u003e\n\u003cp\u003eCustomer Reviews\u003c\/p\u003e\n\u003c\/div\u003e\n\u003c\/div\u003e\n\u003c\/div\u003e\n\u003c\/div\u003e\n\u003c\/div\u003e\n\u003c\/div\u003e\n\u003c\/div\u003e\n\u003c\/div\u003e\n\u003c\/div\u003e","published_at":"2019-09-27T19:16:18+08:00","created_at":"2019-09-27T19:16:21+08:00","vendor":"Popular Buy Online","type":"","tags":["Home \u0026 Garden \u0026 Appliances","Kitchen","Kitchen Tools \u0026 Gadgets"],"price":1630,"price_min":1630,"price_max":1798,"available":true,"price_varies":true,"compare_at_price":2716,"compare_at_price_min":2716,"compare_at_price_max":2996,"compare_at_price_varies":true,"variants":[{"id":30297019383854,"title":"SHORT PARAGRAPH","option1":"SHORT PARAGRAPH","option2":null,"option3":null,"sku":"","requires_shipping":true,"taxable":true,"featured_image":{"id":12811338776622,"product_id":4130454798382,"position":1,"created_at":"2019-09-27T19:16:21+08:00","updated_at":"2020-02-04T20:12:50+08:00","alt":null,"width":563,"height":537,"src":"https:\/\/cdn.shopify.com\/s\/files\/1\/0040\/3374\/0846\/products\/6DCB4589-818C-49f8-A268-B52D3134D103_720x_a62a6a82-ea0a-4590-9601-83c1709b974a.png?v=1580818370","variant_ids":[30297019383854,30297019416622]},"available":true,"name":"A2 Home faucet booster shower - SHORT PARAGRAPH","public_title":"SHORT PARAGRAPH","options":["SHORT PARAGRAPH"],"price":1630,"weight":0,"compare_at_price":2716,"inventory_management":null,"barcode":null,"featured_media":{"alt":null,"id":2379978440750,"position":1,"preview_image":{"aspect_ratio":1.048,"height":537,"width":563,"src":"https:\/\/cdn.shopify.com\/s\/files\/1\/0040\/3374\/0846\/products\/6DCB4589-818C-49f8-A268-B52D3134D103_720x_a62a6a82-ea0a-4590-9601-83c1709b974a.png?v=1580818369"}}},{"id":30297019416622,"title":"SHORT (UPGRADED VERSIO BUY 1 GET 3)","option1":"SHORT (UPGRADED VERSIO BUY 1 GET 3)","option2":null,"option3":null,"sku":"","requires_shipping":true,"taxable":true,"featured_image":{"id":12811338776622,"product_id":4130454798382,"position":1,"created_at":"2019-09-27T19:16:21+08:00","updated_at":"2020-02-04T20:12:50+08:00","alt":null,"width":563,"height":537,"src":"https:\/\/cdn.shopify.com\/s\/files\/1\/0040\/3374\/0846\/products\/6DCB4589-818C-49f8-A268-B52D3134D103_720x_a62a6a82-ea0a-4590-9601-83c1709b974a.png?v=1580818370","variant_ids":[30297019383854,30297019416622]},"available":true,"name":"A2 Home faucet booster shower - SHORT (UPGRADED VERSIO BUY 1 GET 3)","public_title":"SHORT (UPGRADED VERSIO BUY 1 GET 3)","options":["SHORT (UPGRADED VERSIO BUY 1 GET 3)"],"price":1798,"weight":0,"compare_at_price":2996,"inventory_management":null,"barcode":"","featured_media":{"alt":null,"id":2379978440750,"position":1,"preview_image":{"aspect_ratio":1.048,"height":537,"width":563,"src":"https:\/\/cdn.shopify.com\/s\/files\/1\/0040\/3374\/0846\/products\/6DCB4589-818C-49f8-A268-B52D3134D103_720x_a62a6a82-ea0a-4590-9601-83c1709b974a.png?v=1580818369"}}}],"images":["\/\/cdn.shopify.com\/s\/files\/1\/0040\/3374\/0846\/products\/6DCB4589-818C-49f8-A268-B52D3134D103_720x_a62a6a82-ea0a-4590-9601-83c1709b974a.png?v=1580818370","\/\/cdn.shopify.com\/s\/files\/1\/0040\/3374\/0846\/products\/7e70f398-d3a9-48ac-adc7-8672ed36a689_720x_2efc411e-7d0b-4efe-978a-0f646c4493ec.png?v=1580818309","\/\/cdn.shopify.com\/s\/files\/1\/0040\/3374\/0846\/products\/83da9f5b-54b6-4e5d-a65e-58d3be09883e_720x_b8a38223-86f3-4b29-84a4-a946e7974d72.png?v=1580818309","\/\/cdn.shopify.com\/s\/files\/1\/0040\/3374\/0846\/products\/20190821133740_360x_1_f73b0ca9-b9df-48a0-a333-7744cdf7d122.png?v=1580818309","\/\/cdn.shopify.com\/s\/files\/1\/0040\/3374\/0846\/products\/dbb8f57f-9dc8-46b3-a8e6-cdf20c6b8805_720x_ea35873f-da7f-4e49-96aa-249655c67082.png?v=1580818248","\/\/cdn.shopify.com\/s\/files\/1\/0040\/3374\/0846\/products\/f756681b-8a5e-47b6-aef4-ca4d8a50d73a_720x_262be300-4014-42d3-a2ba-55ffc1565c68.png?v=1580818249"],"featured_image":"\/\/cdn.shopify.com\/s\/files\/1\/0040\/3374\/0846\/products\/6DCB4589-818C-49f8-A268-B52D3134D103_720x_a62a6a82-ea0a-4590-9601-83c1709b974a.png?v=1580818370","options":["Package"],"media":[{"alt":null,"id":2379978440750,"position":1,"preview_image":{"aspect_ratio":1.048,"height":537,"width":563,"src":"https:\/\/cdn.shopify.com\/s\/files\/1\/0040\/3374\/0846\/products\/6DCB4589-818C-49f8-A268-B52D3134D103_720x_a62a6a82-ea0a-4590-9601-83c1709b974a.png?v=1580818369"},"aspect_ratio":1.048,"height":537,"media_type":"image","src":"https:\/\/cdn.shopify.com\/s\/files\/1\/0040\/3374\/0846\/products\/6DCB4589-818C-49f8-A268-B52D3134D103_720x_a62a6a82-ea0a-4590-9601-83c1709b974a.png?v=1580818369","width":563},{"alt":null,"id":2379978473518,"position":2,"preview_image":{"aspect_ratio":1.0,"height":720,"width":720,"src":"https:\/\/cdn.shopify.com\/s\/files\/1\/0040\/3374\/0846\/products\/7e70f398-d3a9-48ac-adc7-8672ed36a689_720x_2efc411e-7d0b-4efe-978a-0f646c4493ec.png?v=1580818309"},"aspect_ratio":1.0,"height":720,"media_type":"image","src":"https:\/\/cdn.shopify.com\/s\/files\/1\/0040\/3374\/0846\/products\/7e70f398-d3a9-48ac-adc7-8672ed36a689_720x_2efc411e-7d0b-4efe-978a-0f646c4493ec.png?v=1580818309","width":720},{"alt":null,"id":2379978506286,"position":3,"preview_image":{"aspect_ratio":1.0,"height":720,"width":720,"src":"https:\/\/cdn.shopify.com\/s\/files\/1\/0040\/3374\/0846\/products\/83da9f5b-54b6-4e5d-a65e-58d3be09883e_720x_b8a38223-86f3-4b29-84a4-a946e7974d72.png?v=1580818308"},"aspect_ratio":1.0,"height":720,"media_type":"image","src":"https:\/\/cdn.shopify.com\/s\/files\/1\/0040\/3374\/0846\/products\/83da9f5b-54b6-4e5d-a65e-58d3be09883e_720x_b8a38223-86f3-4b29-84a4-a946e7974d72.png?v=1580818308","width":720},{"alt":null,"id":2379978539054,"position":4,"preview_image":{"aspect_ratio":1.165,"height":194,"width":226,"src":"https:\/\/cdn.shopify.com\/s\/files\/1\/0040\/3374\/0846\/products\/20190821133740_360x_1_f73b0ca9-b9df-48a0-a333-7744cdf7d122.png?v=1580818308"},"aspect_ratio":1.165,"height":194,"media_type":"image","src":"https:\/\/cdn.shopify.com\/s\/files\/1\/0040\/3374\/0846\/products\/20190821133740_360x_1_f73b0ca9-b9df-48a0-a333-7744cdf7d122.png?v=1580818308","width":226},{"alt":null,"id":2379978571822,"position":5,"preview_image":{"aspect_ratio":1.0,"height":590,"width":590,"src":"https:\/\/cdn.shopify.com\/s\/files\/1\/0040\/3374\/0846\/products\/dbb8f57f-9dc8-46b3-a8e6-cdf20c6b8805_720x_ea35873f-da7f-4e49-96aa-249655c67082.png?v=1580818247"},"aspect_ratio":1.0,"height":590,"media_type":"image","src":"https:\/\/cdn.shopify.com\/s\/files\/1\/0040\/3374\/0846\/products\/dbb8f57f-9dc8-46b3-a8e6-cdf20c6b8805_720x_ea35873f-da7f-4e49-96aa-249655c67082.png?v=1580818247","width":590},{"alt":null,"id":2379978604590,"position":6,"preview_image":{"aspect_ratio":1.0,"height":720,"width":720,"src":"https:\/\/cdn.shopify.com\/s\/files\/1\/0040\/3374\/0846\/products\/f756681b-8a5e-47b6-aef4-ca4d8a50d73a_720x_262be300-4014-42d3-a2ba-55ffc1565c68.png?v=1580818249"},"aspect_ratio":1.0,"height":720,"media_type":"image","src":"https:\/\/cdn.shopify.com\/s\/files\/1\/0040\/3374\/0846\/products\/f756681b-8a5e-47b6-aef4-ca4d8a50d73a_720x_262be300-4014-42d3-a2ba-55ffc1565c68.png?v=1580818249","width":720}],"content":"\u003cdiv itemprop=\"offers\" itemscope=\"\" itemtype=\"http:\/\/schema.org\/Offer\"\u003e\u003cform method=\"post\" enctype=\"multipart\/form-data\" class=\"product-single__form\" id=\"AddToCartForm\" action=\"https:\/\/sweetietrends.com\/cart\/add\"\u003e\n\u003cdiv class=\"safelogo\"\u003e\n\u003cdiv class=\"product-single__description rte\" itemprop=\"description\"\u003e\n\u003cp dir=\"ltr\"\u003e\u003cspan\u003e\u003cstrong\u003e\u003cem\u003e[Limited Quantity] -\u003c\/em\u003e\u003c\/strong\u003e\u003cstrong\u003e\u003cem\u003e \u003c\/em\u003e\u003c\/strong\u003e\u003cstrong\u003e\u003cem\u003eWill sell out fast! \u003c\/em\u003e\u003c\/strong\u003e\u003c\/span\u003e\u003c\/p\u003e\n\u003cul\u003e\n\u003cli\u003e\u003cspan\u003e\u003cstrong\u003eShipped within 24 hours\u003c\/strong\u003e\u003c\/span\u003e\u003c\/li\u003e\n\u003cli\u003e\u003cspan\u003e🎯 30-day no risk return policy\u003c\/span\u003e\u003c\/li\u003e\n\u003cli\u003e\u003cstrong\u003e⭐\u003cspan\u003e 99%\u003c\/span\u003e\u003cspan\u003e reviewers recommend this product.\u003c\/span\u003e\u003c\/strong\u003e\u003c\/li\u003e\n\u003cli\u003e\u003cspan\u003e💯 100% Satisfaction Guaranteed\u003c\/span\u003e\u003c\/li\u003e\n\u003c\/ul\u003e\n\u003c\/div\u003e\n\u003ch2\u003e\u003cspan\u003e\u003cstrong\u003eAn Incredible Faucet Spray Head For Your Washing Needs!\u003c\/strong\u003e\u003c\/span\u003e\u003c\/h2\u003e\n\u003c\/div\u003e\n\u003c\/form\u003e\u003c\/div\u003e\n\u003cdiv class=\"product-single__description rte\" itemprop=\"description\"\u003e\n\u003cp\u003e\u003cimg src=\"https:\/\/cdn.shopify.com\/s\/files\/1\/0085\/1043\/9460\/files\/Your-Facebook-Video-fbdown.net_large.gif?v=1563778574\" alt=\"\" width=\"337\" height=\"337\"\u003e\u003c\/p\u003e\n\u003cp\u003eWant to make dishwashing\u003cspan\u003e \u003c\/span\u003e\u003cspan\u003e\u003cstrong\u003eeasier and more convenient?\u003c\/strong\u003e\u003c\/span\u003e\u003c\/p\u003e\n\u003cp\u003eThe\u003cspan\u003e \u003c\/span\u003e\u003cspan\u003e\u003cstrong\u003eSink Spray Tap\u003c\/strong\u003e\u003c\/span\u003e\u003cspan\u003e \u003c\/span\u003e\u003cspan\u003elets you focus the water stream of your kitchen tap for greater control!\u003c\/span\u003e\u003c\/p\u003e\n\u003cp\u003e\u003cspan\u003e\u003cstrong\u003eFeatures 360 degrees rotation\u003c\/strong\u003e,\u003c\/span\u003e\u003cspan\u003e \u003c\/span\u003eit allows you to point the stream of water where you need it!\u003c\/p\u003e\n\u003cp\u003e\u003cspan\u003e\u003cstrong\u003eWith 3 spray modes to select from\u003c\/strong\u003e,\u003c\/span\u003e\u003cspan\u003e \u003c\/span\u003eyou get full control of both the direction and strength!\u003c\/p\u003e\n\u003cp\u003eSelect from Jet, Jet + Shower, and Shower modes!\u003c\/p\u003e\n\u003cp\u003e\u003cspan\u003eYou'll be sure to make your dishwashing experience better!\u003c\/span\u003e\u003c\/p\u003e\n\u003cp\u003e\u003ca data-link=\"\"\u003e\u003cimg alt=\"\" src=\"https:\/\/cdn05.zipify.com\/Vrt1oMnm8NxL7-hEjaC5XMO47t0=\/0x48:500x454\/fit-in\/1080x0\/7d8f9fc93bf0440f81c25a05cd1629cb\/untitled-design-2019-06-28t194133-231.png\" sizes=\"1080px,936px,774px,540px,350px\" srcset=\"https:\/\/cdn05.zipify.com\/QhffS2NtPuAmlHlzB2rDtzQPY8Y=\/0x48:500x454\/fit-in\/350x0\/7d8f9fc93bf0440f81c25a05cd1629cb\/untitled-design-2019-06-28t194133-231.png 350w, https:\/\/cdn05.zipify.com\/jfalXZfABM1gYzWzTyJHdCVJfw0=\/0x48:500x454\/fit-in\/540x0\/7d8f9fc93bf0440f81c25a05cd1629cb\/untitled-design-2019-06-28t194133-231.png 540w, https:\/\/cdn05.zipify.com\/sqTQVaWgIun_zAcfMV-2-PwiW6k=\/0x48:500x454\/fit-in\/774x0\/7d8f9fc93bf0440f81c25a05cd1629cb\/untitled-design-2019-06-28t194133-231.png 774w, https:\/\/cdn05.zipify.com\/9UBdIJRvQzWIySUtctM8z6PGfhg=\/0x48:500x454\/fit-in\/936x0\/7d8f9fc93bf0440f81c25a05cd1629cb\/untitled-design-2019-06-28t194133-231.png 936w, https:\/\/cdn05.zipify.com\/Vrt1oMnm8NxL7-hEjaC5XMO47t0=\/0x48:500x454\/fit-in\/1080x0\/7d8f9fc93bf0440f81c25a05cd1629cb\/untitled-design-2019-06-28t194133-231.png 1080w\" class=\"zpa-img-fluid zp ba-12894966\" data-id=\"12894966\"\u003e\u003c\/a\u003e\u003c\/p\u003e\n\u003cp\u003eThe\u003cspan\u003e \u003c\/span\u003e\u003cspan\u003e\u003cstrong\u003eSink Spray Tap\u003c\/strong\u003e\u003c\/span\u003e\u003cspan\u003e \u003c\/span\u003eis extremely\u003cspan\u003e \u003c\/span\u003e\u003cspan\u003e\u003cstrong\u003eeasy to install and is suitable for most round taps!\u003c\/strong\u003e\u003c\/span\u003e\u003c\/p\u003e\n\u003cp\u003eComes with a white rubber attachment that\u003cspan\u003e \u003c\/span\u003e\u003cspan\u003e\u003cstrong\u003eensures that there is no leakage once installed!\u003c\/strong\u003e\u003c\/span\u003e\u003c\/p\u003e\n\u003cp\u003eExtremely durable, it provides long service life!\u003c\/p\u003e\n\u003cp\u003eThe\u003cspan\u003e \u003c\/span\u003e\u003cspan\u003e\u003cstrong\u003eSink Spray Tap saves energy costs and reduces water usage by up to 70%!\u003c\/strong\u003e\u003c\/span\u003e\u003c\/p\u003e\n\u003cp\u003eAllows for easy and effortless dishwashing and sink cleaning!\u003c\/p\u003e\n\u003cp\u003e\u003cspan\u003eThe \u003cstrong\u003eMoveable Kitchen Tap Head \u003c\/strong\u003ehas been rated the number 1\u003cstrong\u003e \u003c\/strong\u003emust-have\u003cstrong\u003e \u003c\/strong\u003ekitchen tool of 2019.\u003c\/span\u003e\u003c\/p\u003e\n\u003cp\u003e\u003cimg src=\"https:\/\/cdn.shopify.com\/s\/files\/1\/2587\/9754\/files\/001_b5c99668-283e-4f89-b15a-58a02726662f_large.gif?v=1528864204\" alt=\"\" width=\"391\" height=\"291\"\u003e\u003c\/p\u003e\n\u003cp\u003e\u003cspan\u003eIt features a \u003cstrong\u003e360 degrees rotatable\u003c\/strong\u003e tap nozzle and a unique \u003cstrong\u003e3-mode spray\u003c\/strong\u003e function, helping you to clean your sink or wash your food ingredients \u003cstrong\u003eeffortlessly\u003c\/strong\u003e!\u003c\/span\u003e\u003c\/p\u003e\n\u003cp\u003e\u003cimg src=\"https:\/\/cdn.shopify.com\/s\/files\/1\/2587\/9754\/files\/002_691ee15d-8a10-4fed-9d24-2d97e627acee_large.gif?v=1528864263\" alt=\"\" width=\"392\" height=\"291\"\u003e\u003c\/p\u003e\n\u003ch3\u003e\u003cspan\u003e\u003cstrong\u003eFEATURES:\u003c\/strong\u003e\u003c\/span\u003e\u003c\/h3\u003e\n\u003cul\u003e\n\u003cli\u003e3-mode spray: Jet, Jet + Shower and Shower\u003c\/li\u003e\n\u003cli\u003eSuitable for most round taps \u003c\/li\u003e\n\u003cli\u003eEasy to install\u003c\/li\u003e\n\u003cli\u003eReduces energy costs and water usage by up to 70%\u003c\/li\u003e\n\u003cli\u003eExtremely durable\u003c\/li\u003e\n\u003cli\u003e360-Degree Twist and Easy Control\u003c\/li\u003e\n\u003c\/ul\u003e\n\u003cp\u003e\u003cimg src=\"https:\/\/cdn.shopify.com\/s\/files\/1\/2587\/9754\/files\/003_454e933a-d5ac-4bb3-9011-718d4be4d525_large.gif?v=1528866100\" alt=\"\" width=\"388\" height=\"369\"\u003e\u003c\/p\u003e\n\u003ch3\u003e\u003cspan\u003e\u003cstrong\u003eHOW TO USE:\u003c\/strong\u003e\u003c\/span\u003e\u003c\/h3\u003e\n\u003cdiv\u003e\n\u003cstrong\u003e\u003c\/strong\u003e\u003cem\u003eOur customers find it \u003cspan\u003e\u003cstrong\u003every easy to Install\u003c\/strong\u003e.\u003c\/span\u003e\u003cspan\u003e \u003c\/span\u003eThe product comes with a white rubber attachment to fit to your tap to ensure there is no leakage.\u003c\/em\u003e\n\u003c\/div\u003e\n\u003cdiv\u003e\n\u003cp\u003e\u003cem\u003e\u003cimg src=\"https:\/\/cdn.shopify.com\/s\/files\/1\/2587\/9754\/files\/005_dbd81e5d-33ae-4b79-92ba-0bc6608625a8_large.png?v=1528873834\" alt=\"\"\u003e\u003c\/em\u003e\u003c\/p\u003e\n\u003cp\u003e\u003cem\u003eCompatible with most round tap heads. Not compatible with square tap heads.\u003c\/em\u003e\u003c\/p\u003e\n\u003cp\u003e\u003cem\u003e\u003cimg src=\"https:\/\/cdn.shopify.com\/s\/files\/1\/0011\/3980\/2164\/files\/ads444_grande.jpg?v=1528500144\" alt=\"\"\u003e\u003c\/em\u003e\u003c\/p\u003e\n\u003cp\u003e\u003cem\u003eIt's also suitable on these taps too:\u003c\/em\u003e\u003c\/p\u003e\n\u003cp\u003e\u003cem\u003e\u003cimg src=\"https:\/\/cdn.shopify.com\/s\/files\/1\/0011\/3980\/2164\/files\/32_grande.jpg?v=1528501032\" alt=\"\"\u003e\u003c\/em\u003e\u003c\/p\u003e\n\u003c\/div\u003e\n\u003cp\u003e \u003c\/p\u003e\n\u003ch3\u003e\u003cspan\u003e\u003cstrong\u003ePRODUCT DETAILS:\u003c\/strong\u003e\u003c\/span\u003e\u003c\/h3\u003e\n\u003cul class=\"product-packaging-list util-clearfix\"\u003e\n\u003cli\u003e\n\u003cspan\u003eMaterial: ABS\u003c\/span\u003e\u003cbr\u003e\u003cspan\u003eWeight: Long paragraph:73g \/Short paragraph:60g \u003c\/span\u003e\u003cbr\u003e\u003cspan\u003ePackage Size: 10 x 10 x 10 cm \u003c\/span\u003e\u003cbr\u003e\u003cspan\u003eSize: Long paragraph-17mm*55mm\u003c\/span\u003e\u003cbr\u003e\u003cspan\u003e         Short paragraph-85mm*55mm\u003c\/span\u003e\n\u003cul class=\"product-packaging-list util-clearfix\"\u003e\u003c\/ul\u003e\n\u003cstrong\u003e\u003cimg src=\"https:\/\/cdn.shopify.com\/s\/files\/1\/0092\/7137\/8005\/files\/20190820135015_large.jpg?v=1566280278\" alt=\"\"\u003e\u003c\/strong\u003e\n\u003c\/li\u003e\n\u003c\/ul\u003e\n\u003cdiv\u003e\n\u003ch3\u003e\u003cspan\u003e\u003cstrong\u003ePACKAGE INCLUDES:\u003c\/strong\u003e\u003c\/span\u003e\u003c\/h3\u003e\n\u003cdiv class=\"celwidget aplus-module 3p-module-a\" cel_widget_id=\"aplus-3p-module-a\"\u003e\n\u003cdiv class=\"aplus-3p-fixed-width\"\u003e\n\u003cdiv class=\"a-row\"\u003e\n\u003cdiv class=\"a-column a-span4 a-spacing-base a-span-last\"\u003e\n\u003cul class=\"product-packaging-list util-clearfix\"\u003e\u003c\/ul\u003e\n\u003cul\u003e\n\u003cli\u003e\u003cspan\u003e1PC Long paragraph moveable Kitchen Tap Head\u003c\/span\u003e\u003c\/li\u003e\n\u003cli\u003e\u003cspan\u003e1PC Short paragraph moveable Kitchen Tap Head +1PC General purpose\u003c\/span\u003e\u003c\/li\u003e\n\u003cli\u003e\u003cspan\u003e1PC Long paragraph \u0026amp; 1PC  Short paragraph +  ( Free: 2 x General purpose + 2 x Conversion thread +2 x Water stop washer)\u003c\/span\u003e\u003c\/li\u003e\n\u003c\/ul\u003e\n\u003c\/div\u003e\n\u003c\/div\u003e\n\u003c\/div\u003e\n\u003c\/div\u003e\n\u003cp\u003e\u003cimg src=\"https:\/\/cdn.shopify.com\/s\/files\/1\/2587\/9754\/files\/HTB1xHIJoNGYBuNjy0Fnxh45lpXat_1024x1024_5dd89819-f310-489f-a9ff-6754f58d9933_large.jpeg?v=1528864699\" alt=\"\"\u003e\u003c\/p\u003e\n\u003ch3\u003e\u003cspan\u003e\u003cstrong\u003e\u003c\/strong\u003e\u003c\/span\u003e\u003c\/h3\u003e\n\u003c\/div\u003e\n\u003cdiv\u003e\n\u003cul\u003e\n\u003cli\u003e\n\u003cp\u003e\u003cstrong\u003e\u003cb\u003e\u003cspan\u003eSHIPPING \u0026amp; DELIVERY\u003c\/span\u003e\u003c\/b\u003e\u003c\/strong\u003e\u003cstrong\u003e\u003cb\u003e\u003cspan\u003e\u003cbr\u003e\u003c\/span\u003e\u003c\/b\u003e\u003c\/strong\u003eWe processes orders between Monday and Friday. Orders will be processed within 7 business days of ordering and shipped out the next day after the processing day. All orders are shipped with tracking number so you can track it every step of the way!\u003c\/p\u003e\n\u003cp\u003e\u003cimg src=\"https:\/\/cdn.shopify.com\/s\/files\/1\/0237\/6233\/7856\/files\/33333333333f_large.png?v=1560312435\" alt=\"\"\u003e\u003c\/p\u003e\n\u003ch1\u003e\u003cstrong\u003eOUR GUARANTEE\u003c\/strong\u003e\u003c\/h1\u003e\n\u003cp\u003e\u003cspan\u003e📦 \u003cstrong\u003eInsured Worldwide Shipping: \u003c\/strong\u003eEach order includes real-time tracking details and insurance coverage in the unlikely event that a package gets lost or stolen in transit.\u003c\/span\u003e\u003c\/p\u003e\n\u003cp\u003e\u003cspan\u003e💰 \u003cstrong\u003eMoney Back Guarantee: \u003c\/strong\u003eIf your items arrive damaged or becomes defective within 30 days of \u003cem\u003enormal \u003c\/em\u003eusage, we will gladly issue out a replacement or refund.\u003c\/span\u003e\u003c\/p\u003e\n\u003cp\u003e\u003cspan\u003e✉️ \u003cstrong\u003e24\/7 Customer Support: \u003c\/strong\u003eWe have a team of live reps ready to help and answer any questions you have within a 24 hour time frame, 7 days a week.\u003c\/span\u003e\u003c\/p\u003e\n\u003cp\u003e\u003cspan\u003e🔒 \u003cstrong\u003eSafe \u0026amp; Secure Checkouts: \u003c\/strong\u003eWe use state-of-the-art SSL Secure encryption to keep your personal and financial information 100% protected.\u003c\/span\u003e\u003c\/p\u003e\n\u003cp\u003e\u003cspan\u003e\u003cstrong\u003eClick the \"Add to Cart\" button now! \u003cbr\u003eLimited Quantity - Will sell out fast!\u003c\/strong\u003e\u003c\/span\u003e\u003c\/p\u003e\n\u003cp\u003e\u003cspan\u003e\u003cstrong\u003e\u003cimg alt=\"\" src=\"https:\/\/cdn.shopify.com\/s\/files\/1\/0075\/7261\/9323\/files\/LIMITED_STOCk_large.gif?v=1534836902\"\u003e\u003c\/strong\u003e\u003c\/span\u003e\u003c\/p\u003e\n\u003ch3\u003e\u003cspan\u003e\u003cstrong\u003eFind More Products On Our Website: \u003ca href=\"https:\/\/popularbuyonline.com\/\" title=\"www.popularbuyonline.com\" target=\"_blank\" rel=\"noopener noreferrer\"\u003ewww.popularbuyonline.com\u003c\/a\u003e\u003c\/strong\u003e\u003c\/span\u003e\u003c\/h3\u003e\n\u003c\/li\u003e\n\u003c\/ul\u003e\n\u003cdiv class=\"page-full\"\u003e\n\u003cdiv id=\"az_reviews\" class=\"az_reviews\" data-product_id=\"1850023673902\"\u003e\n\u003cdiv class=\"row\"\u003e\n\u003cdiv class=\"large-12 columns main_reviews_container\" data-no-instant=\"\"\u003e\n\u003cdiv class=\"grid-x\"\u003e\n\u003cdiv class=\"large-12 cell main_reviews_titel_div\"\u003e\n\u003cdiv class=\"reviews_main_title\"\u003e\n\u003cp\u003eCustomer Reviews\u003c\/p\u003e\n\u003c\/div\u003e\n\u003c\/div\u003e\n\u003c\/div\u003e\n\u003c\/div\u003e\n\u003c\/div\u003e\n\u003c\/div\u003e\n\u003c\/div\u003e\n\u003c\/div\u003e\n\u003c\/div\u003e"}
A2 Home faucet booster shower
Product Description
Want to make dishwashing easier and more convenient?
The Sink Spray Tap lets you focus the water stream of your kitchen tap for greater control!
Features 360 degrees rotation, it allows you to point the stream of water where you need it!
With 3 spray modes to select from, you get full control of both the direction and strength!
Select from Jet, Jet + Shower, and Shower modes!
You'll be sure to make your dishwashing experience better!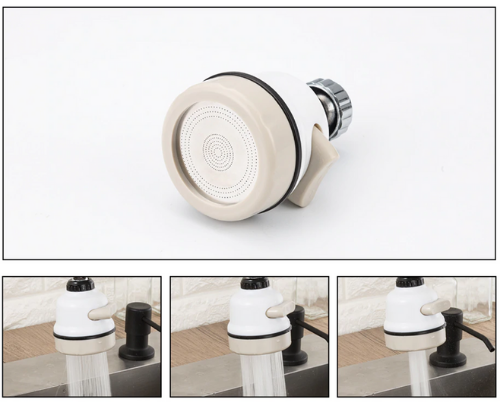 The Sink Spray Tap is extremely easy to install and is suitable for most round taps!
Comes with a white rubber attachment that ensures that there is no leakage once installed!
Extremely durable, it provides long service life!
The Sink Spray Tap saves energy costs and reduces water usage by up to 70%!
Allows for easy and effortless dishwashing and sink cleaning!
The Moveable Kitchen Tap Head has been rated the number 1 must-have kitchen tool of 2019.
It features a 360 degrees rotatable tap nozzle and a unique 3-mode spray function, helping you to clean your sink or wash your food ingredients effortlessly!
FEATURES:
3-mode spray: Jet, Jet + Shower and Shower
Suitable for most round taps 
Easy to install
Reduces energy costs and water usage by up to 70%
Extremely durable
360-Degree Twist and Easy Control
HOW TO USE:
Our customers find it very easy to Install.

 

The product comes with a white rubber attachment to fit to your tap to ensure there is no leakage.
Compatible with most round tap heads. Not compatible with square tap heads.
It's also suitable on these taps too:
PRODUCT DETAILS:
Material: ABS




Weight: Long paragraph:73g /Short paragraph:60g 




Package Size: 10 x 10 x 10 cm 




Size: Long paragraph-17mm*55mm




         Short paragraph-85mm*55mm
PACKAGE INCLUDES:
1PC Long paragraph moveable Kitchen Tap Head

1PC Short paragraph moveable Kitchen Tap Head +1PC General purpose

1PC Long paragraph & 1PC  Short paragraph +  ( Free: 2 x General purpose + 2 x Conversion thread +2 x Water stop washer)
SHIPPING & DELIVERY
We processes orders between Monday and Friday. Orders will be processed within 7 business days of ordering and shipped out the next day after the processing day. All orders are shipped with tracking number so you can track it every step of the way!

OUR GUARANTEE

📦 Insured Worldwide Shipping: Each order includes real-time tracking details and insurance coverage in the unlikely event that a package gets lost or stolen in transit.

💰 Money Back Guarantee: If your items arrive damaged or becomes defective within 30 days of normal usage, we will gladly issue out a replacement or refund.

✉️ 24/7 Customer Support: We have a team of live reps ready to help and answer any questions you have within a 24 hour time frame, 7 days a week.

🔒 Safe & Secure Checkouts: We use state-of-the-art SSL Secure encryption to keep your personal and financial information 100% protected.

Click the "Add to Cart" button now! 
Limited Quantity - Will sell out fast!