{"id":4572565602369,"title":"COSY ANKLE BOOTS (6 Colors)","handle":"cosy-ankle-boots","description":"\u003cp\u003e\"Growing up we only had black or brown loafers or "saddle shoes". I always longed for colored shoes so when I was working I bought shoes in many colors. Usually lovely high heels. Now as a senior I need flat shoes and it is so hard to find colored shoes so I wear a lot of black flats. I am so happy to see colors coming back into our shoes.\"--Lina A.\u003c\/p\u003e\n\u003cp\u003e\u003cstrong\u003eWomen Shoes Size Chart\u003c\/strong\u003e \u003c\/p\u003e\n\u003cdiv id=\"Product-content-shoes-size-chart-us-4506177470507\" class=\"collapsible-content collapsible-content--all is-open\"\u003e\n\u003cdiv class=\"collapsible-content__inner rte\"\u003e\n\u003cp\u003e\u003cimg src=\"https:\/\/cdn.shopify.cn\/s\/files\/1\/0124\/1294\/4443\/files\/shoes-chart-femal-20-G-NEW-07.png?v=1591414789\" width=\"452\" height=\"255\"\u003e\u003c\/p\u003e\n\u003cp\u003eOur shoes fit true to US standard sizing, meaning you should simply order what you normally wear (or which size appears most in your closet).\u003cbr\u003eIf you are between two half sizes (e.g., sometimes 7.5, sometimes 8), we recommend ordering the lower of the two.\u003cbr\u003eYou also can follow the guide here below to measure yourself.\u003c\/p\u003e\n\u003cp\u003e\u003cstrong\u003eHow To Measure\u003c\/strong\u003e :\u003cbr\u003eItem measurements\u003cbr\u003eIf you have any questions about the size, please contact our customer service!\u003cbr\u003eConnect us: services@superladystar.com\u003c\/p\u003e\n\u003cp\u003e\u003cem\u003e\u003cimg src=\"https:\/\/cdn.shopify.com\/s\/files\/1\/0124\/1294\/4443\/files\/shoes-measure_480x480.jpg?v=1557838392\" alt=\"\"\u003e\u003c\/em\u003e\u003c\/p\u003e\n\u003c\/div\u003e\n\u003c\/div\u003e\n\u003cp\u003eWhy not collect them in your shoe cabinet? NOW FREE SHIPPING!\u003c\/p\u003e\n\u003cp\u003eThe boots are soft to the touch made from gorgeous calfskin leather. As you notice the ruching is right here where your feet to naturally flexes and it gives you a little bit more space in here so the boots fit true to size but it is actually a little bit roomy in terms of comfort. \u003c\/p\u003e\n\u003cp\u003eMaterial:\u003cbr\u003e✅Upper: Cowhide Leather\u003cbr\u003e✅Lining: Supple Cowhide Leather \u0026amp; Soft and cozy monochromatic paisley textile lining.\u003cbr\u003e✅Outsole: Wear-resistant rubber\u003cbr\u003e✅Insole: Synthetic leather padded insole.\u003cbr\u003e✅Hardware: Solid brass zipper \u003cbr\u003e\u003cbr\u003eHandcrafted:\u003cbr\u003eCombining supple leather and top-rate technique from skillful craftsmen, to create amazing comfort!\u003cbr\u003e\u003cbr\u003eDetails:\u003cbr\u003e✅Heel Height: 2cm\/0.78 inches\u003cbr\u003e✅Closure Type: Two zippers, Adjustable\u003cbr\u003e\u003cbr\u003ePlease Note:\u003cbr\u003e✅These are handmade products so it may take more time to produce than other shoes.\u003cbr\u003e✅The shoes are genuine leather products that are able to have a little contact with water but they can not be soaked in water for a long time.\u003cbr\u003e✅Handmade products. It takes 10 days to send out after ordering. Please understand!\u003cbr\u003e\u003cbr\u003eThey are super comfortable and yet so unique looking. Wear her with jeans or casual wear, and either way, you will always stand on a stage.\u003c\/p\u003e\n\u003cem\u003eWhere Does Leather Come From?\u003c\/em\u003e\u003cbr\u003e\u003cem\u003eThe cowhide leather is a leftover from the food industry; No animal is killed for your shoes. We are well aware that leather comes from larger animals. However, animals aren't raised in order to give us leather: they're raised for their meat, milk or wool.\u003c\/em\u003e\u003cbr\u003e\u003cem\u003eWhile this might not sound much better to someone who is a vegetarian, the average person can rest easy knowing that the leather was not taken from a cow who was raised and killed just for their hide. \u003c\/em\u003e","published_at":"2020-08-08T15:55:36+08:00","created_at":"2020-08-26T21:11:50+08:00","vendor":"Popular Buy Online","type":"Booties","tags":["_tab_shoes-size-chart-us","Ankle Boots","Booties","New Arrival","new-arrivals","Shoes New","Style_Booties","Type_Booties","Weekly New"],"price":8999,"price_min":8999,"price_max":8999,"available":true,"price_varies":false,"compare_at_price":17898,"compare_at_price_min":17898,"compare_at_price_max":17898,"compare_at_price_varies":false,"variants":[{"id":32166955843649,"title":"US 5 \/ Yellow","option1":"US 5","option2":"Yellow","option3":null,"sku":"20200808-s1-1","requires_shipping":true,"taxable":true,"featured_image":{"id":14801385455681,"product_id":4572565602369,"position":4,"created_at":"2020-08-26T21:11:50+08:00","updated_at":"2020-08-26T21:11:50+08:00","alt":null,"width":1000,"height":1000,"src":"https:\/\/cdn.shopify.com\/s\/files\/1\/0040\/3374\/0846\/products\/200808-s1-4.jpg?v=1598447510","variant_ids":[32166955843649,32166956007489,32166956171329,32166956335169,32166956499009,32166956662849,32166956826689,32166956990529,32166957154369,32166957318209,32166957482049,32166957645889,32166957809729,32166957973569]},"available":true,"name":"COSY ANKLE BOOTS (6 Colors) - US 5 \/ Yellow","public_title":"US 5 \/ Yellow","options":["US 5","Yellow"],"price":8999,"weight":1000,"compare_at_price":17898,"inventory_management":null,"barcode":null,"featured_media":{"alt":null,"id":6974095949889,"position":4,"preview_image":{"aspect_ratio":1.0,"height":1000,"width":1000,"src":"https:\/\/cdn.shopify.com\/s\/files\/1\/0040\/3374\/0846\/products\/200808-s1-4.jpg?v=1598447510"}}},{"id":32166955876417,"title":"US 5 \/ Marine","option1":"US 5","option2":"Marine","option3":null,"sku":"20200808-s1-2","requires_shipping":true,"taxable":true,"featured_image":{"id":14801385553985,"product_id":4572565602369,"position":7,"created_at":"2020-08-26T21:11:50+08:00","updated_at":"2020-08-26T21:11:50+08:00","alt":null,"width":1000,"height":1000,"src":"https:\/\/cdn.shopify.com\/s\/files\/1\/0040\/3374\/0846\/products\/200808-s1-15.jpg?v=1598447510","variant_ids":[32166955876417,32166956040257,32166956204097,32166956367937,32166956531777,32166956695617,32166956859457,32166957023297,32166957187137,32166957350977,32166957514817,32166957678657,32166957842497,32166958006337]},"available":true,"name":"COSY ANKLE BOOTS (6 Colors) - US 5 \/ Marine","public_title":"US 5 \/ Marine","options":["US 5","Marine"],"price":8999,"weight":1000,"compare_at_price":17898,"inventory_management":null,"barcode":null,"featured_media":{"alt":null,"id":6974096048193,"position":7,"preview_image":{"aspect_ratio":1.0,"height":1000,"width":1000,"src":"https:\/\/cdn.shopify.com\/s\/files\/1\/0040\/3374\/0846\/products\/200808-s1-15.jpg?v=1598447510"}}},{"id":32166955909185,"title":"US 5 \/ Red","option1":"US 5","option2":"Red","option3":null,"sku":"20200808-s1-3","requires_shipping":true,"taxable":true,"featured_image":{"id":14801385488449,"product_id":4572565602369,"position":5,"created_at":"2020-08-26T21:11:50+08:00","updated_at":"2020-08-26T21:11:50+08:00","alt":null,"width":1000,"height":1000,"src":"https:\/\/cdn.shopify.com\/s\/files\/1\/0040\/3374\/0846\/products\/200808-s1-11.jpg?v=1598447510","variant_ids":[32166955909185,32166956073025,32166956236865,32166956400705,32166956564545,32166956728385,32166956892225,32166957056065,32166957219905,32166957383745,32166957547585,32166957711425,32166957875265,32166958039105]},"available":true,"name":"COSY ANKLE BOOTS (6 Colors) - US 5 \/ Red","public_title":"US 5 \/ Red","options":["US 5","Red"],"price":8999,"weight":1000,"compare_at_price":17898,"inventory_management":null,"barcode":null,"featured_media":{"alt":null,"id":6974095982657,"position":5,"preview_image":{"aspect_ratio":1.0,"height":1000,"width":1000,"src":"https:\/\/cdn.shopify.com\/s\/files\/1\/0040\/3374\/0846\/products\/200808-s1-11.jpg?v=1598447510"}}},{"id":32166955941953,"title":"US 5 \/ Black","option1":"US 5","option2":"Black","option3":null,"sku":"20200808-s1-4","requires_shipping":true,"taxable":true,"featured_image":{"id":14801385521217,"product_id":4572565602369,"position":6,"created_at":"2020-08-26T21:11:50+08:00","updated_at":"2020-08-26T21:11:50+08:00","alt":null,"width":1000,"height":1000,"src":"https:\/\/cdn.shopify.com\/s\/files\/1\/0040\/3374\/0846\/products\/200808-s1-8.jpg?v=1598447510","variant_ids":[32166955941953,32166956105793,32166956269633,32166956433473,32166956597313,32166956761153,32166956924993,32166957088833,32166957252673,32166957416513,32166957580353,32166957744193,32166957908033,32166958071873]},"available":true,"name":"COSY ANKLE BOOTS (6 Colors) - US 5 \/ Black","public_title":"US 5 \/ Black","options":["US 5","Black"],"price":8999,"weight":1000,"compare_at_price":17898,"inventory_management":null,"barcode":null,"featured_media":{"alt":null,"id":6974096015425,"position":6,"preview_image":{"aspect_ratio":1.0,"height":1000,"width":1000,"src":"https:\/\/cdn.shopify.com\/s\/files\/1\/0040\/3374\/0846\/products\/200808-s1-8.jpg?v=1598447510"}}},{"id":32166955974721,"title":"US 5 \/ Purple","option1":"US 5","option2":"Purple","option3":null,"sku":"20200808-s1-5","requires_shipping":true,"taxable":true,"featured_image":{"id":14801385422913,"product_id":4572565602369,"position":3,"created_at":"2020-08-26T21:11:50+08:00","updated_at":"2020-08-26T21:11:50+08:00","alt":null,"width":1000,"height":1000,"src":"https:\/\/cdn.shopify.com\/s\/files\/1\/0040\/3374\/0846\/products\/200808-s1-1.jpg?v=1598447510","variant_ids":[32166955974721,32166956138561,32166956302401,32166956466241,32166956630081,32166956793921,32166956957761,32166957121601,32166957285441,32166957449281,32166957613121,32166957776961,32166957940801,32166958104641]},"available":true,"name":"COSY ANKLE BOOTS (6 Colors) - US 5 \/ Purple","public_title":"US 5 \/ Purple","options":["US 5","Purple"],"price":8999,"weight":1000,"compare_at_price":17898,"inventory_management":null,"barcode":null,"featured_media":{"alt":null,"id":6974095917121,"position":3,"preview_image":{"aspect_ratio":1.0,"height":1000,"width":1000,"src":"https:\/\/cdn.shopify.com\/s\/files\/1\/0040\/3374\/0846\/products\/200808-s1-1.jpg?v=1598447510"}}},{"id":32166956007489,"title":"US 5.5 \/ Yellow","option1":"US 5.5","option2":"Yellow","option3":null,"sku":"20200808-s1-6","requires_shipping":true,"taxable":true,"featured_image":{"id":14801385455681,"product_id":4572565602369,"position":4,"created_at":"2020-08-26T21:11:50+08:00","updated_at":"2020-08-26T21:11:50+08:00","alt":null,"width":1000,"height":1000,"src":"https:\/\/cdn.shopify.com\/s\/files\/1\/0040\/3374\/0846\/products\/200808-s1-4.jpg?v=1598447510","variant_ids":[32166955843649,32166956007489,32166956171329,32166956335169,32166956499009,32166956662849,32166956826689,32166956990529,32166957154369,32166957318209,32166957482049,32166957645889,32166957809729,32166957973569]},"available":true,"name":"COSY ANKLE BOOTS (6 Colors) - US 5.5 \/ Yellow","public_title":"US 5.5 \/ Yellow","options":["US 5.5","Yellow"],"price":8999,"weight":1000,"compare_at_price":17898,"inventory_management":null,"barcode":null,"featured_media":{"alt":null,"id":6974095949889,"position":4,"preview_image":{"aspect_ratio":1.0,"height":1000,"width":1000,"src":"https:\/\/cdn.shopify.com\/s\/files\/1\/0040\/3374\/0846\/products\/200808-s1-4.jpg?v=1598447510"}}},{"id":32166956040257,"title":"US 5.5 \/ Marine","option1":"US 5.5","option2":"Marine","option3":null,"sku":"20200808-s1-7","requires_shipping":true,"taxable":true,"featured_image":{"id":14801385553985,"product_id":4572565602369,"position":7,"created_at":"2020-08-26T21:11:50+08:00","updated_at":"2020-08-26T21:11:50+08:00","alt":null,"width":1000,"height":1000,"src":"https:\/\/cdn.shopify.com\/s\/files\/1\/0040\/3374\/0846\/products\/200808-s1-15.jpg?v=1598447510","variant_ids":[32166955876417,32166956040257,32166956204097,32166956367937,32166956531777,32166956695617,32166956859457,32166957023297,32166957187137,32166957350977,32166957514817,32166957678657,32166957842497,32166958006337]},"available":true,"name":"COSY ANKLE BOOTS (6 Colors) - US 5.5 \/ Marine","public_title":"US 5.5 \/ Marine","options":["US 5.5","Marine"],"price":8999,"weight":1000,"compare_at_price":17898,"inventory_management":null,"barcode":null,"featured_media":{"alt":null,"id":6974096048193,"position":7,"preview_image":{"aspect_ratio":1.0,"height":1000,"width":1000,"src":"https:\/\/cdn.shopify.com\/s\/files\/1\/0040\/3374\/0846\/products\/200808-s1-15.jpg?v=1598447510"}}},{"id":32166956073025,"title":"US 5.5 \/ Red","option1":"US 5.5","option2":"Red","option3":null,"sku":"20200808-s1-8","requires_shipping":true,"taxable":true,"featured_image":{"id":14801385488449,"product_id":4572565602369,"position":5,"created_at":"2020-08-26T21:11:50+08:00","updated_at":"2020-08-26T21:11:50+08:00","alt":null,"width":1000,"height":1000,"src":"https:\/\/cdn.shopify.com\/s\/files\/1\/0040\/3374\/0846\/products\/200808-s1-11.jpg?v=1598447510","variant_ids":[32166955909185,32166956073025,32166956236865,32166956400705,32166956564545,32166956728385,32166956892225,32166957056065,32166957219905,32166957383745,32166957547585,32166957711425,32166957875265,32166958039105]},"available":true,"name":"COSY ANKLE BOOTS (6 Colors) - US 5.5 \/ Red","public_title":"US 5.5 \/ Red","options":["US 5.5","Red"],"price":8999,"weight":1000,"compare_at_price":17898,"inventory_management":null,"barcode":null,"featured_media":{"alt":null,"id":6974095982657,"position":5,"preview_image":{"aspect_ratio":1.0,"height":1000,"width":1000,"src":"https:\/\/cdn.shopify.com\/s\/files\/1\/0040\/3374\/0846\/products\/200808-s1-11.jpg?v=1598447510"}}},{"id":32166956105793,"title":"US 5.5 \/ Black","option1":"US 5.5","option2":"Black","option3":null,"sku":"20200808-s1-9","requires_shipping":true,"taxable":true,"featured_image":{"id":14801385521217,"product_id":4572565602369,"position":6,"created_at":"2020-08-26T21:11:50+08:00","updated_at":"2020-08-26T21:11:50+08:00","alt":null,"width":1000,"height":1000,"src":"https:\/\/cdn.shopify.com\/s\/files\/1\/0040\/3374\/0846\/products\/200808-s1-8.jpg?v=1598447510","variant_ids":[32166955941953,32166956105793,32166956269633,32166956433473,32166956597313,32166956761153,32166956924993,32166957088833,32166957252673,32166957416513,32166957580353,32166957744193,32166957908033,32166958071873]},"available":true,"name":"COSY ANKLE BOOTS (6 Colors) - US 5.5 \/ Black","public_title":"US 5.5 \/ Black","options":["US 5.5","Black"],"price":8999,"weight":1000,"compare_at_price":17898,"inventory_management":null,"barcode":null,"featured_media":{"alt":null,"id":6974096015425,"position":6,"preview_image":{"aspect_ratio":1.0,"height":1000,"width":1000,"src":"https:\/\/cdn.shopify.com\/s\/files\/1\/0040\/3374\/0846\/products\/200808-s1-8.jpg?v=1598447510"}}},{"id":32166956138561,"title":"US 5.5 \/ Purple","option1":"US 5.5","option2":"Purple","option3":null,"sku":"20200808-s1-10","requires_shipping":true,"taxable":true,"featured_image":{"id":14801385422913,"product_id":4572565602369,"position":3,"created_at":"2020-08-26T21:11:50+08:00","updated_at":"2020-08-26T21:11:50+08:00","alt":null,"width":1000,"height":1000,"src":"https:\/\/cdn.shopify.com\/s\/files\/1\/0040\/3374\/0846\/products\/200808-s1-1.jpg?v=1598447510","variant_ids":[32166955974721,32166956138561,32166956302401,32166956466241,32166956630081,32166956793921,32166956957761,32166957121601,32166957285441,32166957449281,32166957613121,32166957776961,32166957940801,32166958104641]},"available":true,"name":"COSY ANKLE BOOTS (6 Colors) - US 5.5 \/ Purple","public_title":"US 5.5 \/ Purple","options":["US 5.5","Purple"],"price":8999,"weight":1000,"compare_at_price":17898,"inventory_management":null,"barcode":null,"featured_media":{"alt":null,"id":6974095917121,"position":3,"preview_image":{"aspect_ratio":1.0,"height":1000,"width":1000,"src":"https:\/\/cdn.shopify.com\/s\/files\/1\/0040\/3374\/0846\/products\/200808-s1-1.jpg?v=1598447510"}}},{"id":32166956171329,"title":"US 6 \/ Yellow","option1":"US 6","option2":"Yellow","option3":null,"sku":"20200808-s1-11","requires_shipping":true,"taxable":true,"featured_image":{"id":14801385455681,"product_id":4572565602369,"position":4,"created_at":"2020-08-26T21:11:50+08:00","updated_at":"2020-08-26T21:11:50+08:00","alt":null,"width":1000,"height":1000,"src":"https:\/\/cdn.shopify.com\/s\/files\/1\/0040\/3374\/0846\/products\/200808-s1-4.jpg?v=1598447510","variant_ids":[32166955843649,32166956007489,32166956171329,32166956335169,32166956499009,32166956662849,32166956826689,32166956990529,32166957154369,32166957318209,32166957482049,32166957645889,32166957809729,32166957973569]},"available":true,"name":"COSY ANKLE BOOTS (6 Colors) - US 6 \/ Yellow","public_title":"US 6 \/ Yellow","options":["US 6","Yellow"],"price":8999,"weight":1000,"compare_at_price":17898,"inventory_management":null,"barcode":null,"featured_media":{"alt":null,"id":6974095949889,"position":4,"preview_image":{"aspect_ratio":1.0,"height":1000,"width":1000,"src":"https:\/\/cdn.shopify.com\/s\/files\/1\/0040\/3374\/0846\/products\/200808-s1-4.jpg?v=1598447510"}}},{"id":32166956204097,"title":"US 6 \/ Marine","option1":"US 6","option2":"Marine","option3":null,"sku":"20200808-s1-12","requires_shipping":true,"taxable":true,"featured_image":{"id":14801385553985,"product_id":4572565602369,"position":7,"created_at":"2020-08-26T21:11:50+08:00","updated_at":"2020-08-26T21:11:50+08:00","alt":null,"width":1000,"height":1000,"src":"https:\/\/cdn.shopify.com\/s\/files\/1\/0040\/3374\/0846\/products\/200808-s1-15.jpg?v=1598447510","variant_ids":[32166955876417,32166956040257,32166956204097,32166956367937,32166956531777,32166956695617,32166956859457,32166957023297,32166957187137,32166957350977,32166957514817,32166957678657,32166957842497,32166958006337]},"available":true,"name":"COSY ANKLE BOOTS (6 Colors) - US 6 \/ Marine","public_title":"US 6 \/ Marine","options":["US 6","Marine"],"price":8999,"weight":1000,"compare_at_price":17898,"inventory_management":null,"barcode":null,"featured_media":{"alt":null,"id":6974096048193,"position":7,"preview_image":{"aspect_ratio":1.0,"height":1000,"width":1000,"src":"https:\/\/cdn.shopify.com\/s\/files\/1\/0040\/3374\/0846\/products\/200808-s1-15.jpg?v=1598447510"}}},{"id":32166956236865,"title":"US 6 \/ Red","option1":"US 6","option2":"Red","option3":null,"sku":"20200808-s1-13","requires_shipping":true,"taxable":true,"featured_image":{"id":14801385488449,"product_id":4572565602369,"position":5,"created_at":"2020-08-26T21:11:50+08:00","updated_at":"2020-08-26T21:11:50+08:00","alt":null,"width":1000,"height":1000,"src":"https:\/\/cdn.shopify.com\/s\/files\/1\/0040\/3374\/0846\/products\/200808-s1-11.jpg?v=1598447510","variant_ids":[32166955909185,32166956073025,32166956236865,32166956400705,32166956564545,32166956728385,32166956892225,32166957056065,32166957219905,32166957383745,32166957547585,32166957711425,32166957875265,32166958039105]},"available":true,"name":"COSY ANKLE BOOTS (6 Colors) - US 6 \/ Red","public_title":"US 6 \/ Red","options":["US 6","Red"],"price":8999,"weight":1000,"compare_at_price":17898,"inventory_management":null,"barcode":null,"featured_media":{"alt":null,"id":6974095982657,"position":5,"preview_image":{"aspect_ratio":1.0,"height":1000,"width":1000,"src":"https:\/\/cdn.shopify.com\/s\/files\/1\/0040\/3374\/0846\/products\/200808-s1-11.jpg?v=1598447510"}}},{"id":32166956269633,"title":"US 6 \/ Black","option1":"US 6","option2":"Black","option3":null,"sku":"20200808-s1-14","requires_shipping":true,"taxable":true,"featured_image":{"id":14801385521217,"product_id":4572565602369,"position":6,"created_at":"2020-08-26T21:11:50+08:00","updated_at":"2020-08-26T21:11:50+08:00","alt":null,"width":1000,"height":1000,"src":"https:\/\/cdn.shopify.com\/s\/files\/1\/0040\/3374\/0846\/products\/200808-s1-8.jpg?v=1598447510","variant_ids":[32166955941953,32166956105793,32166956269633,32166956433473,32166956597313,32166956761153,32166956924993,32166957088833,32166957252673,32166957416513,32166957580353,32166957744193,32166957908033,32166958071873]},"available":true,"name":"COSY ANKLE BOOTS (6 Colors) - US 6 \/ Black","public_title":"US 6 \/ Black","options":["US 6","Black"],"price":8999,"weight":1000,"compare_at_price":17898,"inventory_management":null,"barcode":null,"featured_media":{"alt":null,"id":6974096015425,"position":6,"preview_image":{"aspect_ratio":1.0,"height":1000,"width":1000,"src":"https:\/\/cdn.shopify.com\/s\/files\/1\/0040\/3374\/0846\/products\/200808-s1-8.jpg?v=1598447510"}}},{"id":32166956302401,"title":"US 6 \/ Purple","option1":"US 6","option2":"Purple","option3":null,"sku":"20200808-s1-15","requires_shipping":true,"taxable":true,"featured_image":{"id":14801385422913,"product_id":4572565602369,"position":3,"created_at":"2020-08-26T21:11:50+08:00","updated_at":"2020-08-26T21:11:50+08:00","alt":null,"width":1000,"height":1000,"src":"https:\/\/cdn.shopify.com\/s\/files\/1\/0040\/3374\/0846\/products\/200808-s1-1.jpg?v=1598447510","variant_ids":[32166955974721,32166956138561,32166956302401,32166956466241,32166956630081,32166956793921,32166956957761,32166957121601,32166957285441,32166957449281,32166957613121,32166957776961,32166957940801,32166958104641]},"available":true,"name":"COSY ANKLE BOOTS (6 Colors) - US 6 \/ Purple","public_title":"US 6 \/ Purple","options":["US 6","Purple"],"price":8999,"weight":1000,"compare_at_price":17898,"inventory_management":null,"barcode":null,"featured_media":{"alt":null,"id":6974095917121,"position":3,"preview_image":{"aspect_ratio":1.0,"height":1000,"width":1000,"src":"https:\/\/cdn.shopify.com\/s\/files\/1\/0040\/3374\/0846\/products\/200808-s1-1.jpg?v=1598447510"}}},{"id":32166956335169,"title":"US 6.5 \/ Yellow","option1":"US 6.5","option2":"Yellow","option3":null,"sku":"20200808-s1-16","requires_shipping":true,"taxable":true,"featured_image":{"id":14801385455681,"product_id":4572565602369,"position":4,"created_at":"2020-08-26T21:11:50+08:00","updated_at":"2020-08-26T21:11:50+08:00","alt":null,"width":1000,"height":1000,"src":"https:\/\/cdn.shopify.com\/s\/files\/1\/0040\/3374\/0846\/products\/200808-s1-4.jpg?v=1598447510","variant_ids":[32166955843649,32166956007489,32166956171329,32166956335169,32166956499009,32166956662849,32166956826689,32166956990529,32166957154369,32166957318209,32166957482049,32166957645889,32166957809729,32166957973569]},"available":true,"name":"COSY ANKLE BOOTS (6 Colors) - US 6.5 \/ Yellow","public_title":"US 6.5 \/ Yellow","options":["US 6.5","Yellow"],"price":8999,"weight":1000,"compare_at_price":17898,"inventory_management":null,"barcode":null,"featured_media":{"alt":null,"id":6974095949889,"position":4,"preview_image":{"aspect_ratio":1.0,"height":1000,"width":1000,"src":"https:\/\/cdn.shopify.com\/s\/files\/1\/0040\/3374\/0846\/products\/200808-s1-4.jpg?v=1598447510"}}},{"id":32166956367937,"title":"US 6.5 \/ Marine","option1":"US 6.5","option2":"Marine","option3":null,"sku":"20200808-s1-17","requires_shipping":true,"taxable":true,"featured_image":{"id":14801385553985,"product_id":4572565602369,"position":7,"created_at":"2020-08-26T21:11:50+08:00","updated_at":"2020-08-26T21:11:50+08:00","alt":null,"width":1000,"height":1000,"src":"https:\/\/cdn.shopify.com\/s\/files\/1\/0040\/3374\/0846\/products\/200808-s1-15.jpg?v=1598447510","variant_ids":[32166955876417,32166956040257,32166956204097,32166956367937,32166956531777,32166956695617,32166956859457,32166957023297,32166957187137,32166957350977,32166957514817,32166957678657,32166957842497,32166958006337]},"available":true,"name":"COSY ANKLE BOOTS (6 Colors) - US 6.5 \/ Marine","public_title":"US 6.5 \/ Marine","options":["US 6.5","Marine"],"price":8999,"weight":1000,"compare_at_price":17898,"inventory_management":null,"barcode":null,"featured_media":{"alt":null,"id":6974096048193,"position":7,"preview_image":{"aspect_ratio":1.0,"height":1000,"width":1000,"src":"https:\/\/cdn.shopify.com\/s\/files\/1\/0040\/3374\/0846\/products\/200808-s1-15.jpg?v=1598447510"}}},{"id":32166956400705,"title":"US 6.5 \/ Red","option1":"US 6.5","option2":"Red","option3":null,"sku":"20200808-s1-18","requires_shipping":true,"taxable":true,"featured_image":{"id":14801385488449,"product_id":4572565602369,"position":5,"created_at":"2020-08-26T21:11:50+08:00","updated_at":"2020-08-26T21:11:50+08:00","alt":null,"width":1000,"height":1000,"src":"https:\/\/cdn.shopify.com\/s\/files\/1\/0040\/3374\/0846\/products\/200808-s1-11.jpg?v=1598447510","variant_ids":[32166955909185,32166956073025,32166956236865,32166956400705,32166956564545,32166956728385,32166956892225,32166957056065,32166957219905,32166957383745,32166957547585,32166957711425,32166957875265,32166958039105]},"available":true,"name":"COSY ANKLE BOOTS (6 Colors) - US 6.5 \/ Red","public_title":"US 6.5 \/ Red","options":["US 6.5","Red"],"price":8999,"weight":1000,"compare_at_price":17898,"inventory_management":null,"barcode":null,"featured_media":{"alt":null,"id":6974095982657,"position":5,"preview_image":{"aspect_ratio":1.0,"height":1000,"width":1000,"src":"https:\/\/cdn.shopify.com\/s\/files\/1\/0040\/3374\/0846\/products\/200808-s1-11.jpg?v=1598447510"}}},{"id":32166956433473,"title":"US 6.5 \/ Black","option1":"US 6.5","option2":"Black","option3":null,"sku":"20200808-s1-19","requires_shipping":true,"taxable":true,"featured_image":{"id":14801385521217,"product_id":4572565602369,"position":6,"created_at":"2020-08-26T21:11:50+08:00","updated_at":"2020-08-26T21:11:50+08:00","alt":null,"width":1000,"height":1000,"src":"https:\/\/cdn.shopify.com\/s\/files\/1\/0040\/3374\/0846\/products\/200808-s1-8.jpg?v=1598447510","variant_ids":[32166955941953,32166956105793,32166956269633,32166956433473,32166956597313,32166956761153,32166956924993,32166957088833,32166957252673,32166957416513,32166957580353,32166957744193,32166957908033,32166958071873]},"available":true,"name":"COSY ANKLE BOOTS (6 Colors) - US 6.5 \/ Black","public_title":"US 6.5 \/ Black","options":["US 6.5","Black"],"price":8999,"weight":1000,"compare_at_price":17898,"inventory_management":null,"barcode":null,"featured_media":{"alt":null,"id":6974096015425,"position":6,"preview_image":{"aspect_ratio":1.0,"height":1000,"width":1000,"src":"https:\/\/cdn.shopify.com\/s\/files\/1\/0040\/3374\/0846\/products\/200808-s1-8.jpg?v=1598447510"}}},{"id":32166956466241,"title":"US 6.5 \/ Purple","option1":"US 6.5","option2":"Purple","option3":null,"sku":"20200808-s1-20","requires_shipping":true,"taxable":true,"featured_image":{"id":14801385422913,"product_id":4572565602369,"position":3,"created_at":"2020-08-26T21:11:50+08:00","updated_at":"2020-08-26T21:11:50+08:00","alt":null,"width":1000,"height":1000,"src":"https:\/\/cdn.shopify.com\/s\/files\/1\/0040\/3374\/0846\/products\/200808-s1-1.jpg?v=1598447510","variant_ids":[32166955974721,32166956138561,32166956302401,32166956466241,32166956630081,32166956793921,32166956957761,32166957121601,32166957285441,32166957449281,32166957613121,32166957776961,32166957940801,32166958104641]},"available":true,"name":"COSY ANKLE BOOTS (6 Colors) - US 6.5 \/ Purple","public_title":"US 6.5 \/ Purple","options":["US 6.5","Purple"],"price":8999,"weight":1000,"compare_at_price":17898,"inventory_management":null,"barcode":null,"featured_media":{"alt":null,"id":6974095917121,"position":3,"preview_image":{"aspect_ratio":1.0,"height":1000,"width":1000,"src":"https:\/\/cdn.shopify.com\/s\/files\/1\/0040\/3374\/0846\/products\/200808-s1-1.jpg?v=1598447510"}}},{"id":32166956499009,"title":"US 7 \/ Yellow","option1":"US 7","option2":"Yellow","option3":null,"sku":"20200808-s1-21","requires_shipping":true,"taxable":true,"featured_image":{"id":14801385455681,"product_id":4572565602369,"position":4,"created_at":"2020-08-26T21:11:50+08:00","updated_at":"2020-08-26T21:11:50+08:00","alt":null,"width":1000,"height":1000,"src":"https:\/\/cdn.shopify.com\/s\/files\/1\/0040\/3374\/0846\/products\/200808-s1-4.jpg?v=1598447510","variant_ids":[32166955843649,32166956007489,32166956171329,32166956335169,32166956499009,32166956662849,32166956826689,32166956990529,32166957154369,32166957318209,32166957482049,32166957645889,32166957809729,32166957973569]},"available":true,"name":"COSY ANKLE BOOTS (6 Colors) - US 7 \/ Yellow","public_title":"US 7 \/ Yellow","options":["US 7","Yellow"],"price":8999,"weight":1000,"compare_at_price":17898,"inventory_management":null,"barcode":null,"featured_media":{"alt":null,"id":6974095949889,"position":4,"preview_image":{"aspect_ratio":1.0,"height":1000,"width":1000,"src":"https:\/\/cdn.shopify.com\/s\/files\/1\/0040\/3374\/0846\/products\/200808-s1-4.jpg?v=1598447510"}}},{"id":32166956531777,"title":"US 7 \/ Marine","option1":"US 7","option2":"Marine","option3":null,"sku":"20200808-s1-22","requires_shipping":true,"taxable":true,"featured_image":{"id":14801385553985,"product_id":4572565602369,"position":7,"created_at":"2020-08-26T21:11:50+08:00","updated_at":"2020-08-26T21:11:50+08:00","alt":null,"width":1000,"height":1000,"src":"https:\/\/cdn.shopify.com\/s\/files\/1\/0040\/3374\/0846\/products\/200808-s1-15.jpg?v=1598447510","variant_ids":[32166955876417,32166956040257,32166956204097,32166956367937,32166956531777,32166956695617,32166956859457,32166957023297,32166957187137,32166957350977,32166957514817,32166957678657,32166957842497,32166958006337]},"available":true,"name":"COSY ANKLE BOOTS (6 Colors) - US 7 \/ Marine","public_title":"US 7 \/ Marine","options":["US 7","Marine"],"price":8999,"weight":1000,"compare_at_price":17898,"inventory_management":null,"barcode":null,"featured_media":{"alt":null,"id":6974096048193,"position":7,"preview_image":{"aspect_ratio":1.0,"height":1000,"width":1000,"src":"https:\/\/cdn.shopify.com\/s\/files\/1\/0040\/3374\/0846\/products\/200808-s1-15.jpg?v=1598447510"}}},{"id":32166956564545,"title":"US 7 \/ Red","option1":"US 7","option2":"Red","option3":null,"sku":"20200808-s1-23","requires_shipping":true,"taxable":true,"featured_image":{"id":14801385488449,"product_id":4572565602369,"position":5,"created_at":"2020-08-26T21:11:50+08:00","updated_at":"2020-08-26T21:11:50+08:00","alt":null,"width":1000,"height":1000,"src":"https:\/\/cdn.shopify.com\/s\/files\/1\/0040\/3374\/0846\/products\/200808-s1-11.jpg?v=1598447510","variant_ids":[32166955909185,32166956073025,32166956236865,32166956400705,32166956564545,32166956728385,32166956892225,32166957056065,32166957219905,32166957383745,32166957547585,32166957711425,32166957875265,32166958039105]},"available":true,"name":"COSY ANKLE BOOTS (6 Colors) - US 7 \/ Red","public_title":"US 7 \/ Red","options":["US 7","Red"],"price":8999,"weight":1000,"compare_at_price":17898,"inventory_management":null,"barcode":null,"featured_media":{"alt":null,"id":6974095982657,"position":5,"preview_image":{"aspect_ratio":1.0,"height":1000,"width":1000,"src":"https:\/\/cdn.shopify.com\/s\/files\/1\/0040\/3374\/0846\/products\/200808-s1-11.jpg?v=1598447510"}}},{"id":32166956597313,"title":"US 7 \/ Black","option1":"US 7","option2":"Black","option3":null,"sku":"20200808-s1-24","requires_shipping":true,"taxable":true,"featured_image":{"id":14801385521217,"product_id":4572565602369,"position":6,"created_at":"2020-08-26T21:11:50+08:00","updated_at":"2020-08-26T21:11:50+08:00","alt":null,"width":1000,"height":1000,"src":"https:\/\/cdn.shopify.com\/s\/files\/1\/0040\/3374\/0846\/products\/200808-s1-8.jpg?v=1598447510","variant_ids":[32166955941953,32166956105793,32166956269633,32166956433473,32166956597313,32166956761153,32166956924993,32166957088833,32166957252673,32166957416513,32166957580353,32166957744193,32166957908033,32166958071873]},"available":true,"name":"COSY ANKLE BOOTS (6 Colors) - US 7 \/ Black","public_title":"US 7 \/ Black","options":["US 7","Black"],"price":8999,"weight":1000,"compare_at_price":17898,"inventory_management":null,"barcode":null,"featured_media":{"alt":null,"id":6974096015425,"position":6,"preview_image":{"aspect_ratio":1.0,"height":1000,"width":1000,"src":"https:\/\/cdn.shopify.com\/s\/files\/1\/0040\/3374\/0846\/products\/200808-s1-8.jpg?v=1598447510"}}},{"id":32166956630081,"title":"US 7 \/ Purple","option1":"US 7","option2":"Purple","option3":null,"sku":"20200808-s1-25","requires_shipping":true,"taxable":true,"featured_image":{"id":14801385422913,"product_id":4572565602369,"position":3,"created_at":"2020-08-26T21:11:50+08:00","updated_at":"2020-08-26T21:11:50+08:00","alt":null,"width":1000,"height":1000,"src":"https:\/\/cdn.shopify.com\/s\/files\/1\/0040\/3374\/0846\/products\/200808-s1-1.jpg?v=1598447510","variant_ids":[32166955974721,32166956138561,32166956302401,32166956466241,32166956630081,32166956793921,32166956957761,32166957121601,32166957285441,32166957449281,32166957613121,32166957776961,32166957940801,32166958104641]},"available":true,"name":"COSY ANKLE BOOTS (6 Colors) - US 7 \/ Purple","public_title":"US 7 \/ Purple","options":["US 7","Purple"],"price":8999,"weight":1000,"compare_at_price":17898,"inventory_management":null,"barcode":null,"featured_media":{"alt":null,"id":6974095917121,"position":3,"preview_image":{"aspect_ratio":1.0,"height":1000,"width":1000,"src":"https:\/\/cdn.shopify.com\/s\/files\/1\/0040\/3374\/0846\/products\/200808-s1-1.jpg?v=1598447510"}}},{"id":32166956662849,"title":"US 7.5 \/ Yellow","option1":"US 7.5","option2":"Yellow","option3":null,"sku":"20200808-s1-26","requires_shipping":true,"taxable":true,"featured_image":{"id":14801385455681,"product_id":4572565602369,"position":4,"created_at":"2020-08-26T21:11:50+08:00","updated_at":"2020-08-26T21:11:50+08:00","alt":null,"width":1000,"height":1000,"src":"https:\/\/cdn.shopify.com\/s\/files\/1\/0040\/3374\/0846\/products\/200808-s1-4.jpg?v=1598447510","variant_ids":[32166955843649,32166956007489,32166956171329,32166956335169,32166956499009,32166956662849,32166956826689,32166956990529,32166957154369,32166957318209,32166957482049,32166957645889,32166957809729,32166957973569]},"available":true,"name":"COSY ANKLE BOOTS (6 Colors) - US 7.5 \/ Yellow","public_title":"US 7.5 \/ Yellow","options":["US 7.5","Yellow"],"price":8999,"weight":1000,"compare_at_price":17898,"inventory_management":null,"barcode":null,"featured_media":{"alt":null,"id":6974095949889,"position":4,"preview_image":{"aspect_ratio":1.0,"height":1000,"width":1000,"src":"https:\/\/cdn.shopify.com\/s\/files\/1\/0040\/3374\/0846\/products\/200808-s1-4.jpg?v=1598447510"}}},{"id":32166956695617,"title":"US 7.5 \/ Marine","option1":"US 7.5","option2":"Marine","option3":null,"sku":"20200808-s1-27","requires_shipping":true,"taxable":true,"featured_image":{"id":14801385553985,"product_id":4572565602369,"position":7,"created_at":"2020-08-26T21:11:50+08:00","updated_at":"2020-08-26T21:11:50+08:00","alt":null,"width":1000,"height":1000,"src":"https:\/\/cdn.shopify.com\/s\/files\/1\/0040\/3374\/0846\/products\/200808-s1-15.jpg?v=1598447510","variant_ids":[32166955876417,32166956040257,32166956204097,32166956367937,32166956531777,32166956695617,32166956859457,32166957023297,32166957187137,32166957350977,32166957514817,32166957678657,32166957842497,32166958006337]},"available":true,"name":"COSY ANKLE BOOTS (6 Colors) - US 7.5 \/ Marine","public_title":"US 7.5 \/ Marine","options":["US 7.5","Marine"],"price":8999,"weight":1000,"compare_at_price":17898,"inventory_management":null,"barcode":null,"featured_media":{"alt":null,"id":6974096048193,"position":7,"preview_image":{"aspect_ratio":1.0,"height":1000,"width":1000,"src":"https:\/\/cdn.shopify.com\/s\/files\/1\/0040\/3374\/0846\/products\/200808-s1-15.jpg?v=1598447510"}}},{"id":32166956728385,"title":"US 7.5 \/ Red","option1":"US 7.5","option2":"Red","option3":null,"sku":"20200808-s1-28","requires_shipping":true,"taxable":true,"featured_image":{"id":14801385488449,"product_id":4572565602369,"position":5,"created_at":"2020-08-26T21:11:50+08:00","updated_at":"2020-08-26T21:11:50+08:00","alt":null,"width":1000,"height":1000,"src":"https:\/\/cdn.shopify.com\/s\/files\/1\/0040\/3374\/0846\/products\/200808-s1-11.jpg?v=1598447510","variant_ids":[32166955909185,32166956073025,32166956236865,32166956400705,32166956564545,32166956728385,32166956892225,32166957056065,32166957219905,32166957383745,32166957547585,32166957711425,32166957875265,32166958039105]},"available":true,"name":"COSY ANKLE BOOTS (6 Colors) - US 7.5 \/ Red","public_title":"US 7.5 \/ Red","options":["US 7.5","Red"],"price":8999,"weight":1000,"compare_at_price":17898,"inventory_management":null,"barcode":null,"featured_media":{"alt":null,"id":6974095982657,"position":5,"preview_image":{"aspect_ratio":1.0,"height":1000,"width":1000,"src":"https:\/\/cdn.shopify.com\/s\/files\/1\/0040\/3374\/0846\/products\/200808-s1-11.jpg?v=1598447510"}}},{"id":32166956761153,"title":"US 7.5 \/ Black","option1":"US 7.5","option2":"Black","option3":null,"sku":"20200808-s1-29","requires_shipping":true,"taxable":true,"featured_image":{"id":14801385521217,"product_id":4572565602369,"position":6,"created_at":"2020-08-26T21:11:50+08:00","updated_at":"2020-08-26T21:11:50+08:00","alt":null,"width":1000,"height":1000,"src":"https:\/\/cdn.shopify.com\/s\/files\/1\/0040\/3374\/0846\/products\/200808-s1-8.jpg?v=1598447510","variant_ids":[32166955941953,32166956105793,32166956269633,32166956433473,32166956597313,32166956761153,32166956924993,32166957088833,32166957252673,32166957416513,32166957580353,32166957744193,32166957908033,32166958071873]},"available":true,"name":"COSY ANKLE BOOTS (6 Colors) - US 7.5 \/ Black","public_title":"US 7.5 \/ Black","options":["US 7.5","Black"],"price":8999,"weight":1000,"compare_at_price":17898,"inventory_management":null,"barcode":null,"featured_media":{"alt":null,"id":6974096015425,"position":6,"preview_image":{"aspect_ratio":1.0,"height":1000,"width":1000,"src":"https:\/\/cdn.shopify.com\/s\/files\/1\/0040\/3374\/0846\/products\/200808-s1-8.jpg?v=1598447510"}}},{"id":32166956793921,"title":"US 7.5 \/ Purple","option1":"US 7.5","option2":"Purple","option3":null,"sku":"20200808-s1-30","requires_shipping":true,"taxable":true,"featured_image":{"id":14801385422913,"product_id":4572565602369,"position":3,"created_at":"2020-08-26T21:11:50+08:00","updated_at":"2020-08-26T21:11:50+08:00","alt":null,"width":1000,"height":1000,"src":"https:\/\/cdn.shopify.com\/s\/files\/1\/0040\/3374\/0846\/products\/200808-s1-1.jpg?v=1598447510","variant_ids":[32166955974721,32166956138561,32166956302401,32166956466241,32166956630081,32166956793921,32166956957761,32166957121601,32166957285441,32166957449281,32166957613121,32166957776961,32166957940801,32166958104641]},"available":true,"name":"COSY ANKLE BOOTS (6 Colors) - US 7.5 \/ Purple","public_title":"US 7.5 \/ Purple","options":["US 7.5","Purple"],"price":8999,"weight":1000,"compare_at_price":17898,"inventory_management":null,"barcode":null,"featured_media":{"alt":null,"id":6974095917121,"position":3,"preview_image":{"aspect_ratio":1.0,"height":1000,"width":1000,"src":"https:\/\/cdn.shopify.com\/s\/files\/1\/0040\/3374\/0846\/products\/200808-s1-1.jpg?v=1598447510"}}},{"id":32166956826689,"title":"US 8 \/ Yellow","option1":"US 8","option2":"Yellow","option3":null,"sku":"20200808-s1-31","requires_shipping":true,"taxable":true,"featured_image":{"id":14801385455681,"product_id":4572565602369,"position":4,"created_at":"2020-08-26T21:11:50+08:00","updated_at":"2020-08-26T21:11:50+08:00","alt":null,"width":1000,"height":1000,"src":"https:\/\/cdn.shopify.com\/s\/files\/1\/0040\/3374\/0846\/products\/200808-s1-4.jpg?v=1598447510","variant_ids":[32166955843649,32166956007489,32166956171329,32166956335169,32166956499009,32166956662849,32166956826689,32166956990529,32166957154369,32166957318209,32166957482049,32166957645889,32166957809729,32166957973569]},"available":true,"name":"COSY ANKLE BOOTS (6 Colors) - US 8 \/ Yellow","public_title":"US 8 \/ Yellow","options":["US 8","Yellow"],"price":8999,"weight":1000,"compare_at_price":17898,"inventory_management":null,"barcode":null,"featured_media":{"alt":null,"id":6974095949889,"position":4,"preview_image":{"aspect_ratio":1.0,"height":1000,"width":1000,"src":"https:\/\/cdn.shopify.com\/s\/files\/1\/0040\/3374\/0846\/products\/200808-s1-4.jpg?v=1598447510"}}},{"id":32166956859457,"title":"US 8 \/ Marine","option1":"US 8","option2":"Marine","option3":null,"sku":"20200808-s1-32","requires_shipping":true,"taxable":true,"featured_image":{"id":14801385553985,"product_id":4572565602369,"position":7,"created_at":"2020-08-26T21:11:50+08:00","updated_at":"2020-08-26T21:11:50+08:00","alt":null,"width":1000,"height":1000,"src":"https:\/\/cdn.shopify.com\/s\/files\/1\/0040\/3374\/0846\/products\/200808-s1-15.jpg?v=1598447510","variant_ids":[32166955876417,32166956040257,32166956204097,32166956367937,32166956531777,32166956695617,32166956859457,32166957023297,32166957187137,32166957350977,32166957514817,32166957678657,32166957842497,32166958006337]},"available":true,"name":"COSY ANKLE BOOTS (6 Colors) - US 8 \/ Marine","public_title":"US 8 \/ Marine","options":["US 8","Marine"],"price":8999,"weight":1000,"compare_at_price":17898,"inventory_management":null,"barcode":null,"featured_media":{"alt":null,"id":6974096048193,"position":7,"preview_image":{"aspect_ratio":1.0,"height":1000,"width":1000,"src":"https:\/\/cdn.shopify.com\/s\/files\/1\/0040\/3374\/0846\/products\/200808-s1-15.jpg?v=1598447510"}}},{"id":32166956892225,"title":"US 8 \/ Red","option1":"US 8","option2":"Red","option3":null,"sku":"20200808-s1-33","requires_shipping":true,"taxable":true,"featured_image":{"id":14801385488449,"product_id":4572565602369,"position":5,"created_at":"2020-08-26T21:11:50+08:00","updated_at":"2020-08-26T21:11:50+08:00","alt":null,"width":1000,"height":1000,"src":"https:\/\/cdn.shopify.com\/s\/files\/1\/0040\/3374\/0846\/products\/200808-s1-11.jpg?v=1598447510","variant_ids":[32166955909185,32166956073025,32166956236865,32166956400705,32166956564545,32166956728385,32166956892225,32166957056065,32166957219905,32166957383745,32166957547585,32166957711425,32166957875265,32166958039105]},"available":true,"name":"COSY ANKLE BOOTS (6 Colors) - US 8 \/ Red","public_title":"US 8 \/ Red","options":["US 8","Red"],"price":8999,"weight":1000,"compare_at_price":17898,"inventory_management":null,"barcode":null,"featured_media":{"alt":null,"id":6974095982657,"position":5,"preview_image":{"aspect_ratio":1.0,"height":1000,"width":1000,"src":"https:\/\/cdn.shopify.com\/s\/files\/1\/0040\/3374\/0846\/products\/200808-s1-11.jpg?v=1598447510"}}},{"id":32166956924993,"title":"US 8 \/ Black","option1":"US 8","option2":"Black","option3":null,"sku":"20200808-s1-34","requires_shipping":true,"taxable":true,"featured_image":{"id":14801385521217,"product_id":4572565602369,"position":6,"created_at":"2020-08-26T21:11:50+08:00","updated_at":"2020-08-26T21:11:50+08:00","alt":null,"width":1000,"height":1000,"src":"https:\/\/cdn.shopify.com\/s\/files\/1\/0040\/3374\/0846\/products\/200808-s1-8.jpg?v=1598447510","variant_ids":[32166955941953,32166956105793,32166956269633,32166956433473,32166956597313,32166956761153,32166956924993,32166957088833,32166957252673,32166957416513,32166957580353,32166957744193,32166957908033,32166958071873]},"available":true,"name":"COSY ANKLE BOOTS (6 Colors) - US 8 \/ Black","public_title":"US 8 \/ Black","options":["US 8","Black"],"price":8999,"weight":1000,"compare_at_price":17898,"inventory_management":null,"barcode":null,"featured_media":{"alt":null,"id":6974096015425,"position":6,"preview_image":{"aspect_ratio":1.0,"height":1000,"width":1000,"src":"https:\/\/cdn.shopify.com\/s\/files\/1\/0040\/3374\/0846\/products\/200808-s1-8.jpg?v=1598447510"}}},{"id":32166956957761,"title":"US 8 \/ Purple","option1":"US 8","option2":"Purple","option3":null,"sku":"20200808-s1-35","requires_shipping":true,"taxable":true,"featured_image":{"id":14801385422913,"product_id":4572565602369,"position":3,"created_at":"2020-08-26T21:11:50+08:00","updated_at":"2020-08-26T21:11:50+08:00","alt":null,"width":1000,"height":1000,"src":"https:\/\/cdn.shopify.com\/s\/files\/1\/0040\/3374\/0846\/products\/200808-s1-1.jpg?v=1598447510","variant_ids":[32166955974721,32166956138561,32166956302401,32166956466241,32166956630081,32166956793921,32166956957761,32166957121601,32166957285441,32166957449281,32166957613121,32166957776961,32166957940801,32166958104641]},"available":true,"name":"COSY ANKLE BOOTS (6 Colors) - US 8 \/ Purple","public_title":"US 8 \/ Purple","options":["US 8","Purple"],"price":8999,"weight":1000,"compare_at_price":17898,"inventory_management":null,"barcode":null,"featured_media":{"alt":null,"id":6974095917121,"position":3,"preview_image":{"aspect_ratio":1.0,"height":1000,"width":1000,"src":"https:\/\/cdn.shopify.com\/s\/files\/1\/0040\/3374\/0846\/products\/200808-s1-1.jpg?v=1598447510"}}},{"id":32166956990529,"title":"US 8.5 \/ Yellow","option1":"US 8.5","option2":"Yellow","option3":null,"sku":"20200808-s1-36","requires_shipping":true,"taxable":true,"featured_image":{"id":14801385455681,"product_id":4572565602369,"position":4,"created_at":"2020-08-26T21:11:50+08:00","updated_at":"2020-08-26T21:11:50+08:00","alt":null,"width":1000,"height":1000,"src":"https:\/\/cdn.shopify.com\/s\/files\/1\/0040\/3374\/0846\/products\/200808-s1-4.jpg?v=1598447510","variant_ids":[32166955843649,32166956007489,32166956171329,32166956335169,32166956499009,32166956662849,32166956826689,32166956990529,32166957154369,32166957318209,32166957482049,32166957645889,32166957809729,32166957973569]},"available":true,"name":"COSY ANKLE BOOTS (6 Colors) - US 8.5 \/ Yellow","public_title":"US 8.5 \/ Yellow","options":["US 8.5","Yellow"],"price":8999,"weight":1000,"compare_at_price":17898,"inventory_management":null,"barcode":null,"featured_media":{"alt":null,"id":6974095949889,"position":4,"preview_image":{"aspect_ratio":1.0,"height":1000,"width":1000,"src":"https:\/\/cdn.shopify.com\/s\/files\/1\/0040\/3374\/0846\/products\/200808-s1-4.jpg?v=1598447510"}}},{"id":32166957023297,"title":"US 8.5 \/ Marine","option1":"US 8.5","option2":"Marine","option3":null,"sku":"20200808-s1-37","requires_shipping":true,"taxable":true,"featured_image":{"id":14801385553985,"product_id":4572565602369,"position":7,"created_at":"2020-08-26T21:11:50+08:00","updated_at":"2020-08-26T21:11:50+08:00","alt":null,"width":1000,"height":1000,"src":"https:\/\/cdn.shopify.com\/s\/files\/1\/0040\/3374\/0846\/products\/200808-s1-15.jpg?v=1598447510","variant_ids":[32166955876417,32166956040257,32166956204097,32166956367937,32166956531777,32166956695617,32166956859457,32166957023297,32166957187137,32166957350977,32166957514817,32166957678657,32166957842497,32166958006337]},"available":true,"name":"COSY ANKLE BOOTS (6 Colors) - US 8.5 \/ Marine","public_title":"US 8.5 \/ Marine","options":["US 8.5","Marine"],"price":8999,"weight":1000,"compare_at_price":17898,"inventory_management":null,"barcode":null,"featured_media":{"alt":null,"id":6974096048193,"position":7,"preview_image":{"aspect_ratio":1.0,"height":1000,"width":1000,"src":"https:\/\/cdn.shopify.com\/s\/files\/1\/0040\/3374\/0846\/products\/200808-s1-15.jpg?v=1598447510"}}},{"id":32166957056065,"title":"US 8.5 \/ Red","option1":"US 8.5","option2":"Red","option3":null,"sku":"20200808-s1-38","requires_shipping":true,"taxable":true,"featured_image":{"id":14801385488449,"product_id":4572565602369,"position":5,"created_at":"2020-08-26T21:11:50+08:00","updated_at":"2020-08-26T21:11:50+08:00","alt":null,"width":1000,"height":1000,"src":"https:\/\/cdn.shopify.com\/s\/files\/1\/0040\/3374\/0846\/products\/200808-s1-11.jpg?v=1598447510","variant_ids":[32166955909185,32166956073025,32166956236865,32166956400705,32166956564545,32166956728385,32166956892225,32166957056065,32166957219905,32166957383745,32166957547585,32166957711425,32166957875265,32166958039105]},"available":true,"name":"COSY ANKLE BOOTS (6 Colors) - US 8.5 \/ Red","public_title":"US 8.5 \/ Red","options":["US 8.5","Red"],"price":8999,"weight":1000,"compare_at_price":17898,"inventory_management":null,"barcode":null,"featured_media":{"alt":null,"id":6974095982657,"position":5,"preview_image":{"aspect_ratio":1.0,"height":1000,"width":1000,"src":"https:\/\/cdn.shopify.com\/s\/files\/1\/0040\/3374\/0846\/products\/200808-s1-11.jpg?v=1598447510"}}},{"id":32166957088833,"title":"US 8.5 \/ Black","option1":"US 8.5","option2":"Black","option3":null,"sku":"20200808-s1-39","requires_shipping":true,"taxable":true,"featured_image":{"id":14801385521217,"product_id":4572565602369,"position":6,"created_at":"2020-08-26T21:11:50+08:00","updated_at":"2020-08-26T21:11:50+08:00","alt":null,"width":1000,"height":1000,"src":"https:\/\/cdn.shopify.com\/s\/files\/1\/0040\/3374\/0846\/products\/200808-s1-8.jpg?v=1598447510","variant_ids":[32166955941953,32166956105793,32166956269633,32166956433473,32166956597313,32166956761153,32166956924993,32166957088833,32166957252673,32166957416513,32166957580353,32166957744193,32166957908033,32166958071873]},"available":true,"name":"COSY ANKLE BOOTS (6 Colors) - US 8.5 \/ Black","public_title":"US 8.5 \/ Black","options":["US 8.5","Black"],"price":8999,"weight":1000,"compare_at_price":17898,"inventory_management":null,"barcode":null,"featured_media":{"alt":null,"id":6974096015425,"position":6,"preview_image":{"aspect_ratio":1.0,"height":1000,"width":1000,"src":"https:\/\/cdn.shopify.com\/s\/files\/1\/0040\/3374\/0846\/products\/200808-s1-8.jpg?v=1598447510"}}},{"id":32166957121601,"title":"US 8.5 \/ Purple","option1":"US 8.5","option2":"Purple","option3":null,"sku":"20200808-s1-40","requires_shipping":true,"taxable":true,"featured_image":{"id":14801385422913,"product_id":4572565602369,"position":3,"created_at":"2020-08-26T21:11:50+08:00","updated_at":"2020-08-26T21:11:50+08:00","alt":null,"width":1000,"height":1000,"src":"https:\/\/cdn.shopify.com\/s\/files\/1\/0040\/3374\/0846\/products\/200808-s1-1.jpg?v=1598447510","variant_ids":[32166955974721,32166956138561,32166956302401,32166956466241,32166956630081,32166956793921,32166956957761,32166957121601,32166957285441,32166957449281,32166957613121,32166957776961,32166957940801,32166958104641]},"available":true,"name":"COSY ANKLE BOOTS (6 Colors) - US 8.5 \/ Purple","public_title":"US 8.5 \/ Purple","options":["US 8.5","Purple"],"price":8999,"weight":1000,"compare_at_price":17898,"inventory_management":null,"barcode":null,"featured_media":{"alt":null,"id":6974095917121,"position":3,"preview_image":{"aspect_ratio":1.0,"height":1000,"width":1000,"src":"https:\/\/cdn.shopify.com\/s\/files\/1\/0040\/3374\/0846\/products\/200808-s1-1.jpg?v=1598447510"}}},{"id":32166957154369,"title":"US 9 \/ Yellow","option1":"US 9","option2":"Yellow","option3":null,"sku":"20200808-s1-41","requires_shipping":true,"taxable":true,"featured_image":{"id":14801385455681,"product_id":4572565602369,"position":4,"created_at":"2020-08-26T21:11:50+08:00","updated_at":"2020-08-26T21:11:50+08:00","alt":null,"width":1000,"height":1000,"src":"https:\/\/cdn.shopify.com\/s\/files\/1\/0040\/3374\/0846\/products\/200808-s1-4.jpg?v=1598447510","variant_ids":[32166955843649,32166956007489,32166956171329,32166956335169,32166956499009,32166956662849,32166956826689,32166956990529,32166957154369,32166957318209,32166957482049,32166957645889,32166957809729,32166957973569]},"available":true,"name":"COSY ANKLE BOOTS (6 Colors) - US 9 \/ Yellow","public_title":"US 9 \/ Yellow","options":["US 9","Yellow"],"price":8999,"weight":1000,"compare_at_price":17898,"inventory_management":null,"barcode":null,"featured_media":{"alt":null,"id":6974095949889,"position":4,"preview_image":{"aspect_ratio":1.0,"height":1000,"width":1000,"src":"https:\/\/cdn.shopify.com\/s\/files\/1\/0040\/3374\/0846\/products\/200808-s1-4.jpg?v=1598447510"}}},{"id":32166957187137,"title":"US 9 \/ Marine","option1":"US 9","option2":"Marine","option3":null,"sku":"20200808-s1-42","requires_shipping":true,"taxable":true,"featured_image":{"id":14801385553985,"product_id":4572565602369,"position":7,"created_at":"2020-08-26T21:11:50+08:00","updated_at":"2020-08-26T21:11:50+08:00","alt":null,"width":1000,"height":1000,"src":"https:\/\/cdn.shopify.com\/s\/files\/1\/0040\/3374\/0846\/products\/200808-s1-15.jpg?v=1598447510","variant_ids":[32166955876417,32166956040257,32166956204097,32166956367937,32166956531777,32166956695617,32166956859457,32166957023297,32166957187137,32166957350977,32166957514817,32166957678657,32166957842497,32166958006337]},"available":true,"name":"COSY ANKLE BOOTS (6 Colors) - US 9 \/ Marine","public_title":"US 9 \/ Marine","options":["US 9","Marine"],"price":8999,"weight":1000,"compare_at_price":17898,"inventory_management":null,"barcode":null,"featured_media":{"alt":null,"id":6974096048193,"position":7,"preview_image":{"aspect_ratio":1.0,"height":1000,"width":1000,"src":"https:\/\/cdn.shopify.com\/s\/files\/1\/0040\/3374\/0846\/products\/200808-s1-15.jpg?v=1598447510"}}},{"id":32166957219905,"title":"US 9 \/ Red","option1":"US 9","option2":"Red","option3":null,"sku":"20200808-s1-43","requires_shipping":true,"taxable":true,"featured_image":{"id":14801385488449,"product_id":4572565602369,"position":5,"created_at":"2020-08-26T21:11:50+08:00","updated_at":"2020-08-26T21:11:50+08:00","alt":null,"width":1000,"height":1000,"src":"https:\/\/cdn.shopify.com\/s\/files\/1\/0040\/3374\/0846\/products\/200808-s1-11.jpg?v=1598447510","variant_ids":[32166955909185,32166956073025,32166956236865,32166956400705,32166956564545,32166956728385,32166956892225,32166957056065,32166957219905,32166957383745,32166957547585,32166957711425,32166957875265,32166958039105]},"available":true,"name":"COSY ANKLE BOOTS (6 Colors) - US 9 \/ Red","public_title":"US 9 \/ Red","options":["US 9","Red"],"price":8999,"weight":1000,"compare_at_price":17898,"inventory_management":null,"barcode":null,"featured_media":{"alt":null,"id":6974095982657,"position":5,"preview_image":{"aspect_ratio":1.0,"height":1000,"width":1000,"src":"https:\/\/cdn.shopify.com\/s\/files\/1\/0040\/3374\/0846\/products\/200808-s1-11.jpg?v=1598447510"}}},{"id":32166957252673,"title":"US 9 \/ Black","option1":"US 9","option2":"Black","option3":null,"sku":"20200808-s1-44","requires_shipping":true,"taxable":true,"featured_image":{"id":14801385521217,"product_id":4572565602369,"position":6,"created_at":"2020-08-26T21:11:50+08:00","updated_at":"2020-08-26T21:11:50+08:00","alt":null,"width":1000,"height":1000,"src":"https:\/\/cdn.shopify.com\/s\/files\/1\/0040\/3374\/0846\/products\/200808-s1-8.jpg?v=1598447510","variant_ids":[32166955941953,32166956105793,32166956269633,32166956433473,32166956597313,32166956761153,32166956924993,32166957088833,32166957252673,32166957416513,32166957580353,32166957744193,32166957908033,32166958071873]},"available":true,"name":"COSY ANKLE BOOTS (6 Colors) - US 9 \/ Black","public_title":"US 9 \/ Black","options":["US 9","Black"],"price":8999,"weight":1000,"compare_at_price":17898,"inventory_management":null,"barcode":null,"featured_media":{"alt":null,"id":6974096015425,"position":6,"preview_image":{"aspect_ratio":1.0,"height":1000,"width":1000,"src":"https:\/\/cdn.shopify.com\/s\/files\/1\/0040\/3374\/0846\/products\/200808-s1-8.jpg?v=1598447510"}}},{"id":32166957285441,"title":"US 9 \/ Purple","option1":"US 9","option2":"Purple","option3":null,"sku":"20200808-s1-45","requires_shipping":true,"taxable":true,"featured_image":{"id":14801385422913,"product_id":4572565602369,"position":3,"created_at":"2020-08-26T21:11:50+08:00","updated_at":"2020-08-26T21:11:50+08:00","alt":null,"width":1000,"height":1000,"src":"https:\/\/cdn.shopify.com\/s\/files\/1\/0040\/3374\/0846\/products\/200808-s1-1.jpg?v=1598447510","variant_ids":[32166955974721,32166956138561,32166956302401,32166956466241,32166956630081,32166956793921,32166956957761,32166957121601,32166957285441,32166957449281,32166957613121,32166957776961,32166957940801,32166958104641]},"available":true,"name":"COSY ANKLE BOOTS (6 Colors) - US 9 \/ Purple","public_title":"US 9 \/ Purple","options":["US 9","Purple"],"price":8999,"weight":1000,"compare_at_price":17898,"inventory_management":null,"barcode":null,"featured_media":{"alt":null,"id":6974095917121,"position":3,"preview_image":{"aspect_ratio":1.0,"height":1000,"width":1000,"src":"https:\/\/cdn.shopify.com\/s\/files\/1\/0040\/3374\/0846\/products\/200808-s1-1.jpg?v=1598447510"}}},{"id":32166957318209,"title":"US 9.5 \/ Yellow","option1":"US 9.5","option2":"Yellow","option3":null,"sku":"20200808-s1-46","requires_shipping":true,"taxable":true,"featured_image":{"id":14801385455681,"product_id":4572565602369,"position":4,"created_at":"2020-08-26T21:11:50+08:00","updated_at":"2020-08-26T21:11:50+08:00","alt":null,"width":1000,"height":1000,"src":"https:\/\/cdn.shopify.com\/s\/files\/1\/0040\/3374\/0846\/products\/200808-s1-4.jpg?v=1598447510","variant_ids":[32166955843649,32166956007489,32166956171329,32166956335169,32166956499009,32166956662849,32166956826689,32166956990529,32166957154369,32166957318209,32166957482049,32166957645889,32166957809729,32166957973569]},"available":true,"name":"COSY ANKLE BOOTS (6 Colors) - US 9.5 \/ Yellow","public_title":"US 9.5 \/ Yellow","options":["US 9.5","Yellow"],"price":8999,"weight":1000,"compare_at_price":17898,"inventory_management":null,"barcode":null,"featured_media":{"alt":null,"id":6974095949889,"position":4,"preview_image":{"aspect_ratio":1.0,"height":1000,"width":1000,"src":"https:\/\/cdn.shopify.com\/s\/files\/1\/0040\/3374\/0846\/products\/200808-s1-4.jpg?v=1598447510"}}},{"id":32166957350977,"title":"US 9.5 \/ Marine","option1":"US 9.5","option2":"Marine","option3":null,"sku":"20200808-s1-47","requires_shipping":true,"taxable":true,"featured_image":{"id":14801385553985,"product_id":4572565602369,"position":7,"created_at":"2020-08-26T21:11:50+08:00","updated_at":"2020-08-26T21:11:50+08:00","alt":null,"width":1000,"height":1000,"src":"https:\/\/cdn.shopify.com\/s\/files\/1\/0040\/3374\/0846\/products\/200808-s1-15.jpg?v=1598447510","variant_ids":[32166955876417,32166956040257,32166956204097,32166956367937,32166956531777,32166956695617,32166956859457,32166957023297,32166957187137,32166957350977,32166957514817,32166957678657,32166957842497,32166958006337]},"available":true,"name":"COSY ANKLE BOOTS (6 Colors) - US 9.5 \/ Marine","public_title":"US 9.5 \/ Marine","options":["US 9.5","Marine"],"price":8999,"weight":1000,"compare_at_price":17898,"inventory_management":null,"barcode":null,"featured_media":{"alt":null,"id":6974096048193,"position":7,"preview_image":{"aspect_ratio":1.0,"height":1000,"width":1000,"src":"https:\/\/cdn.shopify.com\/s\/files\/1\/0040\/3374\/0846\/products\/200808-s1-15.jpg?v=1598447510"}}},{"id":32166957383745,"title":"US 9.5 \/ Red","option1":"US 9.5","option2":"Red","option3":null,"sku":"20200808-s1-48","requires_shipping":true,"taxable":true,"featured_image":{"id":14801385488449,"product_id":4572565602369,"position":5,"created_at":"2020-08-26T21:11:50+08:00","updated_at":"2020-08-26T21:11:50+08:00","alt":null,"width":1000,"height":1000,"src":"https:\/\/cdn.shopify.com\/s\/files\/1\/0040\/3374\/0846\/products\/200808-s1-11.jpg?v=1598447510","variant_ids":[32166955909185,32166956073025,32166956236865,32166956400705,32166956564545,32166956728385,32166956892225,32166957056065,32166957219905,32166957383745,32166957547585,32166957711425,32166957875265,32166958039105]},"available":true,"name":"COSY ANKLE BOOTS (6 Colors) - US 9.5 \/ Red","public_title":"US 9.5 \/ Red","options":["US 9.5","Red"],"price":8999,"weight":1000,"compare_at_price":17898,"inventory_management":null,"barcode":null,"featured_media":{"alt":null,"id":6974095982657,"position":5,"preview_image":{"aspect_ratio":1.0,"height":1000,"width":1000,"src":"https:\/\/cdn.shopify.com\/s\/files\/1\/0040\/3374\/0846\/products\/200808-s1-11.jpg?v=1598447510"}}},{"id":32166957416513,"title":"US 9.5 \/ Black","option1":"US 9.5","option2":"Black","option3":null,"sku":"20200808-s1-49","requires_shipping":true,"taxable":true,"featured_image":{"id":14801385521217,"product_id":4572565602369,"position":6,"created_at":"2020-08-26T21:11:50+08:00","updated_at":"2020-08-26T21:11:50+08:00","alt":null,"width":1000,"height":1000,"src":"https:\/\/cdn.shopify.com\/s\/files\/1\/0040\/3374\/0846\/products\/200808-s1-8.jpg?v=1598447510","variant_ids":[32166955941953,32166956105793,32166956269633,32166956433473,32166956597313,32166956761153,32166956924993,32166957088833,32166957252673,32166957416513,32166957580353,32166957744193,32166957908033,32166958071873]},"available":true,"name":"COSY ANKLE BOOTS (6 Colors) - US 9.5 \/ Black","public_title":"US 9.5 \/ Black","options":["US 9.5","Black"],"price":8999,"weight":1000,"compare_at_price":17898,"inventory_management":null,"barcode":null,"featured_media":{"alt":null,"id":6974096015425,"position":6,"preview_image":{"aspect_ratio":1.0,"height":1000,"width":1000,"src":"https:\/\/cdn.shopify.com\/s\/files\/1\/0040\/3374\/0846\/products\/200808-s1-8.jpg?v=1598447510"}}},{"id":32166957449281,"title":"US 9.5 \/ Purple","option1":"US 9.5","option2":"Purple","option3":null,"sku":"20200808-s1-50","requires_shipping":true,"taxable":true,"featured_image":{"id":14801385422913,"product_id":4572565602369,"position":3,"created_at":"2020-08-26T21:11:50+08:00","updated_at":"2020-08-26T21:11:50+08:00","alt":null,"width":1000,"height":1000,"src":"https:\/\/cdn.shopify.com\/s\/files\/1\/0040\/3374\/0846\/products\/200808-s1-1.jpg?v=1598447510","variant_ids":[32166955974721,32166956138561,32166956302401,32166956466241,32166956630081,32166956793921,32166956957761,32166957121601,32166957285441,32166957449281,32166957613121,32166957776961,32166957940801,32166958104641]},"available":true,"name":"COSY ANKLE BOOTS (6 Colors) - US 9.5 \/ Purple","public_title":"US 9.5 \/ Purple","options":["US 9.5","Purple"],"price":8999,"weight":1000,"compare_at_price":17898,"inventory_management":null,"barcode":null,"featured_media":{"alt":null,"id":6974095917121,"position":3,"preview_image":{"aspect_ratio":1.0,"height":1000,"width":1000,"src":"https:\/\/cdn.shopify.com\/s\/files\/1\/0040\/3374\/0846\/products\/200808-s1-1.jpg?v=1598447510"}}},{"id":32166957482049,"title":"US 10 \/ Yellow","option1":"US 10","option2":"Yellow","option3":null,"sku":"20200808-s1-51","requires_shipping":true,"taxable":true,"featured_image":{"id":14801385455681,"product_id":4572565602369,"position":4,"created_at":"2020-08-26T21:11:50+08:00","updated_at":"2020-08-26T21:11:50+08:00","alt":null,"width":1000,"height":1000,"src":"https:\/\/cdn.shopify.com\/s\/files\/1\/0040\/3374\/0846\/products\/200808-s1-4.jpg?v=1598447510","variant_ids":[32166955843649,32166956007489,32166956171329,32166956335169,32166956499009,32166956662849,32166956826689,32166956990529,32166957154369,32166957318209,32166957482049,32166957645889,32166957809729,32166957973569]},"available":true,"name":"COSY ANKLE BOOTS (6 Colors) - US 10 \/ Yellow","public_title":"US 10 \/ Yellow","options":["US 10","Yellow"],"price":8999,"weight":1000,"compare_at_price":17898,"inventory_management":null,"barcode":null,"featured_media":{"alt":null,"id":6974095949889,"position":4,"preview_image":{"aspect_ratio":1.0,"height":1000,"width":1000,"src":"https:\/\/cdn.shopify.com\/s\/files\/1\/0040\/3374\/0846\/products\/200808-s1-4.jpg?v=1598447510"}}},{"id":32166957514817,"title":"US 10 \/ Marine","option1":"US 10","option2":"Marine","option3":null,"sku":"20200808-s1-52","requires_shipping":true,"taxable":true,"featured_image":{"id":14801385553985,"product_id":4572565602369,"position":7,"created_at":"2020-08-26T21:11:50+08:00","updated_at":"2020-08-26T21:11:50+08:00","alt":null,"width":1000,"height":1000,"src":"https:\/\/cdn.shopify.com\/s\/files\/1\/0040\/3374\/0846\/products\/200808-s1-15.jpg?v=1598447510","variant_ids":[32166955876417,32166956040257,32166956204097,32166956367937,32166956531777,32166956695617,32166956859457,32166957023297,32166957187137,32166957350977,32166957514817,32166957678657,32166957842497,32166958006337]},"available":true,"name":"COSY ANKLE BOOTS (6 Colors) - US 10 \/ Marine","public_title":"US 10 \/ Marine","options":["US 10","Marine"],"price":8999,"weight":1000,"compare_at_price":17898,"inventory_management":null,"barcode":null,"featured_media":{"alt":null,"id":6974096048193,"position":7,"preview_image":{"aspect_ratio":1.0,"height":1000,"width":1000,"src":"https:\/\/cdn.shopify.com\/s\/files\/1\/0040\/3374\/0846\/products\/200808-s1-15.jpg?v=1598447510"}}},{"id":32166957547585,"title":"US 10 \/ Red","option1":"US 10","option2":"Red","option3":null,"sku":"20200808-s1-53","requires_shipping":true,"taxable":true,"featured_image":{"id":14801385488449,"product_id":4572565602369,"position":5,"created_at":"2020-08-26T21:11:50+08:00","updated_at":"2020-08-26T21:11:50+08:00","alt":null,"width":1000,"height":1000,"src":"https:\/\/cdn.shopify.com\/s\/files\/1\/0040\/3374\/0846\/products\/200808-s1-11.jpg?v=1598447510","variant_ids":[32166955909185,32166956073025,32166956236865,32166956400705,32166956564545,32166956728385,32166956892225,32166957056065,32166957219905,32166957383745,32166957547585,32166957711425,32166957875265,32166958039105]},"available":true,"name":"COSY ANKLE BOOTS (6 Colors) - US 10 \/ Red","public_title":"US 10 \/ Red","options":["US 10","Red"],"price":8999,"weight":1000,"compare_at_price":17898,"inventory_management":null,"barcode":null,"featured_media":{"alt":null,"id":6974095982657,"position":5,"preview_image":{"aspect_ratio":1.0,"height":1000,"width":1000,"src":"https:\/\/cdn.shopify.com\/s\/files\/1\/0040\/3374\/0846\/products\/200808-s1-11.jpg?v=1598447510"}}},{"id":32166957580353,"title":"US 10 \/ Black","option1":"US 10","option2":"Black","option3":null,"sku":"20200808-s1-54","requires_shipping":true,"taxable":true,"featured_image":{"id":14801385521217,"product_id":4572565602369,"position":6,"created_at":"2020-08-26T21:11:50+08:00","updated_at":"2020-08-26T21:11:50+08:00","alt":null,"width":1000,"height":1000,"src":"https:\/\/cdn.shopify.com\/s\/files\/1\/0040\/3374\/0846\/products\/200808-s1-8.jpg?v=1598447510","variant_ids":[32166955941953,32166956105793,32166956269633,32166956433473,32166956597313,32166956761153,32166956924993,32166957088833,32166957252673,32166957416513,32166957580353,32166957744193,32166957908033,32166958071873]},"available":true,"name":"COSY ANKLE BOOTS (6 Colors) - US 10 \/ Black","public_title":"US 10 \/ Black","options":["US 10","Black"],"price":8999,"weight":1000,"compare_at_price":17898,"inventory_management":null,"barcode":null,"featured_media":{"alt":null,"id":6974096015425,"position":6,"preview_image":{"aspect_ratio":1.0,"height":1000,"width":1000,"src":"https:\/\/cdn.shopify.com\/s\/files\/1\/0040\/3374\/0846\/products\/200808-s1-8.jpg?v=1598447510"}}},{"id":32166957613121,"title":"US 10 \/ Purple","option1":"US 10","option2":"Purple","option3":null,"sku":"20200808-s1-55","requires_shipping":true,"taxable":true,"featured_image":{"id":14801385422913,"product_id":4572565602369,"position":3,"created_at":"2020-08-26T21:11:50+08:00","updated_at":"2020-08-26T21:11:50+08:00","alt":null,"width":1000,"height":1000,"src":"https:\/\/cdn.shopify.com\/s\/files\/1\/0040\/3374\/0846\/products\/200808-s1-1.jpg?v=1598447510","variant_ids":[32166955974721,32166956138561,32166956302401,32166956466241,32166956630081,32166956793921,32166956957761,32166957121601,32166957285441,32166957449281,32166957613121,32166957776961,32166957940801,32166958104641]},"available":true,"name":"COSY ANKLE BOOTS (6 Colors) - US 10 \/ Purple","public_title":"US 10 \/ Purple","options":["US 10","Purple"],"price":8999,"weight":1000,"compare_at_price":17898,"inventory_management":null,"barcode":null,"featured_media":{"alt":null,"id":6974095917121,"position":3,"preview_image":{"aspect_ratio":1.0,"height":1000,"width":1000,"src":"https:\/\/cdn.shopify.com\/s\/files\/1\/0040\/3374\/0846\/products\/200808-s1-1.jpg?v=1598447510"}}},{"id":32166957645889,"title":"US 10.5 \/ Yellow","option1":"US 10.5","option2":"Yellow","option3":null,"sku":"20200808-s1-56","requires_shipping":true,"taxable":true,"featured_image":{"id":14801385455681,"product_id":4572565602369,"position":4,"created_at":"2020-08-26T21:11:50+08:00","updated_at":"2020-08-26T21:11:50+08:00","alt":null,"width":1000,"height":1000,"src":"https:\/\/cdn.shopify.com\/s\/files\/1\/0040\/3374\/0846\/products\/200808-s1-4.jpg?v=1598447510","variant_ids":[32166955843649,32166956007489,32166956171329,32166956335169,32166956499009,32166956662849,32166956826689,32166956990529,32166957154369,32166957318209,32166957482049,32166957645889,32166957809729,32166957973569]},"available":true,"name":"COSY ANKLE BOOTS (6 Colors) - US 10.5 \/ Yellow","public_title":"US 10.5 \/ Yellow","options":["US 10.5","Yellow"],"price":8999,"weight":1000,"compare_at_price":17898,"inventory_management":null,"barcode":null,"featured_media":{"alt":null,"id":6974095949889,"position":4,"preview_image":{"aspect_ratio":1.0,"height":1000,"width":1000,"src":"https:\/\/cdn.shopify.com\/s\/files\/1\/0040\/3374\/0846\/products\/200808-s1-4.jpg?v=1598447510"}}},{"id":32166957678657,"title":"US 10.5 \/ Marine","option1":"US 10.5","option2":"Marine","option3":null,"sku":"20200808-s1-57","requires_shipping":true,"taxable":true,"featured_image":{"id":14801385553985,"product_id":4572565602369,"position":7,"created_at":"2020-08-26T21:11:50+08:00","updated_at":"2020-08-26T21:11:50+08:00","alt":null,"width":1000,"height":1000,"src":"https:\/\/cdn.shopify.com\/s\/files\/1\/0040\/3374\/0846\/products\/200808-s1-15.jpg?v=1598447510","variant_ids":[32166955876417,32166956040257,32166956204097,32166956367937,32166956531777,32166956695617,32166956859457,32166957023297,32166957187137,32166957350977,32166957514817,32166957678657,32166957842497,32166958006337]},"available":true,"name":"COSY ANKLE BOOTS (6 Colors) - US 10.5 \/ Marine","public_title":"US 10.5 \/ Marine","options":["US 10.5","Marine"],"price":8999,"weight":1000,"compare_at_price":17898,"inventory_management":null,"barcode":null,"featured_media":{"alt":null,"id":6974096048193,"position":7,"preview_image":{"aspect_ratio":1.0,"height":1000,"width":1000,"src":"https:\/\/cdn.shopify.com\/s\/files\/1\/0040\/3374\/0846\/products\/200808-s1-15.jpg?v=1598447510"}}},{"id":32166957711425,"title":"US 10.5 \/ Red","option1":"US 10.5","option2":"Red","option3":null,"sku":"20200808-s1-58","requires_shipping":true,"taxable":true,"featured_image":{"id":14801385488449,"product_id":4572565602369,"position":5,"created_at":"2020-08-26T21:11:50+08:00","updated_at":"2020-08-26T21:11:50+08:00","alt":null,"width":1000,"height":1000,"src":"https:\/\/cdn.shopify.com\/s\/files\/1\/0040\/3374\/0846\/products\/200808-s1-11.jpg?v=1598447510","variant_ids":[32166955909185,32166956073025,32166956236865,32166956400705,32166956564545,32166956728385,32166956892225,32166957056065,32166957219905,32166957383745,32166957547585,32166957711425,32166957875265,32166958039105]},"available":true,"name":"COSY ANKLE BOOTS (6 Colors) - US 10.5 \/ Red","public_title":"US 10.5 \/ Red","options":["US 10.5","Red"],"price":8999,"weight":1000,"compare_at_price":17898,"inventory_management":null,"barcode":null,"featured_media":{"alt":null,"id":6974095982657,"position":5,"preview_image":{"aspect_ratio":1.0,"height":1000,"width":1000,"src":"https:\/\/cdn.shopify.com\/s\/files\/1\/0040\/3374\/0846\/products\/200808-s1-11.jpg?v=1598447510"}}},{"id":32166957744193,"title":"US 10.5 \/ Black","option1":"US 10.5","option2":"Black","option3":null,"sku":"20200808-s1-59","requires_shipping":true,"taxable":true,"featured_image":{"id":14801385521217,"product_id":4572565602369,"position":6,"created_at":"2020-08-26T21:11:50+08:00","updated_at":"2020-08-26T21:11:50+08:00","alt":null,"width":1000,"height":1000,"src":"https:\/\/cdn.shopify.com\/s\/files\/1\/0040\/3374\/0846\/products\/200808-s1-8.jpg?v=1598447510","variant_ids":[32166955941953,32166956105793,32166956269633,32166956433473,32166956597313,32166956761153,32166956924993,32166957088833,32166957252673,32166957416513,32166957580353,32166957744193,32166957908033,32166958071873]},"available":true,"name":"COSY ANKLE BOOTS (6 Colors) - US 10.5 \/ Black","public_title":"US 10.5 \/ Black","options":["US 10.5","Black"],"price":8999,"weight":1000,"compare_at_price":17898,"inventory_management":null,"barcode":null,"featured_media":{"alt":null,"id":6974096015425,"position":6,"preview_image":{"aspect_ratio":1.0,"height":1000,"width":1000,"src":"https:\/\/cdn.shopify.com\/s\/files\/1\/0040\/3374\/0846\/products\/200808-s1-8.jpg?v=1598447510"}}},{"id":32166957776961,"title":"US 10.5 \/ Purple","option1":"US 10.5","option2":"Purple","option3":null,"sku":"20200808-s1-60","requires_shipping":true,"taxable":true,"featured_image":{"id":14801385422913,"product_id":4572565602369,"position":3,"created_at":"2020-08-26T21:11:50+08:00","updated_at":"2020-08-26T21:11:50+08:00","alt":null,"width":1000,"height":1000,"src":"https:\/\/cdn.shopify.com\/s\/files\/1\/0040\/3374\/0846\/products\/200808-s1-1.jpg?v=1598447510","variant_ids":[32166955974721,32166956138561,32166956302401,32166956466241,32166956630081,32166956793921,32166956957761,32166957121601,32166957285441,32166957449281,32166957613121,32166957776961,32166957940801,32166958104641]},"available":true,"name":"COSY ANKLE BOOTS (6 Colors) - US 10.5 \/ Purple","public_title":"US 10.5 \/ Purple","options":["US 10.5","Purple"],"price":8999,"weight":1000,"compare_at_price":17898,"inventory_management":null,"barcode":null,"featured_media":{"alt":null,"id":6974095917121,"position":3,"preview_image":{"aspect_ratio":1.0,"height":1000,"width":1000,"src":"https:\/\/cdn.shopify.com\/s\/files\/1\/0040\/3374\/0846\/products\/200808-s1-1.jpg?v=1598447510"}}},{"id":32166957809729,"title":"US 11 \/ Yellow","option1":"US 11","option2":"Yellow","option3":null,"sku":"20200808-s1-61","requires_shipping":true,"taxable":true,"featured_image":{"id":14801385455681,"product_id":4572565602369,"position":4,"created_at":"2020-08-26T21:11:50+08:00","updated_at":"2020-08-26T21:11:50+08:00","alt":null,"width":1000,"height":1000,"src":"https:\/\/cdn.shopify.com\/s\/files\/1\/0040\/3374\/0846\/products\/200808-s1-4.jpg?v=1598447510","variant_ids":[32166955843649,32166956007489,32166956171329,32166956335169,32166956499009,32166956662849,32166956826689,32166956990529,32166957154369,32166957318209,32166957482049,32166957645889,32166957809729,32166957973569]},"available":true,"name":"COSY ANKLE BOOTS (6 Colors) - US 11 \/ Yellow","public_title":"US 11 \/ Yellow","options":["US 11","Yellow"],"price":8999,"weight":1000,"compare_at_price":17898,"inventory_management":null,"barcode":null,"featured_media":{"alt":null,"id":6974095949889,"position":4,"preview_image":{"aspect_ratio":1.0,"height":1000,"width":1000,"src":"https:\/\/cdn.shopify.com\/s\/files\/1\/0040\/3374\/0846\/products\/200808-s1-4.jpg?v=1598447510"}}},{"id":32166957842497,"title":"US 11 \/ Marine","option1":"US 11","option2":"Marine","option3":null,"sku":"20200808-s1-62","requires_shipping":true,"taxable":true,"featured_image":{"id":14801385553985,"product_id":4572565602369,"position":7,"created_at":"2020-08-26T21:11:50+08:00","updated_at":"2020-08-26T21:11:50+08:00","alt":null,"width":1000,"height":1000,"src":"https:\/\/cdn.shopify.com\/s\/files\/1\/0040\/3374\/0846\/products\/200808-s1-15.jpg?v=1598447510","variant_ids":[32166955876417,32166956040257,32166956204097,32166956367937,32166956531777,32166956695617,32166956859457,32166957023297,32166957187137,32166957350977,32166957514817,32166957678657,32166957842497,32166958006337]},"available":true,"name":"COSY ANKLE BOOTS (6 Colors) - US 11 \/ Marine","public_title":"US 11 \/ Marine","options":["US 11","Marine"],"price":8999,"weight":1000,"compare_at_price":17898,"inventory_management":null,"barcode":null,"featured_media":{"alt":null,"id":6974096048193,"position":7,"preview_image":{"aspect_ratio":1.0,"height":1000,"width":1000,"src":"https:\/\/cdn.shopify.com\/s\/files\/1\/0040\/3374\/0846\/products\/200808-s1-15.jpg?v=1598447510"}}},{"id":32166957875265,"title":"US 11 \/ Red","option1":"US 11","option2":"Red","option3":null,"sku":"20200808-s1-63","requires_shipping":true,"taxable":true,"featured_image":{"id":14801385488449,"product_id":4572565602369,"position":5,"created_at":"2020-08-26T21:11:50+08:00","updated_at":"2020-08-26T21:11:50+08:00","alt":null,"width":1000,"height":1000,"src":"https:\/\/cdn.shopify.com\/s\/files\/1\/0040\/3374\/0846\/products\/200808-s1-11.jpg?v=1598447510","variant_ids":[32166955909185,32166956073025,32166956236865,32166956400705,32166956564545,32166956728385,32166956892225,32166957056065,32166957219905,32166957383745,32166957547585,32166957711425,32166957875265,32166958039105]},"available":true,"name":"COSY ANKLE BOOTS (6 Colors) - US 11 \/ Red","public_title":"US 11 \/ Red","options":["US 11","Red"],"price":8999,"weight":1000,"compare_at_price":17898,"inventory_management":null,"barcode":null,"featured_media":{"alt":null,"id":6974095982657,"position":5,"preview_image":{"aspect_ratio":1.0,"height":1000,"width":1000,"src":"https:\/\/cdn.shopify.com\/s\/files\/1\/0040\/3374\/0846\/products\/200808-s1-11.jpg?v=1598447510"}}},{"id":32166957908033,"title":"US 11 \/ Black","option1":"US 11","option2":"Black","option3":null,"sku":"20200808-s1-64","requires_shipping":true,"taxable":true,"featured_image":{"id":14801385521217,"product_id":4572565602369,"position":6,"created_at":"2020-08-26T21:11:50+08:00","updated_at":"2020-08-26T21:11:50+08:00","alt":null,"width":1000,"height":1000,"src":"https:\/\/cdn.shopify.com\/s\/files\/1\/0040\/3374\/0846\/products\/200808-s1-8.jpg?v=1598447510","variant_ids":[32166955941953,32166956105793,32166956269633,32166956433473,32166956597313,32166956761153,32166956924993,32166957088833,32166957252673,32166957416513,32166957580353,32166957744193,32166957908033,32166958071873]},"available":true,"name":"COSY ANKLE BOOTS (6 Colors) - US 11 \/ Black","public_title":"US 11 \/ Black","options":["US 11","Black"],"price":8999,"weight":1000,"compare_at_price":17898,"inventory_management":null,"barcode":null,"featured_media":{"alt":null,"id":6974096015425,"position":6,"preview_image":{"aspect_ratio":1.0,"height":1000,"width":1000,"src":"https:\/\/cdn.shopify.com\/s\/files\/1\/0040\/3374\/0846\/products\/200808-s1-8.jpg?v=1598447510"}}},{"id":32166957940801,"title":"US 11 \/ Purple","option1":"US 11","option2":"Purple","option3":null,"sku":"20200808-s1-65","requires_shipping":true,"taxable":true,"featured_image":{"id":14801385422913,"product_id":4572565602369,"position":3,"created_at":"2020-08-26T21:11:50+08:00","updated_at":"2020-08-26T21:11:50+08:00","alt":null,"width":1000,"height":1000,"src":"https:\/\/cdn.shopify.com\/s\/files\/1\/0040\/3374\/0846\/products\/200808-s1-1.jpg?v=1598447510","variant_ids":[32166955974721,32166956138561,32166956302401,32166956466241,32166956630081,32166956793921,32166956957761,32166957121601,32166957285441,32166957449281,32166957613121,32166957776961,32166957940801,32166958104641]},"available":true,"name":"COSY ANKLE BOOTS (6 Colors) - US 11 \/ Purple","public_title":"US 11 \/ Purple","options":["US 11","Purple"],"price":8999,"weight":1000,"compare_at_price":17898,"inventory_management":null,"barcode":null,"featured_media":{"alt":null,"id":6974095917121,"position":3,"preview_image":{"aspect_ratio":1.0,"height":1000,"width":1000,"src":"https:\/\/cdn.shopify.com\/s\/files\/1\/0040\/3374\/0846\/products\/200808-s1-1.jpg?v=1598447510"}}},{"id":32166957973569,"title":"US 11.5 \/ Yellow","option1":"US 11.5","option2":"Yellow","option3":null,"sku":"20200808-s1-66","requires_shipping":true,"taxable":true,"featured_image":{"id":14801385455681,"product_id":4572565602369,"position":4,"created_at":"2020-08-26T21:11:50+08:00","updated_at":"2020-08-26T21:11:50+08:00","alt":null,"width":1000,"height":1000,"src":"https:\/\/cdn.shopify.com\/s\/files\/1\/0040\/3374\/0846\/products\/200808-s1-4.jpg?v=1598447510","variant_ids":[32166955843649,32166956007489,32166956171329,32166956335169,32166956499009,32166956662849,32166956826689,32166956990529,32166957154369,32166957318209,32166957482049,32166957645889,32166957809729,32166957973569]},"available":true,"name":"COSY ANKLE BOOTS (6 Colors) - US 11.5 \/ Yellow","public_title":"US 11.5 \/ Yellow","options":["US 11.5","Yellow"],"price":8999,"weight":1000,"compare_at_price":17898,"inventory_management":null,"barcode":null,"featured_media":{"alt":null,"id":6974095949889,"position":4,"preview_image":{"aspect_ratio":1.0,"height":1000,"width":1000,"src":"https:\/\/cdn.shopify.com\/s\/files\/1\/0040\/3374\/0846\/products\/200808-s1-4.jpg?v=1598447510"}}},{"id":32166958006337,"title":"US 11.5 \/ Marine","option1":"US 11.5","option2":"Marine","option3":null,"sku":"20200808-s1-67","requires_shipping":true,"taxable":true,"featured_image":{"id":14801385553985,"product_id":4572565602369,"position":7,"created_at":"2020-08-26T21:11:50+08:00","updated_at":"2020-08-26T21:11:50+08:00","alt":null,"width":1000,"height":1000,"src":"https:\/\/cdn.shopify.com\/s\/files\/1\/0040\/3374\/0846\/products\/200808-s1-15.jpg?v=1598447510","variant_ids":[32166955876417,32166956040257,32166956204097,32166956367937,32166956531777,32166956695617,32166956859457,32166957023297,32166957187137,32166957350977,32166957514817,32166957678657,32166957842497,32166958006337]},"available":true,"name":"COSY ANKLE BOOTS (6 Colors) - US 11.5 \/ Marine","public_title":"US 11.5 \/ Marine","options":["US 11.5","Marine"],"price":8999,"weight":1000,"compare_at_price":17898,"inventory_management":null,"barcode":null,"featured_media":{"alt":null,"id":6974096048193,"position":7,"preview_image":{"aspect_ratio":1.0,"height":1000,"width":1000,"src":"https:\/\/cdn.shopify.com\/s\/files\/1\/0040\/3374\/0846\/products\/200808-s1-15.jpg?v=1598447510"}}},{"id":32166958039105,"title":"US 11.5 \/ Red","option1":"US 11.5","option2":"Red","option3":null,"sku":"20200808-s1-68","requires_shipping":true,"taxable":true,"featured_image":{"id":14801385488449,"product_id":4572565602369,"position":5,"created_at":"2020-08-26T21:11:50+08:00","updated_at":"2020-08-26T21:11:50+08:00","alt":null,"width":1000,"height":1000,"src":"https:\/\/cdn.shopify.com\/s\/files\/1\/0040\/3374\/0846\/products\/200808-s1-11.jpg?v=1598447510","variant_ids":[32166955909185,32166956073025,32166956236865,32166956400705,32166956564545,32166956728385,32166956892225,32166957056065,32166957219905,32166957383745,32166957547585,32166957711425,32166957875265,32166958039105]},"available":true,"name":"COSY ANKLE BOOTS (6 Colors) - US 11.5 \/ Red","public_title":"US 11.5 \/ Red","options":["US 11.5","Red"],"price":8999,"weight":1000,"compare_at_price":17898,"inventory_management":null,"barcode":null,"featured_media":{"alt":null,"id":6974095982657,"position":5,"preview_image":{"aspect_ratio":1.0,"height":1000,"width":1000,"src":"https:\/\/cdn.shopify.com\/s\/files\/1\/0040\/3374\/0846\/products\/200808-s1-11.jpg?v=1598447510"}}},{"id":32166958071873,"title":"US 11.5 \/ Black","option1":"US 11.5","option2":"Black","option3":null,"sku":"20200808-s1-69","requires_shipping":true,"taxable":true,"featured_image":{"id":14801385521217,"product_id":4572565602369,"position":6,"created_at":"2020-08-26T21:11:50+08:00","updated_at":"2020-08-26T21:11:50+08:00","alt":null,"width":1000,"height":1000,"src":"https:\/\/cdn.shopify.com\/s\/files\/1\/0040\/3374\/0846\/products\/200808-s1-8.jpg?v=1598447510","variant_ids":[32166955941953,32166956105793,32166956269633,32166956433473,32166956597313,32166956761153,32166956924993,32166957088833,32166957252673,32166957416513,32166957580353,32166957744193,32166957908033,32166958071873]},"available":true,"name":"COSY ANKLE BOOTS (6 Colors) - US 11.5 \/ Black","public_title":"US 11.5 \/ Black","options":["US 11.5","Black"],"price":8999,"weight":1000,"compare_at_price":17898,"inventory_management":null,"barcode":null,"featured_media":{"alt":null,"id":6974096015425,"position":6,"preview_image":{"aspect_ratio":1.0,"height":1000,"width":1000,"src":"https:\/\/cdn.shopify.com\/s\/files\/1\/0040\/3374\/0846\/products\/200808-s1-8.jpg?v=1598447510"}}},{"id":32166958104641,"title":"US 11.5 \/ Purple","option1":"US 11.5","option2":"Purple","option3":null,"sku":"20200808-s1-70","requires_shipping":true,"taxable":true,"featured_image":{"id":14801385422913,"product_id":4572565602369,"position":3,"created_at":"2020-08-26T21:11:50+08:00","updated_at":"2020-08-26T21:11:50+08:00","alt":null,"width":1000,"height":1000,"src":"https:\/\/cdn.shopify.com\/s\/files\/1\/0040\/3374\/0846\/products\/200808-s1-1.jpg?v=1598447510","variant_ids":[32166955974721,32166956138561,32166956302401,32166956466241,32166956630081,32166956793921,32166956957761,32166957121601,32166957285441,32166957449281,32166957613121,32166957776961,32166957940801,32166958104641]},"available":true,"name":"COSY ANKLE BOOTS (6 Colors) - US 11.5 \/ Purple","public_title":"US 11.5 \/ Purple","options":["US 11.5","Purple"],"price":8999,"weight":1000,"compare_at_price":17898,"inventory_management":null,"barcode":null,"featured_media":{"alt":null,"id":6974095917121,"position":3,"preview_image":{"aspect_ratio":1.0,"height":1000,"width":1000,"src":"https:\/\/cdn.shopify.com\/s\/files\/1\/0040\/3374\/0846\/products\/200808-s1-1.jpg?v=1598447510"}}},{"id":32166958137409,"title":"US 5 \/ Olive green","option1":"US 5","option2":"Olive green","option3":null,"sku":"20200808-s1-71","requires_shipping":true,"taxable":true,"featured_image":{"id":14801385586753,"product_id":4572565602369,"position":8,"created_at":"2020-08-26T21:11:50+08:00","updated_at":"2020-08-26T21:11:50+08:00","alt":null,"width":1000,"height":1000,"src":"https:\/\/cdn.shopify.com\/s\/files\/1\/0040\/3374\/0846\/products\/200808-s1-19.jpg?v=1598447510","variant_ids":[32166958137409,32166958170177,32166958202945,32166958235713,32166958268481,32166958301249,32166958334017,32166958366785,32166958399553,32166958432321,32166958465089,32166958497857,32166958530625,32166958563393]},"available":true,"name":"COSY ANKLE BOOTS (6 Colors) - US 5 \/ Olive green","public_title":"US 5 \/ Olive green","options":["US 5","Olive green"],"price":8999,"weight":1000,"compare_at_price":17898,"inventory_management":null,"barcode":null,"featured_media":{"alt":null,"id":6974096080961,"position":8,"preview_image":{"aspect_ratio":1.0,"height":1000,"width":1000,"src":"https:\/\/cdn.shopify.com\/s\/files\/1\/0040\/3374\/0846\/products\/200808-s1-19.jpg?v=1598447510"}}},{"id":32166958170177,"title":"US 5.5 \/ Olive green","option1":"US 5.5","option2":"Olive green","option3":null,"sku":"20200808-s1-72","requires_shipping":true,"taxable":true,"featured_image":{"id":14801385586753,"product_id":4572565602369,"position":8,"created_at":"2020-08-26T21:11:50+08:00","updated_at":"2020-08-26T21:11:50+08:00","alt":null,"width":1000,"height":1000,"src":"https:\/\/cdn.shopify.com\/s\/files\/1\/0040\/3374\/0846\/products\/200808-s1-19.jpg?v=1598447510","variant_ids":[32166958137409,32166958170177,32166958202945,32166958235713,32166958268481,32166958301249,32166958334017,32166958366785,32166958399553,32166958432321,32166958465089,32166958497857,32166958530625,32166958563393]},"available":true,"name":"COSY ANKLE BOOTS (6 Colors) - US 5.5 \/ Olive green","public_title":"US 5.5 \/ Olive green","options":["US 5.5","Olive green"],"price":8999,"weight":1000,"compare_at_price":17898,"inventory_management":null,"barcode":null,"featured_media":{"alt":null,"id":6974096080961,"position":8,"preview_image":{"aspect_ratio":1.0,"height":1000,"width":1000,"src":"https:\/\/cdn.shopify.com\/s\/files\/1\/0040\/3374\/0846\/products\/200808-s1-19.jpg?v=1598447510"}}},{"id":32166958202945,"title":"US 6 \/ Olive green","option1":"US 6","option2":"Olive green","option3":null,"sku":"20200808-s1-73","requires_shipping":true,"taxable":true,"featured_image":{"id":14801385586753,"product_id":4572565602369,"position":8,"created_at":"2020-08-26T21:11:50+08:00","updated_at":"2020-08-26T21:11:50+08:00","alt":null,"width":1000,"height":1000,"src":"https:\/\/cdn.shopify.com\/s\/files\/1\/0040\/3374\/0846\/products\/200808-s1-19.jpg?v=1598447510","variant_ids":[32166958137409,32166958170177,32166958202945,32166958235713,32166958268481,32166958301249,32166958334017,32166958366785,32166958399553,32166958432321,32166958465089,32166958497857,32166958530625,32166958563393]},"available":true,"name":"COSY ANKLE BOOTS (6 Colors) - US 6 \/ Olive green","public_title":"US 6 \/ Olive green","options":["US 6","Olive green"],"price":8999,"weight":1000,"compare_at_price":17898,"inventory_management":null,"barcode":null,"featured_media":{"alt":null,"id":6974096080961,"position":8,"preview_image":{"aspect_ratio":1.0,"height":1000,"width":1000,"src":"https:\/\/cdn.shopify.com\/s\/files\/1\/0040\/3374\/0846\/products\/200808-s1-19.jpg?v=1598447510"}}},{"id":32166958235713,"title":"US 6.5 \/ Olive green","option1":"US 6.5","option2":"Olive green","option3":null,"sku":"20200808-s1-74","requires_shipping":true,"taxable":true,"featured_image":{"id":14801385586753,"product_id":4572565602369,"position":8,"created_at":"2020-08-26T21:11:50+08:00","updated_at":"2020-08-26T21:11:50+08:00","alt":null,"width":1000,"height":1000,"src":"https:\/\/cdn.shopify.com\/s\/files\/1\/0040\/3374\/0846\/products\/200808-s1-19.jpg?v=1598447510","variant_ids":[32166958137409,32166958170177,32166958202945,32166958235713,32166958268481,32166958301249,32166958334017,32166958366785,32166958399553,32166958432321,32166958465089,32166958497857,32166958530625,32166958563393]},"available":true,"name":"COSY ANKLE BOOTS (6 Colors) - US 6.5 \/ Olive green","public_title":"US 6.5 \/ Olive green","options":["US 6.5","Olive green"],"price":8999,"weight":1000,"compare_at_price":17898,"inventory_management":null,"barcode":null,"featured_media":{"alt":null,"id":6974096080961,"position":8,"preview_image":{"aspect_ratio":1.0,"height":1000,"width":1000,"src":"https:\/\/cdn.shopify.com\/s\/files\/1\/0040\/3374\/0846\/products\/200808-s1-19.jpg?v=1598447510"}}},{"id":32166958268481,"title":"US 7 \/ Olive green","option1":"US 7","option2":"Olive green","option3":null,"sku":"20200808-s1-75","requires_shipping":true,"taxable":true,"featured_image":{"id":14801385586753,"product_id":4572565602369,"position":8,"created_at":"2020-08-26T21:11:50+08:00","updated_at":"2020-08-26T21:11:50+08:00","alt":null,"width":1000,"height":1000,"src":"https:\/\/cdn.shopify.com\/s\/files\/1\/0040\/3374\/0846\/products\/200808-s1-19.jpg?v=1598447510","variant_ids":[32166958137409,32166958170177,32166958202945,32166958235713,32166958268481,32166958301249,32166958334017,32166958366785,32166958399553,32166958432321,32166958465089,32166958497857,32166958530625,32166958563393]},"available":true,"name":"COSY ANKLE BOOTS (6 Colors) - US 7 \/ Olive green","public_title":"US 7 \/ Olive green","options":["US 7","Olive green"],"price":8999,"weight":1000,"compare_at_price":17898,"inventory_management":null,"barcode":null,"featured_media":{"alt":null,"id":6974096080961,"position":8,"preview_image":{"aspect_ratio":1.0,"height":1000,"width":1000,"src":"https:\/\/cdn.shopify.com\/s\/files\/1\/0040\/3374\/0846\/products\/200808-s1-19.jpg?v=1598447510"}}},{"id":32166958301249,"title":"US 7.5 \/ Olive green","option1":"US 7.5","option2":"Olive green","option3":null,"sku":"20200808-s1-76","requires_shipping":true,"taxable":true,"featured_image":{"id":14801385586753,"product_id":4572565602369,"position":8,"created_at":"2020-08-26T21:11:50+08:00","updated_at":"2020-08-26T21:11:50+08:00","alt":null,"width":1000,"height":1000,"src":"https:\/\/cdn.shopify.com\/s\/files\/1\/0040\/3374\/0846\/products\/200808-s1-19.jpg?v=1598447510","variant_ids":[32166958137409,32166958170177,32166958202945,32166958235713,32166958268481,32166958301249,32166958334017,32166958366785,32166958399553,32166958432321,32166958465089,32166958497857,32166958530625,32166958563393]},"available":true,"name":"COSY ANKLE BOOTS (6 Colors) - US 7.5 \/ Olive green","public_title":"US 7.5 \/ Olive green","options":["US 7.5","Olive green"],"price":8999,"weight":1000,"compare_at_price":17898,"inventory_management":null,"barcode":null,"featured_media":{"alt":null,"id":6974096080961,"position":8,"preview_image":{"aspect_ratio":1.0,"height":1000,"width":1000,"src":"https:\/\/cdn.shopify.com\/s\/files\/1\/0040\/3374\/0846\/products\/200808-s1-19.jpg?v=1598447510"}}},{"id":32166958334017,"title":"US 8 \/ Olive green","option1":"US 8","option2":"Olive green","option3":null,"sku":"20200808-s1-77","requires_shipping":true,"taxable":true,"featured_image":{"id":14801385586753,"product_id":4572565602369,"position":8,"created_at":"2020-08-26T21:11:50+08:00","updated_at":"2020-08-26T21:11:50+08:00","alt":null,"width":1000,"height":1000,"src":"https:\/\/cdn.shopify.com\/s\/files\/1\/0040\/3374\/0846\/products\/200808-s1-19.jpg?v=1598447510","variant_ids":[32166958137409,32166958170177,32166958202945,32166958235713,32166958268481,32166958301249,32166958334017,32166958366785,32166958399553,32166958432321,32166958465089,32166958497857,32166958530625,32166958563393]},"available":true,"name":"COSY ANKLE BOOTS (6 Colors) - US 8 \/ Olive green","public_title":"US 8 \/ Olive green","options":["US 8","Olive green"],"price":8999,"weight":1000,"compare_at_price":17898,"inventory_management":null,"barcode":null,"featured_media":{"alt":null,"id":6974096080961,"position":8,"preview_image":{"aspect_ratio":1.0,"height":1000,"width":1000,"src":"https:\/\/cdn.shopify.com\/s\/files\/1\/0040\/3374\/0846\/products\/200808-s1-19.jpg?v=1598447510"}}},{"id":32166958366785,"title":"US 8.5 \/ Olive green","option1":"US 8.5","option2":"Olive green","option3":null,"sku":"20200808-s1-78","requires_shipping":true,"taxable":true,"featured_image":{"id":14801385586753,"product_id":4572565602369,"position":8,"created_at":"2020-08-26T21:11:50+08:00","updated_at":"2020-08-26T21:11:50+08:00","alt":null,"width":1000,"height":1000,"src":"https:\/\/cdn.shopify.com\/s\/files\/1\/0040\/3374\/0846\/products\/200808-s1-19.jpg?v=1598447510","variant_ids":[32166958137409,32166958170177,32166958202945,32166958235713,32166958268481,32166958301249,32166958334017,32166958366785,32166958399553,32166958432321,32166958465089,32166958497857,32166958530625,32166958563393]},"available":true,"name":"COSY ANKLE BOOTS (6 Colors) - US 8.5 \/ Olive green","public_title":"US 8.5 \/ Olive green","options":["US 8.5","Olive green"],"price":8999,"weight":1000,"compare_at_price":17898,"inventory_management":null,"barcode":null,"featured_media":{"alt":null,"id":6974096080961,"position":8,"preview_image":{"aspect_ratio":1.0,"height":1000,"width":1000,"src":"https:\/\/cdn.shopify.com\/s\/files\/1\/0040\/3374\/0846\/products\/200808-s1-19.jpg?v=1598447510"}}},{"id":32166958399553,"title":"US 9 \/ Olive green","option1":"US 9","option2":"Olive green","option3":null,"sku":"20200808-s1-79","requires_shipping":true,"taxable":true,"featured_image":{"id":14801385586753,"product_id":4572565602369,"position":8,"created_at":"2020-08-26T21:11:50+08:00","updated_at":"2020-08-26T21:11:50+08:00","alt":null,"width":1000,"height":1000,"src":"https:\/\/cdn.shopify.com\/s\/files\/1\/0040\/3374\/0846\/products\/200808-s1-19.jpg?v=1598447510","variant_ids":[32166958137409,32166958170177,32166958202945,32166958235713,32166958268481,32166958301249,32166958334017,32166958366785,32166958399553,32166958432321,32166958465089,32166958497857,32166958530625,32166958563393]},"available":true,"name":"COSY ANKLE BOOTS (6 Colors) - US 9 \/ Olive green","public_title":"US 9 \/ Olive green","options":["US 9","Olive green"],"price":8999,"weight":1000,"compare_at_price":17898,"inventory_management":null,"barcode":null,"featured_media":{"alt":null,"id":6974096080961,"position":8,"preview_image":{"aspect_ratio":1.0,"height":1000,"width":1000,"src":"https:\/\/cdn.shopify.com\/s\/files\/1\/0040\/3374\/0846\/products\/200808-s1-19.jpg?v=1598447510"}}},{"id":32166958432321,"title":"US 9.5 \/ Olive green","option1":"US 9.5","option2":"Olive green","option3":null,"sku":"20200808-s1-80","requires_shipping":true,"taxable":true,"featured_image":{"id":14801385586753,"product_id":4572565602369,"position":8,"created_at":"2020-08-26T21:11:50+08:00","updated_at":"2020-08-26T21:11:50+08:00","alt":null,"width":1000,"height":1000,"src":"https:\/\/cdn.shopify.com\/s\/files\/1\/0040\/3374\/0846\/products\/200808-s1-19.jpg?v=1598447510","variant_ids":[32166958137409,32166958170177,32166958202945,32166958235713,32166958268481,32166958301249,32166958334017,32166958366785,32166958399553,32166958432321,32166958465089,32166958497857,32166958530625,32166958563393]},"available":true,"name":"COSY ANKLE BOOTS (6 Colors) - US 9.5 \/ Olive green","public_title":"US 9.5 \/ Olive green","options":["US 9.5","Olive green"],"price":8999,"weight":1000,"compare_at_price":17898,"inventory_management":null,"barcode":null,"featured_media":{"alt":null,"id":6974096080961,"position":8,"preview_image":{"aspect_ratio":1.0,"height":1000,"width":1000,"src":"https:\/\/cdn.shopify.com\/s\/files\/1\/0040\/3374\/0846\/products\/200808-s1-19.jpg?v=1598447510"}}},{"id":32166958465089,"title":"US 10 \/ Olive green","option1":"US 10","option2":"Olive green","option3":null,"sku":"20200808-s1-81","requires_shipping":true,"taxable":true,"featured_image":{"id":14801385586753,"product_id":4572565602369,"position":8,"created_at":"2020-08-26T21:11:50+08:00","updated_at":"2020-08-26T21:11:50+08:00","alt":null,"width":1000,"height":1000,"src":"https:\/\/cdn.shopify.com\/s\/files\/1\/0040\/3374\/0846\/products\/200808-s1-19.jpg?v=1598447510","variant_ids":[32166958137409,32166958170177,32166958202945,32166958235713,32166958268481,32166958301249,32166958334017,32166958366785,32166958399553,32166958432321,32166958465089,32166958497857,32166958530625,32166958563393]},"available":true,"name":"COSY ANKLE BOOTS (6 Colors) - US 10 \/ Olive green","public_title":"US 10 \/ Olive green","options":["US 10","Olive green"],"price":8999,"weight":1000,"compare_at_price":17898,"inventory_management":null,"barcode":null,"featured_media":{"alt":null,"id":6974096080961,"position":8,"preview_image":{"aspect_ratio":1.0,"height":1000,"width":1000,"src":"https:\/\/cdn.shopify.com\/s\/files\/1\/0040\/3374\/0846\/products\/200808-s1-19.jpg?v=1598447510"}}},{"id":32166958497857,"title":"US 10.5 \/ Olive green","option1":"US 10.5","option2":"Olive green","option3":null,"sku":"20200808-s1-82","requires_shipping":true,"taxable":true,"featured_image":{"id":14801385586753,"product_id":4572565602369,"position":8,"created_at":"2020-08-26T21:11:50+08:00","updated_at":"2020-08-26T21:11:50+08:00","alt":null,"width":1000,"height":1000,"src":"https:\/\/cdn.shopify.com\/s\/files\/1\/0040\/3374\/0846\/products\/200808-s1-19.jpg?v=1598447510","variant_ids":[32166958137409,32166958170177,32166958202945,32166958235713,32166958268481,32166958301249,32166958334017,32166958366785,32166958399553,32166958432321,32166958465089,32166958497857,32166958530625,32166958563393]},"available":true,"name":"COSY ANKLE BOOTS (6 Colors) - US 10.5 \/ Olive green","public_title":"US 10.5 \/ Olive green","options":["US 10.5","Olive green"],"price":8999,"weight":1000,"compare_at_price":17898,"inventory_management":null,"barcode":null,"featured_media":{"alt":null,"id":6974096080961,"position":8,"preview_image":{"aspect_ratio":1.0,"height":1000,"width":1000,"src":"https:\/\/cdn.shopify.com\/s\/files\/1\/0040\/3374\/0846\/products\/200808-s1-19.jpg?v=1598447510"}}},{"id":32166958530625,"title":"US 11 \/ Olive green","option1":"US 11","option2":"Olive green","option3":null,"sku":"20200808-s1-83","requires_shipping":true,"taxable":true,"featured_image":{"id":14801385586753,"product_id":4572565602369,"position":8,"created_at":"2020-08-26T21:11:50+08:00","updated_at":"2020-08-26T21:11:50+08:00","alt":null,"width":1000,"height":1000,"src":"https:\/\/cdn.shopify.com\/s\/files\/1\/0040\/3374\/0846\/products\/200808-s1-19.jpg?v=1598447510","variant_ids":[32166958137409,32166958170177,32166958202945,32166958235713,32166958268481,32166958301249,32166958334017,32166958366785,32166958399553,32166958432321,32166958465089,32166958497857,32166958530625,32166958563393]},"available":true,"name":"COSY ANKLE BOOTS (6 Colors) - US 11 \/ Olive green","public_title":"US 11 \/ Olive green","options":["US 11","Olive green"],"price":8999,"weight":1000,"compare_at_price":17898,"inventory_management":null,"barcode":null,"featured_media":{"alt":null,"id":6974096080961,"position":8,"preview_image":{"aspect_ratio":1.0,"height":1000,"width":1000,"src":"https:\/\/cdn.shopify.com\/s\/files\/1\/0040\/3374\/0846\/products\/200808-s1-19.jpg?v=1598447510"}}},{"id":32166958563393,"title":"US 11.5 \/ Olive green","option1":"US 11.5","option2":"Olive green","option3":null,"sku":"20200808-s1-84","requires_shipping":true,"taxable":true,"featured_image":{"id":14801385586753,"product_id":4572565602369,"position":8,"created_at":"2020-08-26T21:11:50+08:00","updated_at":"2020-08-26T21:11:50+08:00","alt":null,"width":1000,"height":1000,"src":"https:\/\/cdn.shopify.com\/s\/files\/1\/0040\/3374\/0846\/products\/200808-s1-19.jpg?v=1598447510","variant_ids":[32166958137409,32166958170177,32166958202945,32166958235713,32166958268481,32166958301249,32166958334017,32166958366785,32166958399553,32166958432321,32166958465089,32166958497857,32166958530625,32166958563393]},"available":true,"name":"COSY ANKLE BOOTS (6 Colors) - US 11.5 \/ Olive green","public_title":"US 11.5 \/ Olive green","options":["US 11.5","Olive green"],"price":8999,"weight":1000,"compare_at_price":17898,"inventory_management":null,"barcode":null,"featured_media":{"alt":null,"id":6974096080961,"position":8,"preview_image":{"aspect_ratio":1.0,"height":1000,"width":1000,"src":"https:\/\/cdn.shopify.com\/s\/files\/1\/0040\/3374\/0846\/products\/200808-s1-19.jpg?v=1598447510"}}}],"images":["\/\/cdn.shopify.com\/s\/files\/1\/0040\/3374\/0846\/products\/200808-s1-14.jpg?v=1598447510","\/\/cdn.shopify.com\/s\/files\/1\/0040\/3374\/0846\/products\/200808-s1-7.jpg?v=1598447510","\/\/cdn.shopify.com\/s\/files\/1\/0040\/3374\/0846\/products\/200808-s1-1.jpg?v=1598447510","\/\/cdn.shopify.com\/s\/files\/1\/0040\/3374\/0846\/products\/200808-s1-4.jpg?v=1598447510","\/\/cdn.shopify.com\/s\/files\/1\/0040\/3374\/0846\/products\/200808-s1-11.jpg?v=1598447510","\/\/cdn.shopify.com\/s\/files\/1\/0040\/3374\/0846\/products\/200808-s1-8.jpg?v=1598447510","\/\/cdn.shopify.com\/s\/files\/1\/0040\/3374\/0846\/products\/200808-s1-15.jpg?v=1598447510","\/\/cdn.shopify.com\/s\/files\/1\/0040\/3374\/0846\/products\/200808-s1-19.jpg?v=1598447510","\/\/cdn.shopify.com\/s\/files\/1\/0040\/3374\/0846\/products\/200808-s1-5.jpg?v=1598447510","\/\/cdn.shopify.com\/s\/files\/1\/0040\/3374\/0846\/products\/200808-s1-6.jpg?v=1598447510","\/\/cdn.shopify.com\/s\/files\/1\/0040\/3374\/0846\/products\/200808-s1-12.jpg?v=1598447510","\/\/cdn.shopify.com\/s\/files\/1\/0040\/3374\/0846\/products\/200808-s1-13.jpg?v=1598447510","\/\/cdn.shopify.com\/s\/files\/1\/0040\/3374\/0846\/products\/200808-s1-16.jpg?v=1598447510","\/\/cdn.shopify.com\/s\/files\/1\/0040\/3374\/0846\/products\/200808-s1-17.jpg?v=1598447510","\/\/cdn.shopify.com\/s\/files\/1\/0040\/3374\/0846\/products\/200808-s1-2.jpg?v=1598447510","\/\/cdn.shopify.com\/s\/files\/1\/0040\/3374\/0846\/products\/200808-s1-3.jpg?v=1598447510","\/\/cdn.shopify.com\/s\/files\/1\/0040\/3374\/0846\/products\/200808-s1-9.jpg?v=1598447510","\/\/cdn.shopify.com\/s\/files\/1\/0040\/3374\/0846\/products\/200808-s1-10.jpg?v=1598447510","\/\/cdn.shopify.com\/s\/files\/1\/0040\/3374\/0846\/products\/200808-s1-18.jpg?v=1598447510","\/\/cdn.shopify.com\/s\/files\/1\/0040\/3374\/0846\/products\/200808-s1-20.jpg?v=1598447510"],"featured_image":"\/\/cdn.shopify.com\/s\/files\/1\/0040\/3374\/0846\/products\/200808-s1-14.jpg?v=1598447510","options":["Size","Color"],"media":[{"alt":null,"id":6974095851585,"position":1,"preview_image":{"aspect_ratio":1.0,"height":1000,"width":1000,"src":"https:\/\/cdn.shopify.com\/s\/files\/1\/0040\/3374\/0846\/products\/200808-s1-14.jpg?v=1598447510"},"aspect_ratio":1.0,"height":1000,"media_type":"image","src":"https:\/\/cdn.shopify.com\/s\/files\/1\/0040\/3374\/0846\/products\/200808-s1-14.jpg?v=1598447510","width":1000},{"alt":null,"id":6974095884353,"position":2,"preview_image":{"aspect_ratio":1.0,"height":1000,"width":1000,"src":"https:\/\/cdn.shopify.com\/s\/files\/1\/0040\/3374\/0846\/products\/200808-s1-7.jpg?v=1598447510"},"aspect_ratio":1.0,"height":1000,"media_type":"image","src":"https:\/\/cdn.shopify.com\/s\/files\/1\/0040\/3374\/0846\/products\/200808-s1-7.jpg?v=1598447510","width":1000},{"alt":null,"id":6974095917121,"position":3,"preview_image":{"aspect_ratio":1.0,"height":1000,"width":1000,"src":"https:\/\/cdn.shopify.com\/s\/files\/1\/0040\/3374\/0846\/products\/200808-s1-1.jpg?v=1598447510"},"aspect_ratio":1.0,"height":1000,"media_type":"image","src":"https:\/\/cdn.shopify.com\/s\/files\/1\/0040\/3374\/0846\/products\/200808-s1-1.jpg?v=1598447510","width":1000},{"alt":null,"id":6974095949889,"position":4,"preview_image":{"aspect_ratio":1.0,"height":1000,"width":1000,"src":"https:\/\/cdn.shopify.com\/s\/files\/1\/0040\/3374\/0846\/products\/200808-s1-4.jpg?v=1598447510"},"aspect_ratio":1.0,"height":1000,"media_type":"image","src":"https:\/\/cdn.shopify.com\/s\/files\/1\/0040\/3374\/0846\/products\/200808-s1-4.jpg?v=1598447510","width":1000},{"alt":null,"id":6974095982657,"position":5,"preview_image":{"aspect_ratio":1.0,"height":1000,"width":1000,"src":"https:\/\/cdn.shopify.com\/s\/files\/1\/0040\/3374\/0846\/products\/200808-s1-11.jpg?v=1598447510"},"aspect_ratio":1.0,"height":1000,"media_type":"image","src":"https:\/\/cdn.shopify.com\/s\/files\/1\/0040\/3374\/0846\/products\/200808-s1-11.jpg?v=1598447510","width":1000},{"alt":null,"id":6974096015425,"position":6,"preview_image":{"aspect_ratio":1.0,"height":1000,"width":1000,"src":"https:\/\/cdn.shopify.com\/s\/files\/1\/0040\/3374\/0846\/products\/200808-s1-8.jpg?v=1598447510"},"aspect_ratio":1.0,"height":1000,"media_type":"image","src":"https:\/\/cdn.shopify.com\/s\/files\/1\/0040\/3374\/0846\/products\/200808-s1-8.jpg?v=1598447510","width":1000},{"alt":null,"id":6974096048193,"position":7,"preview_image":{"aspect_ratio":1.0,"height":1000,"width":1000,"src":"https:\/\/cdn.shopify.com\/s\/files\/1\/0040\/3374\/0846\/products\/200808-s1-15.jpg?v=1598447510"},"aspect_ratio":1.0,"height":1000,"media_type":"image","src":"https:\/\/cdn.shopify.com\/s\/files\/1\/0040\/3374\/0846\/products\/200808-s1-15.jpg?v=1598447510","width":1000},{"alt":null,"id":6974096080961,"position":8,"preview_image":{"aspect_ratio":1.0,"height":1000,"width":1000,"src":"https:\/\/cdn.shopify.com\/s\/files\/1\/0040\/3374\/0846\/products\/200808-s1-19.jpg?v=1598447510"},"aspect_ratio":1.0,"height":1000,"media_type":"image","src":"https:\/\/cdn.shopify.com\/s\/files\/1\/0040\/3374\/0846\/products\/200808-s1-19.jpg?v=1598447510","width":1000},{"alt":null,"id":6974096113729,"position":9,"preview_image":{"aspect_ratio":1.0,"height":1000,"width":1000,"src":"https:\/\/cdn.shopify.com\/s\/files\/1\/0040\/3374\/0846\/products\/200808-s1-5.jpg?v=1598447510"},"aspect_ratio":1.0,"height":1000,"media_type":"image","src":"https:\/\/cdn.shopify.com\/s\/files\/1\/0040\/3374\/0846\/products\/200808-s1-5.jpg?v=1598447510","width":1000},{"alt":null,"id":6974096146497,"position":10,"preview_image":{"aspect_ratio":1.0,"height":1000,"width":1000,"src":"https:\/\/cdn.shopify.com\/s\/files\/1\/0040\/3374\/0846\/products\/200808-s1-6.jpg?v=1598447510"},"aspect_ratio":1.0,"height":1000,"media_type":"image","src":"https:\/\/cdn.shopify.com\/s\/files\/1\/0040\/3374\/0846\/products\/200808-s1-6.jpg?v=1598447510","width":1000},{"alt":null,"id":6974096179265,"position":11,"preview_image":{"aspect_ratio":1.0,"height":1000,"width":1000,"src":"https:\/\/cdn.shopify.com\/s\/files\/1\/0040\/3374\/0846\/products\/200808-s1-12.jpg?v=1598447510"},"aspect_ratio":1.0,"height":1000,"media_type":"image","src":"https:\/\/cdn.shopify.com\/s\/files\/1\/0040\/3374\/0846\/products\/200808-s1-12.jpg?v=1598447510","width":1000},{"alt":null,"id":6974096212033,"position":12,"preview_image":{"aspect_ratio":1.0,"height":1000,"width":1000,"src":"https:\/\/cdn.shopify.com\/s\/files\/1\/0040\/3374\/0846\/products\/200808-s1-13.jpg?v=1598447510"},"aspect_ratio":1.0,"height":1000,"media_type":"image","src":"https:\/\/cdn.shopify.com\/s\/files\/1\/0040\/3374\/0846\/products\/200808-s1-13.jpg?v=1598447510","width":1000},{"alt":null,"id":6974096244801,"position":13,"preview_image":{"aspect_ratio":1.0,"height":1000,"width":1000,"src":"https:\/\/cdn.shopify.com\/s\/files\/1\/0040\/3374\/0846\/products\/200808-s1-16.jpg?v=1598447510"},"aspect_ratio":1.0,"height":1000,"media_type":"image","src":"https:\/\/cdn.shopify.com\/s\/files\/1\/0040\/3374\/0846\/products\/200808-s1-16.jpg?v=1598447510","width":1000},{"alt":null,"id":6974096277569,"position":14,"preview_image":{"aspect_ratio":1.0,"height":1000,"width":1000,"src":"https:\/\/cdn.shopify.com\/s\/files\/1\/0040\/3374\/0846\/products\/200808-s1-17.jpg?v=1598447510"},"aspect_ratio":1.0,"height":1000,"media_type":"image","src":"https:\/\/cdn.shopify.com\/s\/files\/1\/0040\/3374\/0846\/products\/200808-s1-17.jpg?v=1598447510","width":1000},{"alt":null,"id":6974096310337,"position":15,"preview_image":{"aspect_ratio":1.0,"height":1000,"width":1000,"src":"https:\/\/cdn.shopify.com\/s\/files\/1\/0040\/3374\/0846\/products\/200808-s1-2.jpg?v=1598447510"},"aspect_ratio":1.0,"height":1000,"media_type":"image","src":"https:\/\/cdn.shopify.com\/s\/files\/1\/0040\/3374\/0846\/products\/200808-s1-2.jpg?v=1598447510","width":1000},{"alt":null,"id":6974096343105,"position":16,"preview_image":{"aspect_ratio":1.0,"height":1000,"width":1000,"src":"https:\/\/cdn.shopify.com\/s\/files\/1\/0040\/3374\/0846\/products\/200808-s1-3.jpg?v=1598447510"},"aspect_ratio":1.0,"height":1000,"media_type":"image","src":"https:\/\/cdn.shopify.com\/s\/files\/1\/0040\/3374\/0846\/products\/200808-s1-3.jpg?v=1598447510","width":1000},{"alt":null,"id":6974096375873,"position":17,"preview_image":{"aspect_ratio":1.0,"height":1000,"width":1000,"src":"https:\/\/cdn.shopify.com\/s\/files\/1\/0040\/3374\/0846\/products\/200808-s1-9.jpg?v=1598447510"},"aspect_ratio":1.0,"height":1000,"media_type":"image","src":"https:\/\/cdn.shopify.com\/s\/files\/1\/0040\/3374\/0846\/products\/200808-s1-9.jpg?v=1598447510","width":1000},{"alt":null,"id":6974096408641,"position":18,"preview_image":{"aspect_ratio":1.0,"height":1000,"width":1000,"src":"https:\/\/cdn.shopify.com\/s\/files\/1\/0040\/3374\/0846\/products\/200808-s1-10.jpg?v=1598447510"},"aspect_ratio":1.0,"height":1000,"media_type":"image","src":"https:\/\/cdn.shopify.com\/s\/files\/1\/0040\/3374\/0846\/products\/200808-s1-10.jpg?v=1598447510","width":1000},{"alt":null,"id":6974096441409,"position":19,"preview_image":{"aspect_ratio":1.0,"height":1000,"width":1000,"src":"https:\/\/cdn.shopify.com\/s\/files\/1\/0040\/3374\/0846\/products\/200808-s1-18.jpg?v=1598447510"},"aspect_ratio":1.0,"height":1000,"media_type":"image","src":"https:\/\/cdn.shopify.com\/s\/files\/1\/0040\/3374\/0846\/products\/200808-s1-18.jpg?v=1598447510","width":1000},{"alt":null,"id":6974096474177,"position":20,"preview_image":{"aspect_ratio":1.0,"height":1000,"width":1000,"src":"https:\/\/cdn.shopify.com\/s\/files\/1\/0040\/3374\/0846\/products\/200808-s1-20.jpg?v=1598447510"},"aspect_ratio":1.0,"height":1000,"media_type":"image","src":"https:\/\/cdn.shopify.com\/s\/files\/1\/0040\/3374\/0846\/products\/200808-s1-20.jpg?v=1598447510","width":1000}],"content":"\u003cp\u003e\"Growing up we only had black or brown loafers or "saddle shoes". I always longed for colored shoes so when I was working I bought shoes in many colors. Usually lovely high heels. Now as a senior I need flat shoes and it is so hard to find colored shoes so I wear a lot of black flats. I am so happy to see colors coming back into our shoes.\"--Lina A.\u003c\/p\u003e\n\u003cp\u003e\u003cstrong\u003eWomen Shoes Size Chart\u003c\/strong\u003e \u003c\/p\u003e\n\u003cdiv id=\"Product-content-shoes-size-chart-us-4506177470507\" class=\"collapsible-content collapsible-content--all is-open\"\u003e\n\u003cdiv class=\"collapsible-content__inner rte\"\u003e\n\u003cp\u003e\u003cimg src=\"https:\/\/cdn.shopify.cn\/s\/files\/1\/0124\/1294\/4443\/files\/shoes-chart-femal-20-G-NEW-07.png?v=1591414789\" width=\"452\" height=\"255\"\u003e\u003c\/p\u003e\n\u003cp\u003eOur shoes fit true to US standard sizing, meaning you should simply order what you normally wear (or which size appears most in your closet).\u003cbr\u003eIf you are between two half sizes (e.g., sometimes 7.5, sometimes 8), we recommend ordering the lower of the two.\u003cbr\u003eYou also can follow the guide here below to measure yourself.\u003c\/p\u003e\n\u003cp\u003e\u003cstrong\u003eHow To Measure\u003c\/strong\u003e :\u003cbr\u003eItem measurements\u003cbr\u003eIf you have any questions about the size, please contact our customer service!\u003cbr\u003eConnect us: services@superladystar.com\u003c\/p\u003e\n\u003cp\u003e\u003cem\u003e\u003cimg src=\"https:\/\/cdn.shopify.com\/s\/files\/1\/0124\/1294\/4443\/files\/shoes-measure_480x480.jpg?v=1557838392\" alt=\"\"\u003e\u003c\/em\u003e\u003c\/p\u003e\n\u003c\/div\u003e\n\u003c\/div\u003e\n\u003cp\u003eWhy not collect them in your shoe cabinet? NOW FREE SHIPPING!\u003c\/p\u003e\n\u003cp\u003eThe boots are soft to the touch made from gorgeous calfskin leather. As you notice the ruching is right here where your feet to naturally flexes and it gives you a little bit more space in here so the boots fit true to size but it is actually a little bit roomy in terms of comfort. \u003c\/p\u003e\n\u003cp\u003eMaterial:\u003cbr\u003e✅Upper: Cowhide Leather\u003cbr\u003e✅Lining: Supple Cowhide Leather \u0026amp; Soft and cozy monochromatic paisley textile lining.\u003cbr\u003e✅Outsole: Wear-resistant rubber\u003cbr\u003e✅Insole: Synthetic leather padded insole.\u003cbr\u003e✅Hardware: Solid brass zipper \u003cbr\u003e\u003cbr\u003eHandcrafted:\u003cbr\u003eCombining supple leather and top-rate technique from skillful craftsmen, to create amazing comfort!\u003cbr\u003e\u003cbr\u003eDetails:\u003cbr\u003e✅Heel Height: 2cm\/0.78 inches\u003cbr\u003e✅Closure Type: Two zippers, Adjustable\u003cbr\u003e\u003cbr\u003ePlease Note:\u003cbr\u003e✅These are handmade products so it may take more time to produce than other shoes.\u003cbr\u003e✅The shoes are genuine leather products that are able to have a little contact with water but they can not be soaked in water for a long time.\u003cbr\u003e✅Handmade products. It takes 10 days to send out after ordering. Please understand!\u003cbr\u003e\u003cbr\u003eThey are super comfortable and yet so unique looking. Wear her with jeans or casual wear, and either way, you will always stand on a stage.\u003c\/p\u003e\n\u003cem\u003eWhere Does Leather Come From?\u003c\/em\u003e\u003cbr\u003e\u003cem\u003eThe cowhide leather is a leftover from the food industry; No animal is killed for your shoes. We are well aware that leather comes from larger animals. However, animals aren't raised in order to give us leather: they're raised for their meat, milk or wool.\u003c\/em\u003e\u003cbr\u003e\u003cem\u003eWhile this might not sound much better to someone who is a vegetarian, the average person can rest easy knowing that the leather was not taken from a cow who was raised and killed just for their hide. \u003c\/em\u003e"}
COSY ANKLE BOOTS (6 Colors)
Product Description
"Growing up we only had black or brown loafers or "saddle shoes". I always longed for colored shoes so when I was working I bought shoes in many colors. Usually lovely high heels. Now as a senior I need flat shoes and it is so hard to find colored shoes so I wear a lot of black flats. I am so happy to see colors coming back into our shoes."--Lina A.
Women Shoes Size Chart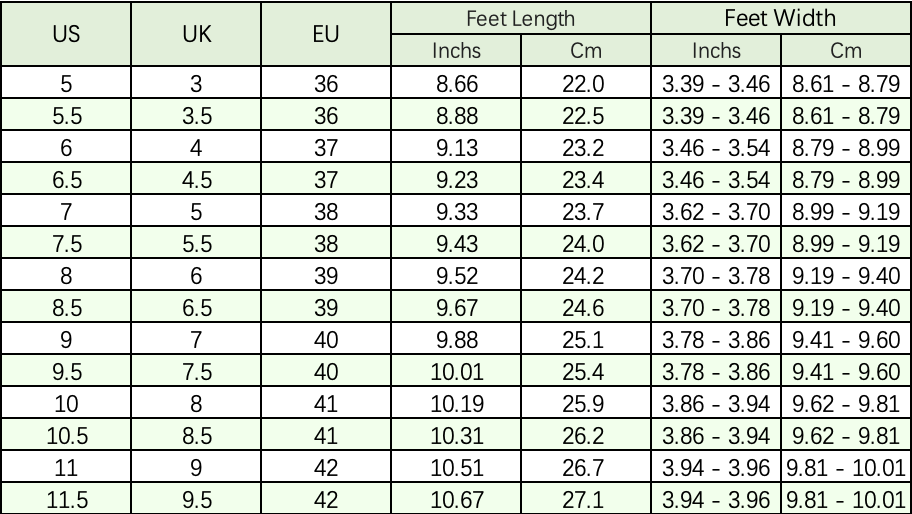 Our shoes fit true to US standard sizing, meaning you should simply order what you normally wear (or which size appears most in your closet).
If you are between two half sizes (e.g., sometimes 7.5, sometimes 8), we recommend ordering the lower of the two.
You also can follow the guide here below to measure yourself.
How To Measure :
Item measurements
If you have any questions about the size, please contact our customer service!
Connect us: services@superladystar.com
Why not collect them in your shoe cabinet? NOW FREE SHIPPING!
The boots are soft to the touch made from gorgeous calfskin leather. As you notice the ruching is right here where your feet to naturally flexes and it gives you a little bit more space in here so the boots fit true to size but it is actually a little bit roomy in terms of comfort. 
Material:
✅Upper: Cowhide Leather
✅Lining: Supple Cowhide Leather & Soft and cozy monochromatic paisley textile lining.
✅Outsole: Wear-resistant rubber
✅Insole: Synthetic leather padded insole.
✅Hardware: Solid brass zipper

Handcrafted:
Combining supple leather and top-rate technique from skillful craftsmen, to create amazing comfort!

Details:
✅Heel Height: 2cm/0.78 inches
✅Closure Type: Two zippers, Adjustable

Please Note:
✅These are handmade products so it may take more time to produce than other shoes.
✅The shoes are genuine leather products that are able to have a little contact with water but they can not be soaked in water for a long time.
✅Handmade products. It takes 10 days to send out after ordering. Please understand!

They are super comfortable and yet so unique looking. Wear her with jeans or casual wear, and either way, you will always stand on a stage.
Where Does Leather Come From?The cowhide leather is a leftover from the food industry; No animal is killed for your shoes. We are well aware that leather comes from larger animals. However, animals aren't raised in order to give us leather: they're raised for their meat, milk or wool.While this might not sound much better to someone who is a vegetarian, the average person can rest easy knowing that the leather was not taken from a cow who was raised and killed just for their hide.