{"id":4118218571822,"title":"(Hot Sale)Spider-Man Costume Halloween Cosplay 3D Printed Suit-Buy 2 get free shipping","handle":"hot-sale-spider-man-costume-halloween-cosplay-3d-printed-suit-buy-2-get-free-shipping","description":"\u003cdiv\u003e\n\u003cp\u003e\u003cspan\u003e\u003cstrong\u003e\u003cimg src=\"https:\/\/cdn.shopify.com\/s\/files\/1\/2587\/4640\/files\/best-seller_medium_d635805c-80f9-4c17-b898-6550143d3caa_large.png?v=1521028411\"\u003e\u003c\/strong\u003e\u003c\/span\u003e\u003c\/p\u003e\n\u003cul class=\"a-unordered-list a-vertical a-spacing-none\"\u003e\n\u003cli\u003e\u003cspan\u003e\u003cstrong\u003e\u003cspan style=\"color: #ff0000;\"\u003eHandling time\u0026gt;\u0026gt;\u003c\/span\u003e \u003c\/strong\u003eShip within \u003cspan style=\"color: #ff0000;\"\u003e\u003cstrong\u003e24\u003c\/strong\u003e\u003c\/span\u003e\u003cstrong\u003e\u003cspan style=\"color: #ff0000;\"\u003e hours\u003c\/span\u003e \u003c\/strong\u003eafter payment\u003c\/span\u003e\u003c\/li\u003e\n\u003cli\u003e\u003cspan\u003eWorldwide Shipping,\u003cstrong\u003e\u003cspan style=\"color: #ff0000;\"\u003e7-12 Days\u003c\/span\u003e \u003c\/strong\u003eReceiving\u003c\/span\u003e\u003c\/li\u003e\n\u003cli\u003e\u003cspan style=\"color: #ff0000;\"\u003e\u003cstrong\u003e100% Money Back Guarantee. \u003c\/strong\u003e\u003c\/span\u003e\u003c\/li\u003e\n\u003cli\u003e\u003cspan\u003eThis product was recommended by 99% of reviewers.\u003c\/span\u003e\u003c\/li\u003e\n\u003c\/ul\u003e\n\u003c\/div\u003e\u003cimg src=\"https:\/\/i.gifer.com\/6KJY.gif\" alt=\"\" width=\"373\" height=\"210\" style=\"display: block; margin-left: auto; margin-right: auto;\"\u003e\u003cdiv\u003e\u003cimg src=\"\/\/cdn.shopify.com\/s\/files\/1\/0082\/7857\/3127\/files\/maxresdefault_large.jpg?v=1567821916\" alt=\"\" style=\"display: block; margin-left: auto; margin-right: auto;\"\u003e\u003c\/div\u003eWe have no Radioactive Spiders to offer you, so you cannot start climbing roof-tops and swinging around the neighborhood all of a sudden. But start rocking our Spider-man Costume Suit and you can impress your Family \u0026amp; Friends! \u003cdiv\u003e\u003cimg src=\"https:\/\/cdn.shopify.com\/s\/files\/1\/0035\/7960\/9158\/files\/4a00a9ee4f42881348f7162cae4aa898585433b2_00_large.gif?v=1538414995\" alt=\"\" style=\"display: block; margin-left: auto; margin-right: auto;\"\u003e\u003c\/div\u003e\u003cspan\u003eThe \u003cstrong\u003eSpider-man Costume Suit\u003c\/strong\u003e makes a great choice for trick-or-treating, costume parties and role-play. \u003c\/span\u003e\u003cp\u003e\u003cimg src=\"https:\/\/cdn.shopify.com\/s\/files\/1\/0035\/7960\/9158\/files\/giphy_5_large.gif?v=1538455676\" alt=\"\" style=\"display: block; margin-left: auto; margin-right: auto;\"\u003e\u003c\/p\u003e\u003cp\u003e\u003cstrong\u003eFEATURES:\u003c\/strong\u003e\u003c\/p\u003e\u003cul\u003e\n\u003cli\u003e\u003cspan\u003e88% Polyester\/12% Spandex.\u003c\/span\u003e\u003c\/li\u003e\n\u003cli\u003e\u003cspan\u003eHand Wash.\u003c\/span\u003e\u003c\/li\u003e\n\u003cli\u003e\u003cspan\u003eFeatures a gel spider patch on chest.\u003c\/span\u003e\u003c\/li\u003e\n\u003cli\u003e\u003cspan\u003eAuthentic theatrical quality costumes.\u003c\/span\u003e\u003c\/li\u003e\n\u003cli\u003e\u003cspan\u003eGive yourself a smooth and classic appearance like the one your favorite celebrity has by wearing these jackets in your gatherings or any costume event.\u003c\/span\u003e\u003c\/li\u003e\n\u003c\/ul\u003e\u003ch3\u003e\u003cstrong\u003eSTUNT SCOOTER SPIDERMAN Toy Riding on Skateboards with Music and Sound Effect\u003c\/strong\u003e\u003c\/h3\u003e\u003cp\u003e\u003cspan\u003e\u003cimg src=\"\/\/cdn.shopify.com\/s\/files\/1\/0066\/3493\/0266\/files\/Stunt-scooter1_large.gif?v=1568333517\" alt=\"\" style=\"display: block; margin-left: auto; margin-right: auto;\"\u003e\u003c\/span\u003e\u003c\/p\u003e\u003ch4\u003e\u003cstrong\u003ePackage\u003c\/strong\u003e\u003c\/h4\u003e\u003cul class=\"packing-list\"\u003e\n\u003cli\u003e\n\u003cspan\u003eShipping Weight : \u003c\/span\u003e0.5 kg\u003c\/li\u003e\n\u003cli\u003e\n\u003cspan\u003eNet Weight : \u003c\/span\u003e\u003cem\u003e\u003c\/em\u003e0.45kg\u003c\/li\u003e\n\u003cli\u003e\n\u003cspan\u003ePackage Size :\u003c\/span\u003e\u003cspan\u003e \u003c\/span\u003e\u003cem\u003e\u003c\/em\u003e40.0cm x 20.0cm x 5.0cm\u003c\/li\u003e\n\u003cli\u003e\n\u003cspan\u003eWhat's in the box :\u003c\/span\u003e\u003cspan\u003e \u003c\/span\u003e\u003cem\u003e1 X Spider-man Costumes\u003c\/em\u003e\n\u003c\/li\u003e\n\u003c\/ul\u003e\u003cp\u003e\u003cstrong\u003eNote: \u003cbr\u003e\u003c\/strong\u003e\u003c\/p\u003e\u003cul\u003e\n\u003cli\u003e\u003cspan\u003e\u003cstrong\u003eTry to pick the exact fit for your size\u003c\/strong\u003e\u003c\/span\u003e\u003c\/li\u003e\n\u003cli\u003e\u003cspan\u003e\u003cstrong\u003eBoth costumes are slightly elastic\u003c\/strong\u003e\u003c\/span\u003e\u003c\/li\u003e\n\u003cli\u003e\u003cspan\u003e\u003cstrong\u003eIf the size is too large it may not look as good\u003c\/strong\u003e\u003c\/span\u003e\u003c\/li\u003e\n\u003cli\u003e\u003cspan\u003e\u003cstrong\u003eIf the size is too small it will be uncomfortable\u003c\/strong\u003e\u003c\/span\u003e\u003c\/li\u003e\n\u003cli\u003e\u003cspan\u003e\u003cstrong\u003eIf your Chest or Waist is bigger than the average person for a particular height, consider selecting the larger size\u003c\/strong\u003e\u003c\/span\u003e\u003c\/li\u003e\n\u003cli\u003e\u003cspan\u003e\u003cstrong\u003eYou will probably want to wear additional clothing inside as it may get cold as we approach the Winter Season\u003c\/strong\u003e\u003c\/span\u003e\u003c\/li\u003e\n\u003cli\u003e\u003cspan\u003e\u003cstrong\u003eAs such, we recommend trying to match your body size based on your measurements\u003c\/strong\u003e\u003c\/span\u003e\u003c\/li\u003e\n\u003c\/ul\u003e\u003cimg src=\"https:\/\/cdn.shopify.com\/s\/files\/1\/0035\/7960\/9158\/files\/Red_eeb8ec1f-6e03-4784-8108-d9b62ef90abc_grande.png?v=1538798497\" alt=\"\"\u003e \u003cbr\u003e\u003cp\u003e\u003cspan\u003eThe 4 smallest sizes are for children and are slightly different - They come with a zipper. The 4 largest sizes are for adults - They do not come with a zipper and the chest\/waist\/shoulder widths are much broader.\u003cbr\u003e\u003c\/span\u003e\u003c\/p\u003e\u003cp\u003e\u003cimg src=\"https:\/\/cdn.shopify.com\/s\/files\/1\/0035\/7960\/9158\/files\/Red_grande.png?v=1538795763\" alt=\"\"\u003e\u003c\/p\u003e\u003cp\u003eSize refers to Height in cm. For those using the Imperial System, kindly refer to the conversion chart to convert your height from feet to cm. Length refers to the total length (height) of the costume. \u003cbr\u003e\u003cimg alt=\"\" src=\"\/\/cdn.shopify.com\/s\/files\/1\/0082\/7857\/3127\/files\/2.jpg?v=1567582503\" style=\"float: none;\"\u003e\u003cbr\u003e\u003cspan\u003e\u003cstrong\u003e \u003cimg src=\"https:\/\/cdn.shopify.com\/s\/files\/1\/0035\/7960\/9158\/files\/giphy_1_1_large.gif?v=1538455808\" alt=\"\"\u003e\u003c\/strong\u003e\u003c\/span\u003e\u003c\/p\u003e\u003cp\u003e\u003cspan style=\"color: #ff0000;\"\u003e\u003cem\u003e\u003cstrong\u003eSupporting Goods Recommendations\u003c\/strong\u003e\u003c\/em\u003e\u003c\/span\u003e\u003c\/p\u003e\u003cp\u003e\u003cstrong\u003eNO 1 60% OFF TODAY - White Bunny Rabbit Bloody Creepy Scary Mask  $ 18.80 ONLY\u0026gt;\u0026gt;https:\/\/bit.ly\/2zv3wdS\u003c\/strong\u003e\u003c\/p\u003e\u003cp\u003e\u003cstrong\u003e\u003cspan\u003e\u003cimg src=\"https:\/\/cdn.shopify.com\/s\/files\/1\/0066\/3493\/0266\/products\/2_5695d222-185a-4387-bdb9-1857978edb0f_300x.jpg?v=1568236246\" alt=\"50% OFF TODAY - White Bunny Rabbit Bloody Creepy Scary Mask\"\u003e\u003c\/span\u003e\u003c\/strong\u003e\u003c\/p\u003e\u003cp\u003e\u003cstrong\u003e\u003cspan\u003eNO 2 60% OFF- IT - Pennywise Deluxe Edition Mask\u003c\/span\u003e\u003c\/strong\u003e\u003c\/p\u003e\u003cp\u003e\u003cstrong\u003e\u003cspan\u003e$59.99\u003c\/span\u003e\u003c\/strong\u003e\u003cstrong\u003e\u003cspan\u003eONLY \u0026gt;\u0026gt;https:\/\/bit.ly\/2kNvUUK\u003c\/span\u003e\u003c\/strong\u003e\u003c\/p\u003e\u003cp\u003e\u003cstrong\u003e\u003cspan\u003e\u003cimg src=\"https:\/\/cdn.shopify.com\/s\/files\/1\/0066\/3493\/0266\/products\/1_85760b2b-3eb6-43e8-a0f6-4eea4c2c543c_300x300.png?v=1568236464\" alt=\"50% OFF- IT - Pennywise Deluxe Edition Mask\"\u003e\u003c\/span\u003e\u003c\/strong\u003e\u003c\/p\u003e\u003ch3\u003e\u003cspan\u003e4 GREAT REASONS TO BUY FROM US\u003c\/span\u003e\u003c\/h3\u003e\u003ch3\u003e\n\u003cspan\u003e\u003c\/span\u003e\u003cimg src=\"https:\/\/cdn.shopify.com\/s\/files\/1\/1569\/2079\/files\/trust.png?v=1503150603\" alt=\"\"\u003e\n\u003c\/h3\u003e\u003ch3\u003e\u003cspan\u003eSHIPPING\u003c\/span\u003e\u003c\/h3\u003e\u003cul\u003e\n\u003cli\u003eShipping takes \u003cspan\u003e7-14 Days \u003c\/span\u003edepending on location.\u003c\/li\u003e\n\u003cli\u003eSome distant areas can take a bit longer.But we'll get it to you\u003c\/li\u003e\n\u003c\/ul\u003e\u003ch3\u003e\u003cspan\u003eOUR GUARANTEE\u003c\/span\u003e\u003c\/h3\u003e\u003cul\u003e\n\u003cli\u003e\u003cspan\u003eWe truly believe we carry some of the most innovativeproducts in the world, and we want to make sure we back that up with a risk-free ironclad 90 day guarantee.\u003c\/span\u003e\u003c\/li\u003e\n\u003cli\u003e\u003cspan\u003eIf you don't have a positive experience for ANY reason, we will do WHATEVER it takes to make sure you are 100% satisfied with your purchase.\u003c\/span\u003e\u003c\/li\u003e\n\u003cli\u003e\u003cspan\u003eBuying items online can be a daunting task, so we want you to realize that there is absolute ZERO risk in buying something and trying it out. If you don't like it, no hard feelings we'll make it right.\u003c\/span\u003e\u003c\/li\u003e\n\u003cli\u003e\u003cspan\u003eWe have 24\/7\/365 Ticket and Email Support. Please contact us if you need assistance.\u003c\/span\u003e\u003c\/li\u003e\n\u003c\/ul\u003e","published_at":"2020-09-17T19:53:43+08:00","created_at":"2019-09-22T12:10:21+08:00","vendor":"Popular Buy Online","type":"","tags":[],"price":3999,"price_min":3999,"price_max":4799,"available":true,"price_varies":true,"compare_at_price":7998,"compare_at_price_min":7998,"compare_at_price_max":7998,"compare_at_price_varies":false,"variants":[{"id":30235409547310,"title":"BLACK \/ 100-110CM \/ 1PC","option1":"BLACK","option2":"100-110CM","option3":"1PC","sku":"Clothes001BK100","requires_shipping":true,"taxable":true,"featured_image":{"id":12760802132014,"product_id":4118218571822,"position":2,"created_at":"2019-09-22T12:10:21+08:00","updated_at":"2020-02-03T14:36:52+08:00","alt":null,"width":400,"height":400,"src":"https:\/\/cdn.shopify.com\/s\/files\/1\/0040\/3374\/0846\/products\/c355996a8d47824c8939bd91e3b6fa21_3f0f281b-1952-481b-b585-3ffc9933836f.jpg?v=1580711812","variant_ids":[30235409547310,30235409580078,30235409612846,30235409645614,30235409678382,30235409711150,30235409743918,30235409776686,30235409809454,30235409842222,30235409874990,30235409907758,30235409940526,30235409973294,30235410006062,30235410038830,30235410071598,30235410137134,30235410169902,30235410202670]},"available":true,"name":"(Hot Sale)Spider-Man Costume Halloween Cosplay 3D Printed Suit-Buy 2 get free shipping - BLACK \/ 100-110CM \/ 1PC","public_title":"BLACK \/ 100-110CM \/ 1PC","options":["BLACK","100-110CM","1PC"],"price":4799,"weight":0,"compare_at_price":7998,"inventory_management":null,"barcode":null,"featured_media":{"alt":null,"id":892768911406,"position":2,"preview_image":{"aspect_ratio":1.0,"height":400,"width":400,"src":"https:\/\/cdn.shopify.com\/s\/files\/1\/0040\/3374\/0846\/products\/c355996a8d47824c8939bd91e3b6fa21_3f0f281b-1952-481b-b585-3ffc9933836f.jpg?v=1570384731"}}},{"id":30235409580078,"title":"BLACK \/ 100-110CM \/ 2PC","option1":"BLACK","option2":"100-110CM","option3":"2PC","sku":"Clothes001BK100","requires_shipping":true,"taxable":true,"featured_image":{"id":12760802132014,"product_id":4118218571822,"position":2,"created_at":"2019-09-22T12:10:21+08:00","updated_at":"2020-02-03T14:36:52+08:00","alt":null,"width":400,"height":400,"src":"https:\/\/cdn.shopify.com\/s\/files\/1\/0040\/3374\/0846\/products\/c355996a8d47824c8939bd91e3b6fa21_3f0f281b-1952-481b-b585-3ffc9933836f.jpg?v=1580711812","variant_ids":[30235409547310,30235409580078,30235409612846,30235409645614,30235409678382,30235409711150,30235409743918,30235409776686,30235409809454,30235409842222,30235409874990,30235409907758,30235409940526,30235409973294,30235410006062,30235410038830,30235410071598,30235410137134,30235410169902,30235410202670]},"available":true,"name":"(Hot Sale)Spider-Man Costume Halloween Cosplay 3D Printed Suit-Buy 2 get free shipping - BLACK \/ 100-110CM \/ 2PC","public_title":"BLACK \/ 100-110CM \/ 2PC","options":["BLACK","100-110CM","2PC"],"price":3999,"weight":0,"compare_at_price":7998,"inventory_management":null,"barcode":null,"featured_media":{"alt":null,"id":892768911406,"position":2,"preview_image":{"aspect_ratio":1.0,"height":400,"width":400,"src":"https:\/\/cdn.shopify.com\/s\/files\/1\/0040\/3374\/0846\/products\/c355996a8d47824c8939bd91e3b6fa21_3f0f281b-1952-481b-b585-3ffc9933836f.jpg?v=1570384731"}}},{"id":30235409612846,"title":"BLACK \/ 110-120 CM \/ 1PC","option1":"BLACK","option2":"110-120 CM","option3":"1PC","sku":"Clothes001BK100","requires_shipping":true,"taxable":true,"featured_image":{"id":12760802132014,"product_id":4118218571822,"position":2,"created_at":"2019-09-22T12:10:21+08:00","updated_at":"2020-02-03T14:36:52+08:00","alt":null,"width":400,"height":400,"src":"https:\/\/cdn.shopify.com\/s\/files\/1\/0040\/3374\/0846\/products\/c355996a8d47824c8939bd91e3b6fa21_3f0f281b-1952-481b-b585-3ffc9933836f.jpg?v=1580711812","variant_ids":[30235409547310,30235409580078,30235409612846,30235409645614,30235409678382,30235409711150,30235409743918,30235409776686,30235409809454,30235409842222,30235409874990,30235409907758,30235409940526,30235409973294,30235410006062,30235410038830,30235410071598,30235410137134,30235410169902,30235410202670]},"available":true,"name":"(Hot Sale)Spider-Man Costume Halloween Cosplay 3D Printed Suit-Buy 2 get free shipping - BLACK \/ 110-120 CM \/ 1PC","public_title":"BLACK \/ 110-120 CM \/ 1PC","options":["BLACK","110-120 CM","1PC"],"price":3999,"weight":0,"compare_at_price":7998,"inventory_management":null,"barcode":null,"featured_media":{"alt":null,"id":892768911406,"position":2,"preview_image":{"aspect_ratio":1.0,"height":400,"width":400,"src":"https:\/\/cdn.shopify.com\/s\/files\/1\/0040\/3374\/0846\/products\/c355996a8d47824c8939bd91e3b6fa21_3f0f281b-1952-481b-b585-3ffc9933836f.jpg?v=1570384731"}}},{"id":30235409645614,"title":"BLACK \/ 110-120 CM \/ 2PC","option1":"BLACK","option2":"110-120 CM","option3":"2PC","sku":"Clothes001BK100","requires_shipping":true,"taxable":true,"featured_image":{"id":12760802132014,"product_id":4118218571822,"position":2,"created_at":"2019-09-22T12:10:21+08:00","updated_at":"2020-02-03T14:36:52+08:00","alt":null,"width":400,"height":400,"src":"https:\/\/cdn.shopify.com\/s\/files\/1\/0040\/3374\/0846\/products\/c355996a8d47824c8939bd91e3b6fa21_3f0f281b-1952-481b-b585-3ffc9933836f.jpg?v=1580711812","variant_ids":[30235409547310,30235409580078,30235409612846,30235409645614,30235409678382,30235409711150,30235409743918,30235409776686,30235409809454,30235409842222,30235409874990,30235409907758,30235409940526,30235409973294,30235410006062,30235410038830,30235410071598,30235410137134,30235410169902,30235410202670]},"available":true,"name":"(Hot Sale)Spider-Man Costume Halloween Cosplay 3D Printed Suit-Buy 2 get free shipping - BLACK \/ 110-120 CM \/ 2PC","public_title":"BLACK \/ 110-120 CM \/ 2PC","options":["BLACK","110-120 CM","2PC"],"price":3999,"weight":0,"compare_at_price":7998,"inventory_management":null,"barcode":null,"featured_media":{"alt":null,"id":892768911406,"position":2,"preview_image":{"aspect_ratio":1.0,"height":400,"width":400,"src":"https:\/\/cdn.shopify.com\/s\/files\/1\/0040\/3374\/0846\/products\/c355996a8d47824c8939bd91e3b6fa21_3f0f281b-1952-481b-b585-3ffc9933836f.jpg?v=1570384731"}}},{"id":30235409678382,"title":"BLACK \/ 120-130 CM \/ 1PC","option1":"BLACK","option2":"120-130 CM","option3":"1PC","sku":"Clothes001BK100","requires_shipping":true,"taxable":true,"featured_image":{"id":12760802132014,"product_id":4118218571822,"position":2,"created_at":"2019-09-22T12:10:21+08:00","updated_at":"2020-02-03T14:36:52+08:00","alt":null,"width":400,"height":400,"src":"https:\/\/cdn.shopify.com\/s\/files\/1\/0040\/3374\/0846\/products\/c355996a8d47824c8939bd91e3b6fa21_3f0f281b-1952-481b-b585-3ffc9933836f.jpg?v=1580711812","variant_ids":[30235409547310,30235409580078,30235409612846,30235409645614,30235409678382,30235409711150,30235409743918,30235409776686,30235409809454,30235409842222,30235409874990,30235409907758,30235409940526,30235409973294,30235410006062,30235410038830,30235410071598,30235410137134,30235410169902,30235410202670]},"available":true,"name":"(Hot Sale)Spider-Man Costume Halloween Cosplay 3D Printed Suit-Buy 2 get free shipping - BLACK \/ 120-130 CM \/ 1PC","public_title":"BLACK \/ 120-130 CM \/ 1PC","options":["BLACK","120-130 CM","1PC"],"price":3999,"weight":0,"compare_at_price":7998,"inventory_management":null,"barcode":null,"featured_media":{"alt":null,"id":892768911406,"position":2,"preview_image":{"aspect_ratio":1.0,"height":400,"width":400,"src":"https:\/\/cdn.shopify.com\/s\/files\/1\/0040\/3374\/0846\/products\/c355996a8d47824c8939bd91e3b6fa21_3f0f281b-1952-481b-b585-3ffc9933836f.jpg?v=1570384731"}}},{"id":30235409711150,"title":"BLACK \/ 120-130 CM \/ 2PC","option1":"BLACK","option2":"120-130 CM","option3":"2PC","sku":"Clothes001BK100","requires_shipping":true,"taxable":true,"featured_image":{"id":12760802132014,"product_id":4118218571822,"position":2,"created_at":"2019-09-22T12:10:21+08:00","updated_at":"2020-02-03T14:36:52+08:00","alt":null,"width":400,"height":400,"src":"https:\/\/cdn.shopify.com\/s\/files\/1\/0040\/3374\/0846\/products\/c355996a8d47824c8939bd91e3b6fa21_3f0f281b-1952-481b-b585-3ffc9933836f.jpg?v=1580711812","variant_ids":[30235409547310,30235409580078,30235409612846,30235409645614,30235409678382,30235409711150,30235409743918,30235409776686,30235409809454,30235409842222,30235409874990,30235409907758,30235409940526,30235409973294,30235410006062,30235410038830,30235410071598,30235410137134,30235410169902,30235410202670]},"available":true,"name":"(Hot Sale)Spider-Man Costume Halloween Cosplay 3D Printed Suit-Buy 2 get free shipping - BLACK \/ 120-130 CM \/ 2PC","public_title":"BLACK \/ 120-130 CM \/ 2PC","options":["BLACK","120-130 CM","2PC"],"price":3999,"weight":0,"compare_at_price":7998,"inventory_management":null,"barcode":null,"featured_media":{"alt":null,"id":892768911406,"position":2,"preview_image":{"aspect_ratio":1.0,"height":400,"width":400,"src":"https:\/\/cdn.shopify.com\/s\/files\/1\/0040\/3374\/0846\/products\/c355996a8d47824c8939bd91e3b6fa21_3f0f281b-1952-481b-b585-3ffc9933836f.jpg?v=1570384731"}}},{"id":30235409743918,"title":"BLACK \/ 130-140 CM \/ 1PC","option1":"BLACK","option2":"130-140 CM","option3":"1PC","sku":"Clothes001BK100","requires_shipping":true,"taxable":true,"featured_image":{"id":12760802132014,"product_id":4118218571822,"position":2,"created_at":"2019-09-22T12:10:21+08:00","updated_at":"2020-02-03T14:36:52+08:00","alt":null,"width":400,"height":400,"src":"https:\/\/cdn.shopify.com\/s\/files\/1\/0040\/3374\/0846\/products\/c355996a8d47824c8939bd91e3b6fa21_3f0f281b-1952-481b-b585-3ffc9933836f.jpg?v=1580711812","variant_ids":[30235409547310,30235409580078,30235409612846,30235409645614,30235409678382,30235409711150,30235409743918,30235409776686,30235409809454,30235409842222,30235409874990,30235409907758,30235409940526,30235409973294,30235410006062,30235410038830,30235410071598,30235410137134,30235410169902,30235410202670]},"available":true,"name":"(Hot Sale)Spider-Man Costume Halloween Cosplay 3D Printed Suit-Buy 2 get free shipping - BLACK \/ 130-140 CM \/ 1PC","public_title":"BLACK \/ 130-140 CM \/ 1PC","options":["BLACK","130-140 CM","1PC"],"price":3999,"weight":0,"compare_at_price":7998,"inventory_management":null,"barcode":null,"featured_media":{"alt":null,"id":892768911406,"position":2,"preview_image":{"aspect_ratio":1.0,"height":400,"width":400,"src":"https:\/\/cdn.shopify.com\/s\/files\/1\/0040\/3374\/0846\/products\/c355996a8d47824c8939bd91e3b6fa21_3f0f281b-1952-481b-b585-3ffc9933836f.jpg?v=1570384731"}}},{"id":30235409776686,"title":"BLACK \/ 130-140 CM \/ 2PC","option1":"BLACK","option2":"130-140 CM","option3":"2PC","sku":"Clothes001BK100","requires_shipping":true,"taxable":true,"featured_image":{"id":12760802132014,"product_id":4118218571822,"position":2,"created_at":"2019-09-22T12:10:21+08:00","updated_at":"2020-02-03T14:36:52+08:00","alt":null,"width":400,"height":400,"src":"https:\/\/cdn.shopify.com\/s\/files\/1\/0040\/3374\/0846\/products\/c355996a8d47824c8939bd91e3b6fa21_3f0f281b-1952-481b-b585-3ffc9933836f.jpg?v=1580711812","variant_ids":[30235409547310,30235409580078,30235409612846,30235409645614,30235409678382,30235409711150,30235409743918,30235409776686,30235409809454,30235409842222,30235409874990,30235409907758,30235409940526,30235409973294,30235410006062,30235410038830,30235410071598,30235410137134,30235410169902,30235410202670]},"available":true,"name":"(Hot Sale)Spider-Man Costume Halloween Cosplay 3D Printed Suit-Buy 2 get free shipping - BLACK \/ 130-140 CM \/ 2PC","public_title":"BLACK \/ 130-140 CM \/ 2PC","options":["BLACK","130-140 CM","2PC"],"price":3999,"weight":0,"compare_at_price":7998,"inventory_management":null,"barcode":null,"featured_media":{"alt":null,"id":892768911406,"position":2,"preview_image":{"aspect_ratio":1.0,"height":400,"width":400,"src":"https:\/\/cdn.shopify.com\/s\/files\/1\/0040\/3374\/0846\/products\/c355996a8d47824c8939bd91e3b6fa21_3f0f281b-1952-481b-b585-3ffc9933836f.jpg?v=1570384731"}}},{"id":30235409809454,"title":"BLACK \/ 140-150 CM \/ 1PC","option1":"BLACK","option2":"140-150 CM","option3":"1PC","sku":"Clothes001BK100","requires_shipping":true,"taxable":true,"featured_image":{"id":12760802132014,"product_id":4118218571822,"position":2,"created_at":"2019-09-22T12:10:21+08:00","updated_at":"2020-02-03T14:36:52+08:00","alt":null,"width":400,"height":400,"src":"https:\/\/cdn.shopify.com\/s\/files\/1\/0040\/3374\/0846\/products\/c355996a8d47824c8939bd91e3b6fa21_3f0f281b-1952-481b-b585-3ffc9933836f.jpg?v=1580711812","variant_ids":[30235409547310,30235409580078,30235409612846,30235409645614,30235409678382,30235409711150,30235409743918,30235409776686,30235409809454,30235409842222,30235409874990,30235409907758,30235409940526,30235409973294,30235410006062,30235410038830,30235410071598,30235410137134,30235410169902,30235410202670]},"available":true,"name":"(Hot Sale)Spider-Man Costume Halloween Cosplay 3D Printed Suit-Buy 2 get free shipping - BLACK \/ 140-150 CM \/ 1PC","public_title":"BLACK \/ 140-150 CM \/ 1PC","options":["BLACK","140-150 CM","1PC"],"price":3999,"weight":0,"compare_at_price":7998,"inventory_management":null,"barcode":null,"featured_media":{"alt":null,"id":892768911406,"position":2,"preview_image":{"aspect_ratio":1.0,"height":400,"width":400,"src":"https:\/\/cdn.shopify.com\/s\/files\/1\/0040\/3374\/0846\/products\/c355996a8d47824c8939bd91e3b6fa21_3f0f281b-1952-481b-b585-3ffc9933836f.jpg?v=1570384731"}}},{"id":30235409842222,"title":"BLACK \/ 140-150 CM \/ 2PC","option1":"BLACK","option2":"140-150 CM","option3":"2PC","sku":"Clothes001BK100","requires_shipping":true,"taxable":true,"featured_image":{"id":12760802132014,"product_id":4118218571822,"position":2,"created_at":"2019-09-22T12:10:21+08:00","updated_at":"2020-02-03T14:36:52+08:00","alt":null,"width":400,"height":400,"src":"https:\/\/cdn.shopify.com\/s\/files\/1\/0040\/3374\/0846\/products\/c355996a8d47824c8939bd91e3b6fa21_3f0f281b-1952-481b-b585-3ffc9933836f.jpg?v=1580711812","variant_ids":[30235409547310,30235409580078,30235409612846,30235409645614,30235409678382,30235409711150,30235409743918,30235409776686,30235409809454,30235409842222,30235409874990,30235409907758,30235409940526,30235409973294,30235410006062,30235410038830,30235410071598,30235410137134,30235410169902,30235410202670]},"available":true,"name":"(Hot Sale)Spider-Man Costume Halloween Cosplay 3D Printed Suit-Buy 2 get free shipping - BLACK \/ 140-150 CM \/ 2PC","public_title":"BLACK \/ 140-150 CM \/ 2PC","options":["BLACK","140-150 CM","2PC"],"price":3999,"weight":0,"compare_at_price":7998,"inventory_management":null,"barcode":null,"featured_media":{"alt":null,"id":892768911406,"position":2,"preview_image":{"aspect_ratio":1.0,"height":400,"width":400,"src":"https:\/\/cdn.shopify.com\/s\/files\/1\/0040\/3374\/0846\/products\/c355996a8d47824c8939bd91e3b6fa21_3f0f281b-1952-481b-b585-3ffc9933836f.jpg?v=1570384731"}}},{"id":30235409874990,"title":"BLACK \/ 150-160 CM \/ 1PC","option1":"BLACK","option2":"150-160 CM","option3":"1PC","sku":"Clothes001BK100","requires_shipping":true,"taxable":true,"featured_image":{"id":12760802132014,"product_id":4118218571822,"position":2,"created_at":"2019-09-22T12:10:21+08:00","updated_at":"2020-02-03T14:36:52+08:00","alt":null,"width":400,"height":400,"src":"https:\/\/cdn.shopify.com\/s\/files\/1\/0040\/3374\/0846\/products\/c355996a8d47824c8939bd91e3b6fa21_3f0f281b-1952-481b-b585-3ffc9933836f.jpg?v=1580711812","variant_ids":[30235409547310,30235409580078,30235409612846,30235409645614,30235409678382,30235409711150,30235409743918,30235409776686,30235409809454,30235409842222,30235409874990,30235409907758,30235409940526,30235409973294,30235410006062,30235410038830,30235410071598,30235410137134,30235410169902,30235410202670]},"available":true,"name":"(Hot Sale)Spider-Man Costume Halloween Cosplay 3D Printed Suit-Buy 2 get free shipping - BLACK \/ 150-160 CM \/ 1PC","public_title":"BLACK \/ 150-160 CM \/ 1PC","options":["BLACK","150-160 CM","1PC"],"price":3999,"weight":0,"compare_at_price":7998,"inventory_management":null,"barcode":null,"featured_media":{"alt":null,"id":892768911406,"position":2,"preview_image":{"aspect_ratio":1.0,"height":400,"width":400,"src":"https:\/\/cdn.shopify.com\/s\/files\/1\/0040\/3374\/0846\/products\/c355996a8d47824c8939bd91e3b6fa21_3f0f281b-1952-481b-b585-3ffc9933836f.jpg?v=1570384731"}}},{"id":30235409907758,"title":"BLACK \/ 150-160 CM \/ 2PC","option1":"BLACK","option2":"150-160 CM","option3":"2PC","sku":"Clothes001BK100","requires_shipping":true,"taxable":true,"featured_image":{"id":12760802132014,"product_id":4118218571822,"position":2,"created_at":"2019-09-22T12:10:21+08:00","updated_at":"2020-02-03T14:36:52+08:00","alt":null,"width":400,"height":400,"src":"https:\/\/cdn.shopify.com\/s\/files\/1\/0040\/3374\/0846\/products\/c355996a8d47824c8939bd91e3b6fa21_3f0f281b-1952-481b-b585-3ffc9933836f.jpg?v=1580711812","variant_ids":[30235409547310,30235409580078,30235409612846,30235409645614,30235409678382,30235409711150,30235409743918,30235409776686,30235409809454,30235409842222,30235409874990,30235409907758,30235409940526,30235409973294,30235410006062,30235410038830,30235410071598,30235410137134,30235410169902,30235410202670]},"available":true,"name":"(Hot Sale)Spider-Man Costume Halloween Cosplay 3D Printed Suit-Buy 2 get free shipping - BLACK \/ 150-160 CM \/ 2PC","public_title":"BLACK \/ 150-160 CM \/ 2PC","options":["BLACK","150-160 CM","2PC"],"price":3999,"weight":0,"compare_at_price":7998,"inventory_management":null,"barcode":null,"featured_media":{"alt":null,"id":892768911406,"position":2,"preview_image":{"aspect_ratio":1.0,"height":400,"width":400,"src":"https:\/\/cdn.shopify.com\/s\/files\/1\/0040\/3374\/0846\/products\/c355996a8d47824c8939bd91e3b6fa21_3f0f281b-1952-481b-b585-3ffc9933836f.jpg?v=1570384731"}}},{"id":30235409940526,"title":"BLACK \/ 160-170 CM \/ 1PC","option1":"BLACK","option2":"160-170 CM","option3":"1PC","sku":"Clothes001BK100","requires_shipping":true,"taxable":true,"featured_image":{"id":12760802132014,"product_id":4118218571822,"position":2,"created_at":"2019-09-22T12:10:21+08:00","updated_at":"2020-02-03T14:36:52+08:00","alt":null,"width":400,"height":400,"src":"https:\/\/cdn.shopify.com\/s\/files\/1\/0040\/3374\/0846\/products\/c355996a8d47824c8939bd91e3b6fa21_3f0f281b-1952-481b-b585-3ffc9933836f.jpg?v=1580711812","variant_ids":[30235409547310,30235409580078,30235409612846,30235409645614,30235409678382,30235409711150,30235409743918,30235409776686,30235409809454,30235409842222,30235409874990,30235409907758,30235409940526,30235409973294,30235410006062,30235410038830,30235410071598,30235410137134,30235410169902,30235410202670]},"available":true,"name":"(Hot Sale)Spider-Man Costume Halloween Cosplay 3D Printed Suit-Buy 2 get free shipping - BLACK \/ 160-170 CM \/ 1PC","public_title":"BLACK \/ 160-170 CM \/ 1PC","options":["BLACK","160-170 CM","1PC"],"price":3999,"weight":0,"compare_at_price":7998,"inventory_management":null,"barcode":null,"featured_media":{"alt":null,"id":892768911406,"position":2,"preview_image":{"aspect_ratio":1.0,"height":400,"width":400,"src":"https:\/\/cdn.shopify.com\/s\/files\/1\/0040\/3374\/0846\/products\/c355996a8d47824c8939bd91e3b6fa21_3f0f281b-1952-481b-b585-3ffc9933836f.jpg?v=1570384731"}}},{"id":30235409973294,"title":"BLACK \/ 160-170 CM \/ 2PC","option1":"BLACK","option2":"160-170 CM","option3":"2PC","sku":"Clothes001BK100","requires_shipping":true,"taxable":true,"featured_image":{"id":12760802132014,"product_id":4118218571822,"position":2,"created_at":"2019-09-22T12:10:21+08:00","updated_at":"2020-02-03T14:36:52+08:00","alt":null,"width":400,"height":400,"src":"https:\/\/cdn.shopify.com\/s\/files\/1\/0040\/3374\/0846\/products\/c355996a8d47824c8939bd91e3b6fa21_3f0f281b-1952-481b-b585-3ffc9933836f.jpg?v=1580711812","variant_ids":[30235409547310,30235409580078,30235409612846,30235409645614,30235409678382,30235409711150,30235409743918,30235409776686,30235409809454,30235409842222,30235409874990,30235409907758,30235409940526,30235409973294,30235410006062,30235410038830,30235410071598,30235410137134,30235410169902,30235410202670]},"available":true,"name":"(Hot Sale)Spider-Man Costume Halloween Cosplay 3D Printed Suit-Buy 2 get free shipping - BLACK \/ 160-170 CM \/ 2PC","public_title":"BLACK \/ 160-170 CM \/ 2PC","options":["BLACK","160-170 CM","2PC"],"price":3999,"weight":0,"compare_at_price":7998,"inventory_management":null,"barcode":null,"featured_media":{"alt":null,"id":892768911406,"position":2,"preview_image":{"aspect_ratio":1.0,"height":400,"width":400,"src":"https:\/\/cdn.shopify.com\/s\/files\/1\/0040\/3374\/0846\/products\/c355996a8d47824c8939bd91e3b6fa21_3f0f281b-1952-481b-b585-3ffc9933836f.jpg?v=1570384731"}}},{"id":30235410006062,"title":"BLACK \/ 170-180 CM \/ 1PC","option1":"BLACK","option2":"170-180 CM","option3":"1PC","sku":"Clothes001BK100","requires_shipping":true,"taxable":true,"featured_image":{"id":12760802132014,"product_id":4118218571822,"position":2,"created_at":"2019-09-22T12:10:21+08:00","updated_at":"2020-02-03T14:36:52+08:00","alt":null,"width":400,"height":400,"src":"https:\/\/cdn.shopify.com\/s\/files\/1\/0040\/3374\/0846\/products\/c355996a8d47824c8939bd91e3b6fa21_3f0f281b-1952-481b-b585-3ffc9933836f.jpg?v=1580711812","variant_ids":[30235409547310,30235409580078,30235409612846,30235409645614,30235409678382,30235409711150,30235409743918,30235409776686,30235409809454,30235409842222,30235409874990,30235409907758,30235409940526,30235409973294,30235410006062,30235410038830,30235410071598,30235410137134,30235410169902,30235410202670]},"available":true,"name":"(Hot Sale)Spider-Man Costume Halloween Cosplay 3D Printed Suit-Buy 2 get free shipping - BLACK \/ 170-180 CM \/ 1PC","public_title":"BLACK \/ 170-180 CM \/ 1PC","options":["BLACK","170-180 CM","1PC"],"price":3999,"weight":0,"compare_at_price":7998,"inventory_management":null,"barcode":null,"featured_media":{"alt":null,"id":892768911406,"position":2,"preview_image":{"aspect_ratio":1.0,"height":400,"width":400,"src":"https:\/\/cdn.shopify.com\/s\/files\/1\/0040\/3374\/0846\/products\/c355996a8d47824c8939bd91e3b6fa21_3f0f281b-1952-481b-b585-3ffc9933836f.jpg?v=1570384731"}}},{"id":30235410038830,"title":"BLACK \/ 170-180 CM \/ 2PC","option1":"BLACK","option2":"170-180 CM","option3":"2PC","sku":"Clothes001BK100","requires_shipping":true,"taxable":true,"featured_image":{"id":12760802132014,"product_id":4118218571822,"position":2,"created_at":"2019-09-22T12:10:21+08:00","updated_at":"2020-02-03T14:36:52+08:00","alt":null,"width":400,"height":400,"src":"https:\/\/cdn.shopify.com\/s\/files\/1\/0040\/3374\/0846\/products\/c355996a8d47824c8939bd91e3b6fa21_3f0f281b-1952-481b-b585-3ffc9933836f.jpg?v=1580711812","variant_ids":[30235409547310,30235409580078,30235409612846,30235409645614,30235409678382,30235409711150,30235409743918,30235409776686,30235409809454,30235409842222,30235409874990,30235409907758,30235409940526,30235409973294,30235410006062,30235410038830,30235410071598,30235410137134,30235410169902,30235410202670]},"available":true,"name":"(Hot Sale)Spider-Man Costume Halloween Cosplay 3D Printed Suit-Buy 2 get free shipping - BLACK \/ 170-180 CM \/ 2PC","public_title":"BLACK \/ 170-180 CM \/ 2PC","options":["BLACK","170-180 CM","2PC"],"price":3999,"weight":0,"compare_at_price":7998,"inventory_management":null,"barcode":null,"featured_media":{"alt":null,"id":892768911406,"position":2,"preview_image":{"aspect_ratio":1.0,"height":400,"width":400,"src":"https:\/\/cdn.shopify.com\/s\/files\/1\/0040\/3374\/0846\/products\/c355996a8d47824c8939bd91e3b6fa21_3f0f281b-1952-481b-b585-3ffc9933836f.jpg?v=1570384731"}}},{"id":30235410071598,"title":"BLACK \/ 180-190 CM \/ 1PC","option1":"BLACK","option2":"180-190 CM","option3":"1PC","sku":"Clothes001BK100","requires_shipping":true,"taxable":true,"featured_image":{"id":12760802132014,"product_id":4118218571822,"position":2,"created_at":"2019-09-22T12:10:21+08:00","updated_at":"2020-02-03T14:36:52+08:00","alt":null,"width":400,"height":400,"src":"https:\/\/cdn.shopify.com\/s\/files\/1\/0040\/3374\/0846\/products\/c355996a8d47824c8939bd91e3b6fa21_3f0f281b-1952-481b-b585-3ffc9933836f.jpg?v=1580711812","variant_ids":[30235409547310,30235409580078,30235409612846,30235409645614,30235409678382,30235409711150,30235409743918,30235409776686,30235409809454,30235409842222,30235409874990,30235409907758,30235409940526,30235409973294,30235410006062,30235410038830,30235410071598,30235410137134,30235410169902,30235410202670]},"available":true,"name":"(Hot Sale)Spider-Man Costume Halloween Cosplay 3D Printed Suit-Buy 2 get free shipping - BLACK \/ 180-190 CM \/ 1PC","public_title":"BLACK \/ 180-190 CM \/ 1PC","options":["BLACK","180-190 CM","1PC"],"price":3999,"weight":0,"compare_at_price":7998,"inventory_management":null,"barcode":null,"featured_media":{"alt":null,"id":892768911406,"position":2,"preview_image":{"aspect_ratio":1.0,"height":400,"width":400,"src":"https:\/\/cdn.shopify.com\/s\/files\/1\/0040\/3374\/0846\/products\/c355996a8d47824c8939bd91e3b6fa21_3f0f281b-1952-481b-b585-3ffc9933836f.jpg?v=1570384731"}}},{"id":30235410137134,"title":"BLACK \/ 180-190 CM \/ 2PC","option1":"BLACK","option2":"180-190 CM","option3":"2PC","sku":"Clothes001BK100","requires_shipping":true,"taxable":true,"featured_image":{"id":12760802132014,"product_id":4118218571822,"position":2,"created_at":"2019-09-22T12:10:21+08:00","updated_at":"2020-02-03T14:36:52+08:00","alt":null,"width":400,"height":400,"src":"https:\/\/cdn.shopify.com\/s\/files\/1\/0040\/3374\/0846\/products\/c355996a8d47824c8939bd91e3b6fa21_3f0f281b-1952-481b-b585-3ffc9933836f.jpg?v=1580711812","variant_ids":[30235409547310,30235409580078,30235409612846,30235409645614,30235409678382,30235409711150,30235409743918,30235409776686,30235409809454,30235409842222,30235409874990,30235409907758,30235409940526,30235409973294,30235410006062,30235410038830,30235410071598,30235410137134,30235410169902,30235410202670]},"available":true,"name":"(Hot Sale)Spider-Man Costume Halloween Cosplay 3D Printed Suit-Buy 2 get free shipping - BLACK \/ 180-190 CM \/ 2PC","public_title":"BLACK \/ 180-190 CM \/ 2PC","options":["BLACK","180-190 CM","2PC"],"price":3999,"weight":0,"compare_at_price":7998,"inventory_management":null,"barcode":null,"featured_media":{"alt":null,"id":892768911406,"position":2,"preview_image":{"aspect_ratio":1.0,"height":400,"width":400,"src":"https:\/\/cdn.shopify.com\/s\/files\/1\/0040\/3374\/0846\/products\/c355996a8d47824c8939bd91e3b6fa21_3f0f281b-1952-481b-b585-3ffc9933836f.jpg?v=1570384731"}}},{"id":30235410169902,"title":"BLACK \/ Stunt scooter \/ 1PC","option1":"BLACK","option2":"Stunt scooter","option3":"1PC","sku":"Clothes001BK100","requires_shipping":true,"taxable":true,"featured_image":{"id":12760802132014,"product_id":4118218571822,"position":2,"created_at":"2019-09-22T12:10:21+08:00","updated_at":"2020-02-03T14:36:52+08:00","alt":null,"width":400,"height":400,"src":"https:\/\/cdn.shopify.com\/s\/files\/1\/0040\/3374\/0846\/products\/c355996a8d47824c8939bd91e3b6fa21_3f0f281b-1952-481b-b585-3ffc9933836f.jpg?v=1580711812","variant_ids":[30235409547310,30235409580078,30235409612846,30235409645614,30235409678382,30235409711150,30235409743918,30235409776686,30235409809454,30235409842222,30235409874990,30235409907758,30235409940526,30235409973294,30235410006062,30235410038830,30235410071598,30235410137134,30235410169902,30235410202670]},"available":true,"name":"(Hot Sale)Spider-Man Costume Halloween Cosplay 3D Printed Suit-Buy 2 get free shipping - BLACK \/ Stunt scooter \/ 1PC","public_title":"BLACK \/ Stunt scooter \/ 1PC","options":["BLACK","Stunt scooter","1PC"],"price":3999,"weight":0,"compare_at_price":7998,"inventory_management":null,"barcode":null,"featured_media":{"alt":null,"id":892768911406,"position":2,"preview_image":{"aspect_ratio":1.0,"height":400,"width":400,"src":"https:\/\/cdn.shopify.com\/s\/files\/1\/0040\/3374\/0846\/products\/c355996a8d47824c8939bd91e3b6fa21_3f0f281b-1952-481b-b585-3ffc9933836f.jpg?v=1570384731"}}},{"id":30235410202670,"title":"BLACK \/ Stunt scooter \/ 2PC","option1":"BLACK","option2":"Stunt scooter","option3":"2PC","sku":"Clothes001BK100","requires_shipping":true,"taxable":true,"featured_image":{"id":12760802132014,"product_id":4118218571822,"position":2,"created_at":"2019-09-22T12:10:21+08:00","updated_at":"2020-02-03T14:36:52+08:00","alt":null,"width":400,"height":400,"src":"https:\/\/cdn.shopify.com\/s\/files\/1\/0040\/3374\/0846\/products\/c355996a8d47824c8939bd91e3b6fa21_3f0f281b-1952-481b-b585-3ffc9933836f.jpg?v=1580711812","variant_ids":[30235409547310,30235409580078,30235409612846,30235409645614,30235409678382,30235409711150,30235409743918,30235409776686,30235409809454,30235409842222,30235409874990,30235409907758,30235409940526,30235409973294,30235410006062,30235410038830,30235410071598,30235410137134,30235410169902,30235410202670]},"available":true,"name":"(Hot Sale)Spider-Man Costume Halloween Cosplay 3D Printed Suit-Buy 2 get free shipping - BLACK \/ Stunt scooter \/ 2PC","public_title":"BLACK \/ Stunt scooter \/ 2PC","options":["BLACK","Stunt scooter","2PC"],"price":3999,"weight":0,"compare_at_price":7998,"inventory_management":null,"barcode":null,"featured_media":{"alt":null,"id":892768911406,"position":2,"preview_image":{"aspect_ratio":1.0,"height":400,"width":400,"src":"https:\/\/cdn.shopify.com\/s\/files\/1\/0040\/3374\/0846\/products\/c355996a8d47824c8939bd91e3b6fa21_3f0f281b-1952-481b-b585-3ffc9933836f.jpg?v=1570384731"}}},{"id":30235410235438,"title":"RED \/ 100-110CM \/ 1PC","option1":"RED","option2":"100-110CM","option3":"1PC","sku":"Clothes001BK100","requires_shipping":true,"taxable":true,"featured_image":{"id":12760802099246,"product_id":4118218571822,"position":1,"created_at":"2019-09-22T12:10:21+08:00","updated_at":"2020-02-03T14:36:50+08:00","alt":null,"width":540,"height":540,"src":"https:\/\/cdn.shopify.com\/s\/files\/1\/0040\/3374\/0846\/products\/599e95ac3094d9345e7cd684-0-large_540x_590x_539f0966-e524-48ef-ba0c-0269905b63f5.jpg?v=1580711810","variant_ids":[30235410235438,30235410268206,30235410300974,30235410333742,30235410366510,30235410399278,30235410464814,30235410497582,30235410530350,30235410563118,30235410595886,30235410628654,30235410661422,30235410694190,30235410726958,30235410759726,30235410792494,30235410825262,30235410858030,30235410890798]},"available":true,"name":"(Hot Sale)Spider-Man Costume Halloween Cosplay 3D Printed Suit-Buy 2 get free shipping - RED \/ 100-110CM \/ 1PC","public_title":"RED \/ 100-110CM \/ 1PC","options":["RED","100-110CM","1PC"],"price":3999,"weight":0,"compare_at_price":7998,"inventory_management":null,"barcode":null,"featured_media":{"alt":null,"id":892768878638,"position":1,"preview_image":{"aspect_ratio":1.0,"height":540,"width":540,"src":"https:\/\/cdn.shopify.com\/s\/files\/1\/0040\/3374\/0846\/products\/599e95ac3094d9345e7cd684-0-large_540x_590x_539f0966-e524-48ef-ba0c-0269905b63f5.jpg?v=1570384733"}}},{"id":30235410268206,"title":"RED \/ 100-110CM \/ 2PC","option1":"RED","option2":"100-110CM","option3":"2PC","sku":"Clothes001BK100","requires_shipping":true,"taxable":true,"featured_image":{"id":12760802099246,"product_id":4118218571822,"position":1,"created_at":"2019-09-22T12:10:21+08:00","updated_at":"2020-02-03T14:36:50+08:00","alt":null,"width":540,"height":540,"src":"https:\/\/cdn.shopify.com\/s\/files\/1\/0040\/3374\/0846\/products\/599e95ac3094d9345e7cd684-0-large_540x_590x_539f0966-e524-48ef-ba0c-0269905b63f5.jpg?v=1580711810","variant_ids":[30235410235438,30235410268206,30235410300974,30235410333742,30235410366510,30235410399278,30235410464814,30235410497582,30235410530350,30235410563118,30235410595886,30235410628654,30235410661422,30235410694190,30235410726958,30235410759726,30235410792494,30235410825262,30235410858030,30235410890798]},"available":true,"name":"(Hot Sale)Spider-Man Costume Halloween Cosplay 3D Printed Suit-Buy 2 get free shipping - RED \/ 100-110CM \/ 2PC","public_title":"RED \/ 100-110CM \/ 2PC","options":["RED","100-110CM","2PC"],"price":3999,"weight":0,"compare_at_price":7998,"inventory_management":null,"barcode":null,"featured_media":{"alt":null,"id":892768878638,"position":1,"preview_image":{"aspect_ratio":1.0,"height":540,"width":540,"src":"https:\/\/cdn.shopify.com\/s\/files\/1\/0040\/3374\/0846\/products\/599e95ac3094d9345e7cd684-0-large_540x_590x_539f0966-e524-48ef-ba0c-0269905b63f5.jpg?v=1570384733"}}},{"id":30235410300974,"title":"RED \/ 110-120 CM \/ 1PC","option1":"RED","option2":"110-120 CM","option3":"1PC","sku":"Clothes001BK100","requires_shipping":true,"taxable":true,"featured_image":{"id":12760802099246,"product_id":4118218571822,"position":1,"created_at":"2019-09-22T12:10:21+08:00","updated_at":"2020-02-03T14:36:50+08:00","alt":null,"width":540,"height":540,"src":"https:\/\/cdn.shopify.com\/s\/files\/1\/0040\/3374\/0846\/products\/599e95ac3094d9345e7cd684-0-large_540x_590x_539f0966-e524-48ef-ba0c-0269905b63f5.jpg?v=1580711810","variant_ids":[30235410235438,30235410268206,30235410300974,30235410333742,30235410366510,30235410399278,30235410464814,30235410497582,30235410530350,30235410563118,30235410595886,30235410628654,30235410661422,30235410694190,30235410726958,30235410759726,30235410792494,30235410825262,30235410858030,30235410890798]},"available":true,"name":"(Hot Sale)Spider-Man Costume Halloween Cosplay 3D Printed Suit-Buy 2 get free shipping - RED \/ 110-120 CM \/ 1PC","public_title":"RED \/ 110-120 CM \/ 1PC","options":["RED","110-120 CM","1PC"],"price":3999,"weight":0,"compare_at_price":7998,"inventory_management":null,"barcode":null,"featured_media":{"alt":null,"id":892768878638,"position":1,"preview_image":{"aspect_ratio":1.0,"height":540,"width":540,"src":"https:\/\/cdn.shopify.com\/s\/files\/1\/0040\/3374\/0846\/products\/599e95ac3094d9345e7cd684-0-large_540x_590x_539f0966-e524-48ef-ba0c-0269905b63f5.jpg?v=1570384733"}}},{"id":30235410333742,"title":"RED \/ 110-120 CM \/ 2PC","option1":"RED","option2":"110-120 CM","option3":"2PC","sku":"Clothes001BK100","requires_shipping":true,"taxable":true,"featured_image":{"id":12760802099246,"product_id":4118218571822,"position":1,"created_at":"2019-09-22T12:10:21+08:00","updated_at":"2020-02-03T14:36:50+08:00","alt":null,"width":540,"height":540,"src":"https:\/\/cdn.shopify.com\/s\/files\/1\/0040\/3374\/0846\/products\/599e95ac3094d9345e7cd684-0-large_540x_590x_539f0966-e524-48ef-ba0c-0269905b63f5.jpg?v=1580711810","variant_ids":[30235410235438,30235410268206,30235410300974,30235410333742,30235410366510,30235410399278,30235410464814,30235410497582,30235410530350,30235410563118,30235410595886,30235410628654,30235410661422,30235410694190,30235410726958,30235410759726,30235410792494,30235410825262,30235410858030,30235410890798]},"available":true,"name":"(Hot Sale)Spider-Man Costume Halloween Cosplay 3D Printed Suit-Buy 2 get free shipping - RED \/ 110-120 CM \/ 2PC","public_title":"RED \/ 110-120 CM \/ 2PC","options":["RED","110-120 CM","2PC"],"price":3999,"weight":0,"compare_at_price":7998,"inventory_management":null,"barcode":null,"featured_media":{"alt":null,"id":892768878638,"position":1,"preview_image":{"aspect_ratio":1.0,"height":540,"width":540,"src":"https:\/\/cdn.shopify.com\/s\/files\/1\/0040\/3374\/0846\/products\/599e95ac3094d9345e7cd684-0-large_540x_590x_539f0966-e524-48ef-ba0c-0269905b63f5.jpg?v=1570384733"}}},{"id":30235410366510,"title":"RED \/ 120-130 CM \/ 1PC","option1":"RED","option2":"120-130 CM","option3":"1PC","sku":"Clothes001BK100","requires_shipping":true,"taxable":true,"featured_image":{"id":12760802099246,"product_id":4118218571822,"position":1,"created_at":"2019-09-22T12:10:21+08:00","updated_at":"2020-02-03T14:36:50+08:00","alt":null,"width":540,"height":540,"src":"https:\/\/cdn.shopify.com\/s\/files\/1\/0040\/3374\/0846\/products\/599e95ac3094d9345e7cd684-0-large_540x_590x_539f0966-e524-48ef-ba0c-0269905b63f5.jpg?v=1580711810","variant_ids":[30235410235438,30235410268206,30235410300974,30235410333742,30235410366510,30235410399278,30235410464814,30235410497582,30235410530350,30235410563118,30235410595886,30235410628654,30235410661422,30235410694190,30235410726958,30235410759726,30235410792494,30235410825262,30235410858030,30235410890798]},"available":true,"name":"(Hot Sale)Spider-Man Costume Halloween Cosplay 3D Printed Suit-Buy 2 get free shipping - RED \/ 120-130 CM \/ 1PC","public_title":"RED \/ 120-130 CM \/ 1PC","options":["RED","120-130 CM","1PC"],"price":3999,"weight":0,"compare_at_price":7998,"inventory_management":null,"barcode":null,"featured_media":{"alt":null,"id":892768878638,"position":1,"preview_image":{"aspect_ratio":1.0,"height":540,"width":540,"src":"https:\/\/cdn.shopify.com\/s\/files\/1\/0040\/3374\/0846\/products\/599e95ac3094d9345e7cd684-0-large_540x_590x_539f0966-e524-48ef-ba0c-0269905b63f5.jpg?v=1570384733"}}},{"id":30235410399278,"title":"RED \/ 120-130 CM \/ 2PC","option1":"RED","option2":"120-130 CM","option3":"2PC","sku":"Clothes001BK100","requires_shipping":true,"taxable":true,"featured_image":{"id":12760802099246,"product_id":4118218571822,"position":1,"created_at":"2019-09-22T12:10:21+08:00","updated_at":"2020-02-03T14:36:50+08:00","alt":null,"width":540,"height":540,"src":"https:\/\/cdn.shopify.com\/s\/files\/1\/0040\/3374\/0846\/products\/599e95ac3094d9345e7cd684-0-large_540x_590x_539f0966-e524-48ef-ba0c-0269905b63f5.jpg?v=1580711810","variant_ids":[30235410235438,30235410268206,30235410300974,30235410333742,30235410366510,30235410399278,30235410464814,30235410497582,30235410530350,30235410563118,30235410595886,30235410628654,30235410661422,30235410694190,30235410726958,30235410759726,30235410792494,30235410825262,30235410858030,30235410890798]},"available":true,"name":"(Hot Sale)Spider-Man Costume Halloween Cosplay 3D Printed Suit-Buy 2 get free shipping - RED \/ 120-130 CM \/ 2PC","public_title":"RED \/ 120-130 CM \/ 2PC","options":["RED","120-130 CM","2PC"],"price":3999,"weight":0,"compare_at_price":7998,"inventory_management":null,"barcode":null,"featured_media":{"alt":null,"id":892768878638,"position":1,"preview_image":{"aspect_ratio":1.0,"height":540,"width":540,"src":"https:\/\/cdn.shopify.com\/s\/files\/1\/0040\/3374\/0846\/products\/599e95ac3094d9345e7cd684-0-large_540x_590x_539f0966-e524-48ef-ba0c-0269905b63f5.jpg?v=1570384733"}}},{"id":30235410464814,"title":"RED \/ 130-140 CM \/ 1PC","option1":"RED","option2":"130-140 CM","option3":"1PC","sku":"Clothes001BK100","requires_shipping":true,"taxable":true,"featured_image":{"id":12760802099246,"product_id":4118218571822,"position":1,"created_at":"2019-09-22T12:10:21+08:00","updated_at":"2020-02-03T14:36:50+08:00","alt":null,"width":540,"height":540,"src":"https:\/\/cdn.shopify.com\/s\/files\/1\/0040\/3374\/0846\/products\/599e95ac3094d9345e7cd684-0-large_540x_590x_539f0966-e524-48ef-ba0c-0269905b63f5.jpg?v=1580711810","variant_ids":[30235410235438,30235410268206,30235410300974,30235410333742,30235410366510,30235410399278,30235410464814,30235410497582,30235410530350,30235410563118,30235410595886,30235410628654,30235410661422,30235410694190,30235410726958,30235410759726,30235410792494,30235410825262,30235410858030,30235410890798]},"available":true,"name":"(Hot Sale)Spider-Man Costume Halloween Cosplay 3D Printed Suit-Buy 2 get free shipping - RED \/ 130-140 CM \/ 1PC","public_title":"RED \/ 130-140 CM \/ 1PC","options":["RED","130-140 CM","1PC"],"price":3999,"weight":0,"compare_at_price":7998,"inventory_management":null,"barcode":null,"featured_media":{"alt":null,"id":892768878638,"position":1,"preview_image":{"aspect_ratio":1.0,"height":540,"width":540,"src":"https:\/\/cdn.shopify.com\/s\/files\/1\/0040\/3374\/0846\/products\/599e95ac3094d9345e7cd684-0-large_540x_590x_539f0966-e524-48ef-ba0c-0269905b63f5.jpg?v=1570384733"}}},{"id":30235410497582,"title":"RED \/ 130-140 CM \/ 2PC","option1":"RED","option2":"130-140 CM","option3":"2PC","sku":"Clothes001BK100","requires_shipping":true,"taxable":true,"featured_image":{"id":12760802099246,"product_id":4118218571822,"position":1,"created_at":"2019-09-22T12:10:21+08:00","updated_at":"2020-02-03T14:36:50+08:00","alt":null,"width":540,"height":540,"src":"https:\/\/cdn.shopify.com\/s\/files\/1\/0040\/3374\/0846\/products\/599e95ac3094d9345e7cd684-0-large_540x_590x_539f0966-e524-48ef-ba0c-0269905b63f5.jpg?v=1580711810","variant_ids":[30235410235438,30235410268206,30235410300974,30235410333742,30235410366510,30235410399278,30235410464814,30235410497582,30235410530350,30235410563118,30235410595886,30235410628654,30235410661422,30235410694190,30235410726958,30235410759726,30235410792494,30235410825262,30235410858030,30235410890798]},"available":true,"name":"(Hot Sale)Spider-Man Costume Halloween Cosplay 3D Printed Suit-Buy 2 get free shipping - RED \/ 130-140 CM \/ 2PC","public_title":"RED \/ 130-140 CM \/ 2PC","options":["RED","130-140 CM","2PC"],"price":3999,"weight":0,"compare_at_price":7998,"inventory_management":null,"barcode":null,"featured_media":{"alt":null,"id":892768878638,"position":1,"preview_image":{"aspect_ratio":1.0,"height":540,"width":540,"src":"https:\/\/cdn.shopify.com\/s\/files\/1\/0040\/3374\/0846\/products\/599e95ac3094d9345e7cd684-0-large_540x_590x_539f0966-e524-48ef-ba0c-0269905b63f5.jpg?v=1570384733"}}},{"id":30235410530350,"title":"RED \/ 140-150 CM \/ 1PC","option1":"RED","option2":"140-150 CM","option3":"1PC","sku":"Clothes001BK100","requires_shipping":true,"taxable":true,"featured_image":{"id":12760802099246,"product_id":4118218571822,"position":1,"created_at":"2019-09-22T12:10:21+08:00","updated_at":"2020-02-03T14:36:50+08:00","alt":null,"width":540,"height":540,"src":"https:\/\/cdn.shopify.com\/s\/files\/1\/0040\/3374\/0846\/products\/599e95ac3094d9345e7cd684-0-large_540x_590x_539f0966-e524-48ef-ba0c-0269905b63f5.jpg?v=1580711810","variant_ids":[30235410235438,30235410268206,30235410300974,30235410333742,30235410366510,30235410399278,30235410464814,30235410497582,30235410530350,30235410563118,30235410595886,30235410628654,30235410661422,30235410694190,30235410726958,30235410759726,30235410792494,30235410825262,30235410858030,30235410890798]},"available":true,"name":"(Hot Sale)Spider-Man Costume Halloween Cosplay 3D Printed Suit-Buy 2 get free shipping - RED \/ 140-150 CM \/ 1PC","public_title":"RED \/ 140-150 CM \/ 1PC","options":["RED","140-150 CM","1PC"],"price":3999,"weight":0,"compare_at_price":7998,"inventory_management":null,"barcode":null,"featured_media":{"alt":null,"id":892768878638,"position":1,"preview_image":{"aspect_ratio":1.0,"height":540,"width":540,"src":"https:\/\/cdn.shopify.com\/s\/files\/1\/0040\/3374\/0846\/products\/599e95ac3094d9345e7cd684-0-large_540x_590x_539f0966-e524-48ef-ba0c-0269905b63f5.jpg?v=1570384733"}}},{"id":30235410563118,"title":"RED \/ 140-150 CM \/ 2PC","option1":"RED","option2":"140-150 CM","option3":"2PC","sku":"Clothes001BK100","requires_shipping":true,"taxable":true,"featured_image":{"id":12760802099246,"product_id":4118218571822,"position":1,"created_at":"2019-09-22T12:10:21+08:00","updated_at":"2020-02-03T14:36:50+08:00","alt":null,"width":540,"height":540,"src":"https:\/\/cdn.shopify.com\/s\/files\/1\/0040\/3374\/0846\/products\/599e95ac3094d9345e7cd684-0-large_540x_590x_539f0966-e524-48ef-ba0c-0269905b63f5.jpg?v=1580711810","variant_ids":[30235410235438,30235410268206,30235410300974,30235410333742,30235410366510,30235410399278,30235410464814,30235410497582,30235410530350,30235410563118,30235410595886,30235410628654,30235410661422,30235410694190,30235410726958,30235410759726,30235410792494,30235410825262,30235410858030,30235410890798]},"available":true,"name":"(Hot Sale)Spider-Man Costume Halloween Cosplay 3D Printed Suit-Buy 2 get free shipping - RED \/ 140-150 CM \/ 2PC","public_title":"RED \/ 140-150 CM \/ 2PC","options":["RED","140-150 CM","2PC"],"price":3999,"weight":0,"compare_at_price":7998,"inventory_management":null,"barcode":null,"featured_media":{"alt":null,"id":892768878638,"position":1,"preview_image":{"aspect_ratio":1.0,"height":540,"width":540,"src":"https:\/\/cdn.shopify.com\/s\/files\/1\/0040\/3374\/0846\/products\/599e95ac3094d9345e7cd684-0-large_540x_590x_539f0966-e524-48ef-ba0c-0269905b63f5.jpg?v=1570384733"}}},{"id":30235410595886,"title":"RED \/ 150-160 CM \/ 1PC","option1":"RED","option2":"150-160 CM","option3":"1PC","sku":"Clothes001BK100","requires_shipping":true,"taxable":true,"featured_image":{"id":12760802099246,"product_id":4118218571822,"position":1,"created_at":"2019-09-22T12:10:21+08:00","updated_at":"2020-02-03T14:36:50+08:00","alt":null,"width":540,"height":540,"src":"https:\/\/cdn.shopify.com\/s\/files\/1\/0040\/3374\/0846\/products\/599e95ac3094d9345e7cd684-0-large_540x_590x_539f0966-e524-48ef-ba0c-0269905b63f5.jpg?v=1580711810","variant_ids":[30235410235438,30235410268206,30235410300974,30235410333742,30235410366510,30235410399278,30235410464814,30235410497582,30235410530350,30235410563118,30235410595886,30235410628654,30235410661422,30235410694190,30235410726958,30235410759726,30235410792494,30235410825262,30235410858030,30235410890798]},"available":true,"name":"(Hot Sale)Spider-Man Costume Halloween Cosplay 3D Printed Suit-Buy 2 get free shipping - RED \/ 150-160 CM \/ 1PC","public_title":"RED \/ 150-160 CM \/ 1PC","options":["RED","150-160 CM","1PC"],"price":3999,"weight":0,"compare_at_price":7998,"inventory_management":null,"barcode":null,"featured_media":{"alt":null,"id":892768878638,"position":1,"preview_image":{"aspect_ratio":1.0,"height":540,"width":540,"src":"https:\/\/cdn.shopify.com\/s\/files\/1\/0040\/3374\/0846\/products\/599e95ac3094d9345e7cd684-0-large_540x_590x_539f0966-e524-48ef-ba0c-0269905b63f5.jpg?v=1570384733"}}},{"id":30235410628654,"title":"RED \/ 150-160 CM \/ 2PC","option1":"RED","option2":"150-160 CM","option3":"2PC","sku":"Clothes001BK100","requires_shipping":true,"taxable":true,"featured_image":{"id":12760802099246,"product_id":4118218571822,"position":1,"created_at":"2019-09-22T12:10:21+08:00","updated_at":"2020-02-03T14:36:50+08:00","alt":null,"width":540,"height":540,"src":"https:\/\/cdn.shopify.com\/s\/files\/1\/0040\/3374\/0846\/products\/599e95ac3094d9345e7cd684-0-large_540x_590x_539f0966-e524-48ef-ba0c-0269905b63f5.jpg?v=1580711810","variant_ids":[30235410235438,30235410268206,30235410300974,30235410333742,30235410366510,30235410399278,30235410464814,30235410497582,30235410530350,30235410563118,30235410595886,30235410628654,30235410661422,30235410694190,30235410726958,30235410759726,30235410792494,30235410825262,30235410858030,30235410890798]},"available":true,"name":"(Hot Sale)Spider-Man Costume Halloween Cosplay 3D Printed Suit-Buy 2 get free shipping - RED \/ 150-160 CM \/ 2PC","public_title":"RED \/ 150-160 CM \/ 2PC","options":["RED","150-160 CM","2PC"],"price":3999,"weight":0,"compare_at_price":7998,"inventory_management":null,"barcode":null,"featured_media":{"alt":null,"id":892768878638,"position":1,"preview_image":{"aspect_ratio":1.0,"height":540,"width":540,"src":"https:\/\/cdn.shopify.com\/s\/files\/1\/0040\/3374\/0846\/products\/599e95ac3094d9345e7cd684-0-large_540x_590x_539f0966-e524-48ef-ba0c-0269905b63f5.jpg?v=1570384733"}}},{"id":30235410661422,"title":"RED \/ 160-170 CM \/ 1PC","option1":"RED","option2":"160-170 CM","option3":"1PC","sku":"Clothes001BK100","requires_shipping":true,"taxable":true,"featured_image":{"id":12760802099246,"product_id":4118218571822,"position":1,"created_at":"2019-09-22T12:10:21+08:00","updated_at":"2020-02-03T14:36:50+08:00","alt":null,"width":540,"height":540,"src":"https:\/\/cdn.shopify.com\/s\/files\/1\/0040\/3374\/0846\/products\/599e95ac3094d9345e7cd684-0-large_540x_590x_539f0966-e524-48ef-ba0c-0269905b63f5.jpg?v=1580711810","variant_ids":[30235410235438,30235410268206,30235410300974,30235410333742,30235410366510,30235410399278,30235410464814,30235410497582,30235410530350,30235410563118,30235410595886,30235410628654,30235410661422,30235410694190,30235410726958,30235410759726,30235410792494,30235410825262,30235410858030,30235410890798]},"available":true,"name":"(Hot Sale)Spider-Man Costume Halloween Cosplay 3D Printed Suit-Buy 2 get free shipping - RED \/ 160-170 CM \/ 1PC","public_title":"RED \/ 160-170 CM \/ 1PC","options":["RED","160-170 CM","1PC"],"price":3999,"weight":0,"compare_at_price":7998,"inventory_management":null,"barcode":null,"featured_media":{"alt":null,"id":892768878638,"position":1,"preview_image":{"aspect_ratio":1.0,"height":540,"width":540,"src":"https:\/\/cdn.shopify.com\/s\/files\/1\/0040\/3374\/0846\/products\/599e95ac3094d9345e7cd684-0-large_540x_590x_539f0966-e524-48ef-ba0c-0269905b63f5.jpg?v=1570384733"}}},{"id":30235410694190,"title":"RED \/ 160-170 CM \/ 2PC","option1":"RED","option2":"160-170 CM","option3":"2PC","sku":"Clothes001BK100","requires_shipping":true,"taxable":true,"featured_image":{"id":12760802099246,"product_id":4118218571822,"position":1,"created_at":"2019-09-22T12:10:21+08:00","updated_at":"2020-02-03T14:36:50+08:00","alt":null,"width":540,"height":540,"src":"https:\/\/cdn.shopify.com\/s\/files\/1\/0040\/3374\/0846\/products\/599e95ac3094d9345e7cd684-0-large_540x_590x_539f0966-e524-48ef-ba0c-0269905b63f5.jpg?v=1580711810","variant_ids":[30235410235438,30235410268206,30235410300974,30235410333742,30235410366510,30235410399278,30235410464814,30235410497582,30235410530350,30235410563118,30235410595886,30235410628654,30235410661422,30235410694190,30235410726958,30235410759726,30235410792494,30235410825262,30235410858030,30235410890798]},"available":true,"name":"(Hot Sale)Spider-Man Costume Halloween Cosplay 3D Printed Suit-Buy 2 get free shipping - RED \/ 160-170 CM \/ 2PC","public_title":"RED \/ 160-170 CM \/ 2PC","options":["RED","160-170 CM","2PC"],"price":3999,"weight":0,"compare_at_price":7998,"inventory_management":null,"barcode":null,"featured_media":{"alt":null,"id":892768878638,"position":1,"preview_image":{"aspect_ratio":1.0,"height":540,"width":540,"src":"https:\/\/cdn.shopify.com\/s\/files\/1\/0040\/3374\/0846\/products\/599e95ac3094d9345e7cd684-0-large_540x_590x_539f0966-e524-48ef-ba0c-0269905b63f5.jpg?v=1570384733"}}},{"id":30235410726958,"title":"RED \/ 170-180 CM \/ 1PC","option1":"RED","option2":"170-180 CM","option3":"1PC","sku":"Clothes001BK100","requires_shipping":true,"taxable":true,"featured_image":{"id":12760802099246,"product_id":4118218571822,"position":1,"created_at":"2019-09-22T12:10:21+08:00","updated_at":"2020-02-03T14:36:50+08:00","alt":null,"width":540,"height":540,"src":"https:\/\/cdn.shopify.com\/s\/files\/1\/0040\/3374\/0846\/products\/599e95ac3094d9345e7cd684-0-large_540x_590x_539f0966-e524-48ef-ba0c-0269905b63f5.jpg?v=1580711810","variant_ids":[30235410235438,30235410268206,30235410300974,30235410333742,30235410366510,30235410399278,30235410464814,30235410497582,30235410530350,30235410563118,30235410595886,30235410628654,30235410661422,30235410694190,30235410726958,30235410759726,30235410792494,30235410825262,30235410858030,30235410890798]},"available":true,"name":"(Hot Sale)Spider-Man Costume Halloween Cosplay 3D Printed Suit-Buy 2 get free shipping - RED \/ 170-180 CM \/ 1PC","public_title":"RED \/ 170-180 CM \/ 1PC","options":["RED","170-180 CM","1PC"],"price":3999,"weight":0,"compare_at_price":7998,"inventory_management":null,"barcode":null,"featured_media":{"alt":null,"id":892768878638,"position":1,"preview_image":{"aspect_ratio":1.0,"height":540,"width":540,"src":"https:\/\/cdn.shopify.com\/s\/files\/1\/0040\/3374\/0846\/products\/599e95ac3094d9345e7cd684-0-large_540x_590x_539f0966-e524-48ef-ba0c-0269905b63f5.jpg?v=1570384733"}}},{"id":30235410759726,"title":"RED \/ 170-180 CM \/ 2PC","option1":"RED","option2":"170-180 CM","option3":"2PC","sku":"Clothes001BK100","requires_shipping":true,"taxable":true,"featured_image":{"id":12760802099246,"product_id":4118218571822,"position":1,"created_at":"2019-09-22T12:10:21+08:00","updated_at":"2020-02-03T14:36:50+08:00","alt":null,"width":540,"height":540,"src":"https:\/\/cdn.shopify.com\/s\/files\/1\/0040\/3374\/0846\/products\/599e95ac3094d9345e7cd684-0-large_540x_590x_539f0966-e524-48ef-ba0c-0269905b63f5.jpg?v=1580711810","variant_ids":[30235410235438,30235410268206,30235410300974,30235410333742,30235410366510,30235410399278,30235410464814,30235410497582,30235410530350,30235410563118,30235410595886,30235410628654,30235410661422,30235410694190,30235410726958,30235410759726,30235410792494,30235410825262,30235410858030,30235410890798]},"available":true,"name":"(Hot Sale)Spider-Man Costume Halloween Cosplay 3D Printed Suit-Buy 2 get free shipping - RED \/ 170-180 CM \/ 2PC","public_title":"RED \/ 170-180 CM \/ 2PC","options":["RED","170-180 CM","2PC"],"price":3999,"weight":0,"compare_at_price":7998,"inventory_management":null,"barcode":null,"featured_media":{"alt":null,"id":892768878638,"position":1,"preview_image":{"aspect_ratio":1.0,"height":540,"width":540,"src":"https:\/\/cdn.shopify.com\/s\/files\/1\/0040\/3374\/0846\/products\/599e95ac3094d9345e7cd684-0-large_540x_590x_539f0966-e524-48ef-ba0c-0269905b63f5.jpg?v=1570384733"}}},{"id":30235410792494,"title":"RED \/ 180-190 CM \/ 1PC","option1":"RED","option2":"180-190 CM","option3":"1PC","sku":"Clothes001BK100","requires_shipping":true,"taxable":true,"featured_image":{"id":12760802099246,"product_id":4118218571822,"position":1,"created_at":"2019-09-22T12:10:21+08:00","updated_at":"2020-02-03T14:36:50+08:00","alt":null,"width":540,"height":540,"src":"https:\/\/cdn.shopify.com\/s\/files\/1\/0040\/3374\/0846\/products\/599e95ac3094d9345e7cd684-0-large_540x_590x_539f0966-e524-48ef-ba0c-0269905b63f5.jpg?v=1580711810","variant_ids":[30235410235438,30235410268206,30235410300974,30235410333742,30235410366510,30235410399278,30235410464814,30235410497582,30235410530350,30235410563118,30235410595886,30235410628654,30235410661422,30235410694190,30235410726958,30235410759726,30235410792494,30235410825262,30235410858030,30235410890798]},"available":true,"name":"(Hot Sale)Spider-Man Costume Halloween Cosplay 3D Printed Suit-Buy 2 get free shipping - RED \/ 180-190 CM \/ 1PC","public_title":"RED \/ 180-190 CM \/ 1PC","options":["RED","180-190 CM","1PC"],"price":3999,"weight":0,"compare_at_price":7998,"inventory_management":null,"barcode":null,"featured_media":{"alt":null,"id":892768878638,"position":1,"preview_image":{"aspect_ratio":1.0,"height":540,"width":540,"src":"https:\/\/cdn.shopify.com\/s\/files\/1\/0040\/3374\/0846\/products\/599e95ac3094d9345e7cd684-0-large_540x_590x_539f0966-e524-48ef-ba0c-0269905b63f5.jpg?v=1570384733"}}},{"id":30235410825262,"title":"RED \/ 180-190 CM \/ 2PC","option1":"RED","option2":"180-190 CM","option3":"2PC","sku":"Clothes001BK100","requires_shipping":true,"taxable":true,"featured_image":{"id":12760802099246,"product_id":4118218571822,"position":1,"created_at":"2019-09-22T12:10:21+08:00","updated_at":"2020-02-03T14:36:50+08:00","alt":null,"width":540,"height":540,"src":"https:\/\/cdn.shopify.com\/s\/files\/1\/0040\/3374\/0846\/products\/599e95ac3094d9345e7cd684-0-large_540x_590x_539f0966-e524-48ef-ba0c-0269905b63f5.jpg?v=1580711810","variant_ids":[30235410235438,30235410268206,30235410300974,30235410333742,30235410366510,30235410399278,30235410464814,30235410497582,30235410530350,30235410563118,30235410595886,30235410628654,30235410661422,30235410694190,30235410726958,30235410759726,30235410792494,30235410825262,30235410858030,30235410890798]},"available":true,"name":"(Hot Sale)Spider-Man Costume Halloween Cosplay 3D Printed Suit-Buy 2 get free shipping - RED \/ 180-190 CM \/ 2PC","public_title":"RED \/ 180-190 CM \/ 2PC","options":["RED","180-190 CM","2PC"],"price":3999,"weight":0,"compare_at_price":7998,"inventory_management":null,"barcode":null,"featured_media":{"alt":null,"id":892768878638,"position":1,"preview_image":{"aspect_ratio":1.0,"height":540,"width":540,"src":"https:\/\/cdn.shopify.com\/s\/files\/1\/0040\/3374\/0846\/products\/599e95ac3094d9345e7cd684-0-large_540x_590x_539f0966-e524-48ef-ba0c-0269905b63f5.jpg?v=1570384733"}}},{"id":30235410858030,"title":"RED \/ Stunt scooter \/ 1PC","option1":"RED","option2":"Stunt scooter","option3":"1PC","sku":"Clothes001BK100","requires_shipping":true,"taxable":true,"featured_image":{"id":12760802099246,"product_id":4118218571822,"position":1,"created_at":"2019-09-22T12:10:21+08:00","updated_at":"2020-02-03T14:36:50+08:00","alt":null,"width":540,"height":540,"src":"https:\/\/cdn.shopify.com\/s\/files\/1\/0040\/3374\/0846\/products\/599e95ac3094d9345e7cd684-0-large_540x_590x_539f0966-e524-48ef-ba0c-0269905b63f5.jpg?v=1580711810","variant_ids":[30235410235438,30235410268206,30235410300974,30235410333742,30235410366510,30235410399278,30235410464814,30235410497582,30235410530350,30235410563118,30235410595886,30235410628654,30235410661422,30235410694190,30235410726958,30235410759726,30235410792494,30235410825262,30235410858030,30235410890798]},"available":true,"name":"(Hot Sale)Spider-Man Costume Halloween Cosplay 3D Printed Suit-Buy 2 get free shipping - RED \/ Stunt scooter \/ 1PC","public_title":"RED \/ Stunt scooter \/ 1PC","options":["RED","Stunt scooter","1PC"],"price":3999,"weight":0,"compare_at_price":7998,"inventory_management":null,"barcode":null,"featured_media":{"alt":null,"id":892768878638,"position":1,"preview_image":{"aspect_ratio":1.0,"height":540,"width":540,"src":"https:\/\/cdn.shopify.com\/s\/files\/1\/0040\/3374\/0846\/products\/599e95ac3094d9345e7cd684-0-large_540x_590x_539f0966-e524-48ef-ba0c-0269905b63f5.jpg?v=1570384733"}}},{"id":30235410890798,"title":"RED \/ Stunt scooter \/ 2PC","option1":"RED","option2":"Stunt scooter","option3":"2PC","sku":"Clothes001BK100","requires_shipping":true,"taxable":true,"featured_image":{"id":12760802099246,"product_id":4118218571822,"position":1,"created_at":"2019-09-22T12:10:21+08:00","updated_at":"2020-02-03T14:36:50+08:00","alt":null,"width":540,"height":540,"src":"https:\/\/cdn.shopify.com\/s\/files\/1\/0040\/3374\/0846\/products\/599e95ac3094d9345e7cd684-0-large_540x_590x_539f0966-e524-48ef-ba0c-0269905b63f5.jpg?v=1580711810","variant_ids":[30235410235438,30235410268206,30235410300974,30235410333742,30235410366510,30235410399278,30235410464814,30235410497582,30235410530350,30235410563118,30235410595886,30235410628654,30235410661422,30235410694190,30235410726958,30235410759726,30235410792494,30235410825262,30235410858030,30235410890798]},"available":true,"name":"(Hot Sale)Spider-Man Costume Halloween Cosplay 3D Printed Suit-Buy 2 get free shipping - RED \/ Stunt scooter \/ 2PC","public_title":"RED \/ Stunt scooter \/ 2PC","options":["RED","Stunt scooter","2PC"],"price":3999,"weight":0,"compare_at_price":7998,"inventory_management":null,"barcode":null,"featured_media":{"alt":null,"id":892768878638,"position":1,"preview_image":{"aspect_ratio":1.0,"height":540,"width":540,"src":"https:\/\/cdn.shopify.com\/s\/files\/1\/0040\/3374\/0846\/products\/599e95ac3094d9345e7cd684-0-large_540x_590x_539f0966-e524-48ef-ba0c-0269905b63f5.jpg?v=1570384733"}}}],"images":["\/\/cdn.shopify.com\/s\/files\/1\/0040\/3374\/0846\/products\/599e95ac3094d9345e7cd684-0-large_540x_590x_539f0966-e524-48ef-ba0c-0269905b63f5.jpg?v=1580711810","\/\/cdn.shopify.com\/s\/files\/1\/0040\/3374\/0846\/products\/c355996a8d47824c8939bd91e3b6fa21_3f0f281b-1952-481b-b585-3ffc9933836f.jpg?v=1580711812","\/\/cdn.shopify.com\/s\/files\/1\/0040\/3374\/0846\/products\/dPAzHidBWj_1_540x_540x_1584780a-40e6-4b8b-b616-2fba5bf627a7.jpg?v=1580711751","\/\/cdn.shopify.com\/s\/files\/1\/0040\/3374\/0846\/products\/4cptzBkCJ2_540x_540x_49fd9197-cb7b-4f87-8ab7-e96abab052ec.jpg?v=1580711751","\/\/cdn.shopify.com\/s\/files\/1\/0040\/3374\/0846\/products\/aQQSKCxhx2_540x_540x_76c17ae4-9b9f-4cdc-a2b1-a100cff987ac.jpg?v=1580711751","\/\/cdn.shopify.com\/s\/files\/1\/0040\/3374\/0846\/products\/599e95ac3094d9345e7cd684-18-large_540x_540x_9431ab02-ac23-4107-a373-662032ebb889.jpg?v=1580711688","\/\/cdn.shopify.com\/s\/files\/1\/0040\/3374\/0846\/products\/599e95ac3094d9345e7cd684-19-large_540x_540x_264525b8-11e5-48e4-b7ab-330bb36b774b.jpg?v=1580711689","\/\/cdn.shopify.com\/s\/files\/1\/0040\/3374\/0846\/products\/599e95ac3094d9345e7cd684-17-large_540x_540x_0ba68669-675c-4486-b9fc-3c9eff79ea40.jpg?v=1580711688","\/\/cdn.shopify.com\/s\/files\/1\/0040\/3374\/0846\/products\/1_720x_b3402e82-5845-4eea-aca2-08065a7412e8.jpg?v=1580711628","\/\/cdn.shopify.com\/s\/files\/1\/0040\/3374\/0846\/products\/2_720x_11ee839e-6a19-4599-bb15-091c6359ee03.jpg?v=1580711627","\/\/cdn.shopify.com\/s\/files\/1\/0040\/3374\/0846\/products\/4_720x_fd0ec56d-adef-4b30-849c-62da267c1301.jpg?v=1580711628","\/\/cdn.shopify.com\/s\/files\/1\/0040\/3374\/0846\/products\/aa_540x_44011350-45ca-487a-8f31-0fdd8865cc4c.jpg?v=1580711574","\/\/cdn.shopify.com\/s\/files\/1\/0040\/3374\/0846\/products\/500_708f262c-08ef-457b-8be8-18476b37f239.jpg?v=1580711573","\/\/cdn.shopify.com\/s\/files\/1\/0040\/3374\/0846\/products\/bb_540x_16b53ee0-dab9-4bcf-93ea-17b75393dc63.jpg?v=1580711574"],"featured_image":"\/\/cdn.shopify.com\/s\/files\/1\/0040\/3374\/0846\/products\/599e95ac3094d9345e7cd684-0-large_540x_590x_539f0966-e524-48ef-ba0c-0269905b63f5.jpg?v=1580711810","options":["Color","Size (Height)","Sale"],"media":[{"alt":null,"id":892768878638,"position":1,"preview_image":{"aspect_ratio":1.0,"height":540,"width":540,"src":"https:\/\/cdn.shopify.com\/s\/files\/1\/0040\/3374\/0846\/products\/599e95ac3094d9345e7cd684-0-large_540x_590x_539f0966-e524-48ef-ba0c-0269905b63f5.jpg?v=1570384733"},"aspect_ratio":1.0,"height":540,"media_type":"image","src":"https:\/\/cdn.shopify.com\/s\/files\/1\/0040\/3374\/0846\/products\/599e95ac3094d9345e7cd684-0-large_540x_590x_539f0966-e524-48ef-ba0c-0269905b63f5.jpg?v=1570384733","width":540},{"alt":null,"id":892768911406,"position":2,"preview_image":{"aspect_ratio":1.0,"height":400,"width":400,"src":"https:\/\/cdn.shopify.com\/s\/files\/1\/0040\/3374\/0846\/products\/c355996a8d47824c8939bd91e3b6fa21_3f0f281b-1952-481b-b585-3ffc9933836f.jpg?v=1570384731"},"aspect_ratio":1.0,"height":400,"media_type":"image","src":"https:\/\/cdn.shopify.com\/s\/files\/1\/0040\/3374\/0846\/products\/c355996a8d47824c8939bd91e3b6fa21_3f0f281b-1952-481b-b585-3ffc9933836f.jpg?v=1570384731","width":400},{"alt":null,"id":892768944174,"position":3,"preview_image":{"aspect_ratio":0.9,"height":600,"width":540,"src":"https:\/\/cdn.shopify.com\/s\/files\/1\/0040\/3374\/0846\/products\/dPAzHidBWj_1_540x_540x_1584780a-40e6-4b8b-b616-2fba5bf627a7.jpg?v=1570384672"},"aspect_ratio":0.9,"height":600,"media_type":"image","src":"https:\/\/cdn.shopify.com\/s\/files\/1\/0040\/3374\/0846\/products\/dPAzHidBWj_1_540x_540x_1584780a-40e6-4b8b-b616-2fba5bf627a7.jpg?v=1570384672","width":540},{"alt":null,"id":892768976942,"position":4,"preview_image":{"aspect_ratio":0.903,"height":598,"width":540,"src":"https:\/\/cdn.shopify.com\/s\/files\/1\/0040\/3374\/0846\/products\/4cptzBkCJ2_540x_540x_49fd9197-cb7b-4f87-8ab7-e96abab052ec.jpg?v=1570384672"},"aspect_ratio":0.903,"height":598,"media_type":"image","src":"https:\/\/cdn.shopify.com\/s\/files\/1\/0040\/3374\/0846\/products\/4cptzBkCJ2_540x_540x_49fd9197-cb7b-4f87-8ab7-e96abab052ec.jpg?v=1570384672","width":540},{"alt":null,"id":892769009710,"position":5,"preview_image":{"aspect_ratio":0.902,"height":599,"width":540,"src":"https:\/\/cdn.shopify.com\/s\/files\/1\/0040\/3374\/0846\/products\/aQQSKCxhx2_540x_540x_76c17ae4-9b9f-4cdc-a2b1-a100cff987ac.jpg?v=1570384673"},"aspect_ratio":0.902,"height":599,"media_type":"image","src":"https:\/\/cdn.shopify.com\/s\/files\/1\/0040\/3374\/0846\/products\/aQQSKCxhx2_540x_540x_76c17ae4-9b9f-4cdc-a2b1-a100cff987ac.jpg?v=1570384673","width":540},{"alt":null,"id":892769042478,"position":6,"preview_image":{"aspect_ratio":1.0,"height":540,"width":540,"src":"https:\/\/cdn.shopify.com\/s\/files\/1\/0040\/3374\/0846\/products\/599e95ac3094d9345e7cd684-18-large_540x_540x_9431ab02-ac23-4107-a373-662032ebb889.jpg?v=1570384611"},"aspect_ratio":1.0,"height":540,"media_type":"image","src":"https:\/\/cdn.shopify.com\/s\/files\/1\/0040\/3374\/0846\/products\/599e95ac3094d9345e7cd684-18-large_540x_540x_9431ab02-ac23-4107-a373-662032ebb889.jpg?v=1570384611","width":540},{"alt":null,"id":892769075246,"position":7,"preview_image":{"aspect_ratio":1.0,"height":540,"width":540,"src":"https:\/\/cdn.shopify.com\/s\/files\/1\/0040\/3374\/0846\/products\/599e95ac3094d9345e7cd684-19-large_540x_540x_264525b8-11e5-48e4-b7ab-330bb36b774b.jpg?v=1570384612"},"aspect_ratio":1.0,"height":540,"media_type":"image","src":"https:\/\/cdn.shopify.com\/s\/files\/1\/0040\/3374\/0846\/products\/599e95ac3094d9345e7cd684-19-large_540x_540x_264525b8-11e5-48e4-b7ab-330bb36b774b.jpg?v=1570384612","width":540},{"alt":null,"id":892769140782,"position":8,"preview_image":{"aspect_ratio":1.0,"height":540,"width":540,"src":"https:\/\/cdn.shopify.com\/s\/files\/1\/0040\/3374\/0846\/products\/599e95ac3094d9345e7cd684-17-large_540x_540x_0ba68669-675c-4486-b9fc-3c9eff79ea40.jpg?v=1570384611"},"aspect_ratio":1.0,"height":540,"media_type":"image","src":"https:\/\/cdn.shopify.com\/s\/files\/1\/0040\/3374\/0846\/products\/599e95ac3094d9345e7cd684-17-large_540x_540x_0ba68669-675c-4486-b9fc-3c9eff79ea40.jpg?v=1570384611","width":540},{"alt":null,"id":892769173550,"position":9,"preview_image":{"aspect_ratio":0.818,"height":782,"width":640,"src":"https:\/\/cdn.shopify.com\/s\/files\/1\/0040\/3374\/0846\/products\/1_720x_b3402e82-5845-4eea-aca2-08065a7412e8.jpg?v=1570384551"},"aspect_ratio":0.818,"height":782,"media_type":"image","src":"https:\/\/cdn.shopify.com\/s\/files\/1\/0040\/3374\/0846\/products\/1_720x_b3402e82-5845-4eea-aca2-08065a7412e8.jpg?v=1570384551","width":640},{"alt":null,"id":892769206318,"position":10,"preview_image":{"aspect_ratio":1.204,"height":598,"width":720,"src":"https:\/\/cdn.shopify.com\/s\/files\/1\/0040\/3374\/0846\/products\/2_720x_11ee839e-6a19-4599-bb15-091c6359ee03.jpg?v=1570384551"},"aspect_ratio":1.204,"height":598,"media_type":"image","src":"https:\/\/cdn.shopify.com\/s\/files\/1\/0040\/3374\/0846\/products\/2_720x_11ee839e-6a19-4599-bb15-091c6359ee03.jpg?v=1570384551","width":720},{"alt":null,"id":892769239086,"position":11,"preview_image":{"aspect_ratio":1.109,"height":649,"width":720,"src":"https:\/\/cdn.shopify.com\/s\/files\/1\/0040\/3374\/0846\/products\/4_720x_fd0ec56d-adef-4b30-849c-62da267c1301.jpg?v=1570384551"},"aspect_ratio":1.109,"height":649,"media_type":"image","src":"https:\/\/cdn.shopify.com\/s\/files\/1\/0040\/3374\/0846\/products\/4_720x_fd0ec56d-adef-4b30-849c-62da267c1301.jpg?v=1570384551","width":720},{"alt":null,"id":892769271854,"position":12,"preview_image":{"aspect_ratio":0.998,"height":500,"width":499,"src":"https:\/\/cdn.shopify.com\/s\/files\/1\/0040\/3374\/0846\/products\/aa_540x_44011350-45ca-487a-8f31-0fdd8865cc4c.jpg?v=1570384492"},"aspect_ratio":0.998,"height":500,"media_type":"image","src":"https:\/\/cdn.shopify.com\/s\/files\/1\/0040\/3374\/0846\/products\/aa_540x_44011350-45ca-487a-8f31-0fdd8865cc4c.jpg?v=1570384492","width":499},{"alt":null,"id":892769304622,"position":13,"preview_image":{"aspect_ratio":1.779,"height":281,"width":500,"src":"https:\/\/cdn.shopify.com\/s\/files\/1\/0040\/3374\/0846\/products\/500_708f262c-08ef-457b-8be8-18476b37f239.jpg?v=1570384492"},"aspect_ratio":1.779,"height":281,"media_type":"image","src":"https:\/\/cdn.shopify.com\/s\/files\/1\/0040\/3374\/0846\/products\/500_708f262c-08ef-457b-8be8-18476b37f239.jpg?v=1570384492","width":500},{"alt":null,"id":892769337390,"position":14,"preview_image":{"aspect_ratio":1.328,"height":375,"width":498,"src":"https:\/\/cdn.shopify.com\/s\/files\/1\/0040\/3374\/0846\/products\/bb_540x_16b53ee0-dab9-4bcf-93ea-17b75393dc63.jpg?v=1570384492"},"aspect_ratio":1.328,"height":375,"media_type":"image","src":"https:\/\/cdn.shopify.com\/s\/files\/1\/0040\/3374\/0846\/products\/bb_540x_16b53ee0-dab9-4bcf-93ea-17b75393dc63.jpg?v=1570384492","width":498}],"content":"\u003cdiv\u003e\n\u003cp\u003e\u003cspan\u003e\u003cstrong\u003e\u003cimg src=\"https:\/\/cdn.shopify.com\/s\/files\/1\/2587\/4640\/files\/best-seller_medium_d635805c-80f9-4c17-b898-6550143d3caa_large.png?v=1521028411\"\u003e\u003c\/strong\u003e\u003c\/span\u003e\u003c\/p\u003e\n\u003cul class=\"a-unordered-list a-vertical a-spacing-none\"\u003e\n\u003cli\u003e\u003cspan\u003e\u003cstrong\u003e\u003cspan style=\"color: #ff0000;\"\u003eHandling time\u0026gt;\u0026gt;\u003c\/span\u003e \u003c\/strong\u003eShip within \u003cspan style=\"color: #ff0000;\"\u003e\u003cstrong\u003e24\u003c\/strong\u003e\u003c\/span\u003e\u003cstrong\u003e\u003cspan style=\"color: #ff0000;\"\u003e hours\u003c\/span\u003e \u003c\/strong\u003eafter payment\u003c\/span\u003e\u003c\/li\u003e\n\u003cli\u003e\u003cspan\u003eWorldwide Shipping,\u003cstrong\u003e\u003cspan style=\"color: #ff0000;\"\u003e7-12 Days\u003c\/span\u003e \u003c\/strong\u003eReceiving\u003c\/span\u003e\u003c\/li\u003e\n\u003cli\u003e\u003cspan style=\"color: #ff0000;\"\u003e\u003cstrong\u003e100% Money Back Guarantee. \u003c\/strong\u003e\u003c\/span\u003e\u003c\/li\u003e\n\u003cli\u003e\u003cspan\u003eThis product was recommended by 99% of reviewers.\u003c\/span\u003e\u003c\/li\u003e\n\u003c\/ul\u003e\n\u003c\/div\u003e\u003cimg src=\"https:\/\/i.gifer.com\/6KJY.gif\" alt=\"\" width=\"373\" height=\"210\" style=\"display: block; margin-left: auto; margin-right: auto;\"\u003e\u003cdiv\u003e\u003cimg src=\"\/\/cdn.shopify.com\/s\/files\/1\/0082\/7857\/3127\/files\/maxresdefault_large.jpg?v=1567821916\" alt=\"\" style=\"display: block; margin-left: auto; margin-right: auto;\"\u003e\u003c\/div\u003eWe have no Radioactive Spiders to offer you, so you cannot start climbing roof-tops and swinging around the neighborhood all of a sudden. But start rocking our Spider-man Costume Suit and you can impress your Family \u0026amp; Friends! \u003cdiv\u003e\u003cimg src=\"https:\/\/cdn.shopify.com\/s\/files\/1\/0035\/7960\/9158\/files\/4a00a9ee4f42881348f7162cae4aa898585433b2_00_large.gif?v=1538414995\" alt=\"\" style=\"display: block; margin-left: auto; margin-right: auto;\"\u003e\u003c\/div\u003e\u003cspan\u003eThe \u003cstrong\u003eSpider-man Costume Suit\u003c\/strong\u003e makes a great choice for trick-or-treating, costume parties and role-play. \u003c\/span\u003e\u003cp\u003e\u003cimg src=\"https:\/\/cdn.shopify.com\/s\/files\/1\/0035\/7960\/9158\/files\/giphy_5_large.gif?v=1538455676\" alt=\"\" style=\"display: block; margin-left: auto; margin-right: auto;\"\u003e\u003c\/p\u003e\u003cp\u003e\u003cstrong\u003eFEATURES:\u003c\/strong\u003e\u003c\/p\u003e\u003cul\u003e\n\u003cli\u003e\u003cspan\u003e88% Polyester\/12% Spandex.\u003c\/span\u003e\u003c\/li\u003e\n\u003cli\u003e\u003cspan\u003eHand Wash.\u003c\/span\u003e\u003c\/li\u003e\n\u003cli\u003e\u003cspan\u003eFeatures a gel spider patch on chest.\u003c\/span\u003e\u003c\/li\u003e\n\u003cli\u003e\u003cspan\u003eAuthentic theatrical quality costumes.\u003c\/span\u003e\u003c\/li\u003e\n\u003cli\u003e\u003cspan\u003eGive yourself a smooth and classic appearance like the one your favorite celebrity has by wearing these jackets in your gatherings or any costume event.\u003c\/span\u003e\u003c\/li\u003e\n\u003c\/ul\u003e\u003ch3\u003e\u003cstrong\u003eSTUNT SCOOTER SPIDERMAN Toy Riding on Skateboards with Music and Sound Effect\u003c\/strong\u003e\u003c\/h3\u003e\u003cp\u003e\u003cspan\u003e\u003cimg src=\"\/\/cdn.shopify.com\/s\/files\/1\/0066\/3493\/0266\/files\/Stunt-scooter1_large.gif?v=1568333517\" alt=\"\" style=\"display: block; margin-left: auto; margin-right: auto;\"\u003e\u003c\/span\u003e\u003c\/p\u003e\u003ch4\u003e\u003cstrong\u003ePackage\u003c\/strong\u003e\u003c\/h4\u003e\u003cul class=\"packing-list\"\u003e\n\u003cli\u003e\n\u003cspan\u003eShipping Weight : \u003c\/span\u003e0.5 kg\u003c\/li\u003e\n\u003cli\u003e\n\u003cspan\u003eNet Weight : \u003c\/span\u003e\u003cem\u003e\u003c\/em\u003e0.45kg\u003c\/li\u003e\n\u003cli\u003e\n\u003cspan\u003ePackage Size :\u003c\/span\u003e\u003cspan\u003e \u003c\/span\u003e\u003cem\u003e\u003c\/em\u003e40.0cm x 20.0cm x 5.0cm\u003c\/li\u003e\n\u003cli\u003e\n\u003cspan\u003eWhat's in the box :\u003c\/span\u003e\u003cspan\u003e \u003c\/span\u003e\u003cem\u003e1 X Spider-man Costumes\u003c\/em\u003e\n\u003c\/li\u003e\n\u003c\/ul\u003e\u003cp\u003e\u003cstrong\u003eNote: \u003cbr\u003e\u003c\/strong\u003e\u003c\/p\u003e\u003cul\u003e\n\u003cli\u003e\u003cspan\u003e\u003cstrong\u003eTry to pick the exact fit for your size\u003c\/strong\u003e\u003c\/span\u003e\u003c\/li\u003e\n\u003cli\u003e\u003cspan\u003e\u003cstrong\u003eBoth costumes are slightly elastic\u003c\/strong\u003e\u003c\/span\u003e\u003c\/li\u003e\n\u003cli\u003e\u003cspan\u003e\u003cstrong\u003eIf the size is too large it may not look as good\u003c\/strong\u003e\u003c\/span\u003e\u003c\/li\u003e\n\u003cli\u003e\u003cspan\u003e\u003cstrong\u003eIf the size is too small it will be uncomfortable\u003c\/strong\u003e\u003c\/span\u003e\u003c\/li\u003e\n\u003cli\u003e\u003cspan\u003e\u003cstrong\u003eIf your Chest or Waist is bigger than the average person for a particular height, consider selecting the larger size\u003c\/strong\u003e\u003c\/span\u003e\u003c\/li\u003e\n\u003cli\u003e\u003cspan\u003e\u003cstrong\u003eYou will probably want to wear additional clothing inside as it may get cold as we approach the Winter Season\u003c\/strong\u003e\u003c\/span\u003e\u003c\/li\u003e\n\u003cli\u003e\u003cspan\u003e\u003cstrong\u003eAs such, we recommend trying to match your body size based on your measurements\u003c\/strong\u003e\u003c\/span\u003e\u003c\/li\u003e\n\u003c\/ul\u003e\u003cimg src=\"https:\/\/cdn.shopify.com\/s\/files\/1\/0035\/7960\/9158\/files\/Red_eeb8ec1f-6e03-4784-8108-d9b62ef90abc_grande.png?v=1538798497\" alt=\"\"\u003e \u003cbr\u003e\u003cp\u003e\u003cspan\u003eThe 4 smallest sizes are for children and are slightly different - They come with a zipper. The 4 largest sizes are for adults - They do not come with a zipper and the chest\/waist\/shoulder widths are much broader.\u003cbr\u003e\u003c\/span\u003e\u003c\/p\u003e\u003cp\u003e\u003cimg src=\"https:\/\/cdn.shopify.com\/s\/files\/1\/0035\/7960\/9158\/files\/Red_grande.png?v=1538795763\" alt=\"\"\u003e\u003c\/p\u003e\u003cp\u003eSize refers to Height in cm. For those using the Imperial System, kindly refer to the conversion chart to convert your height from feet to cm. Length refers to the total length (height) of the costume. \u003cbr\u003e\u003cimg alt=\"\" src=\"\/\/cdn.shopify.com\/s\/files\/1\/0082\/7857\/3127\/files\/2.jpg?v=1567582503\" style=\"float: none;\"\u003e\u003cbr\u003e\u003cspan\u003e\u003cstrong\u003e \u003cimg src=\"https:\/\/cdn.shopify.com\/s\/files\/1\/0035\/7960\/9158\/files\/giphy_1_1_large.gif?v=1538455808\" alt=\"\"\u003e\u003c\/strong\u003e\u003c\/span\u003e\u003c\/p\u003e\u003cp\u003e\u003cspan style=\"color: #ff0000;\"\u003e\u003cem\u003e\u003cstrong\u003eSupporting Goods Recommendations\u003c\/strong\u003e\u003c\/em\u003e\u003c\/span\u003e\u003c\/p\u003e\u003cp\u003e\u003cstrong\u003eNO 1 60% OFF TODAY - White Bunny Rabbit Bloody Creepy Scary Mask  $ 18.80 ONLY\u0026gt;\u0026gt;https:\/\/bit.ly\/2zv3wdS\u003c\/strong\u003e\u003c\/p\u003e\u003cp\u003e\u003cstrong\u003e\u003cspan\u003e\u003cimg src=\"https:\/\/cdn.shopify.com\/s\/files\/1\/0066\/3493\/0266\/products\/2_5695d222-185a-4387-bdb9-1857978edb0f_300x.jpg?v=1568236246\" alt=\"50% OFF TODAY - White Bunny Rabbit Bloody Creepy Scary Mask\"\u003e\u003c\/span\u003e\u003c\/strong\u003e\u003c\/p\u003e\u003cp\u003e\u003cstrong\u003e\u003cspan\u003eNO 2 60% OFF- IT - Pennywise Deluxe Edition Mask\u003c\/span\u003e\u003c\/strong\u003e\u003c\/p\u003e\u003cp\u003e\u003cstrong\u003e\u003cspan\u003e$59.99\u003c\/span\u003e\u003c\/strong\u003e\u003cstrong\u003e\u003cspan\u003eONLY \u0026gt;\u0026gt;https:\/\/bit.ly\/2kNvUUK\u003c\/span\u003e\u003c\/strong\u003e\u003c\/p\u003e\u003cp\u003e\u003cstrong\u003e\u003cspan\u003e\u003cimg src=\"https:\/\/cdn.shopify.com\/s\/files\/1\/0066\/3493\/0266\/products\/1_85760b2b-3eb6-43e8-a0f6-4eea4c2c543c_300x300.png?v=1568236464\" alt=\"50% OFF- IT - Pennywise Deluxe Edition Mask\"\u003e\u003c\/span\u003e\u003c\/strong\u003e\u003c\/p\u003e\u003ch3\u003e\u003cspan\u003e4 GREAT REASONS TO BUY FROM US\u003c\/span\u003e\u003c\/h3\u003e\u003ch3\u003e\n\u003cspan\u003e\u003c\/span\u003e\u003cimg src=\"https:\/\/cdn.shopify.com\/s\/files\/1\/1569\/2079\/files\/trust.png?v=1503150603\" alt=\"\"\u003e\n\u003c\/h3\u003e\u003ch3\u003e\u003cspan\u003eSHIPPING\u003c\/span\u003e\u003c\/h3\u003e\u003cul\u003e\n\u003cli\u003eShipping takes \u003cspan\u003e7-14 Days \u003c\/span\u003edepending on location.\u003c\/li\u003e\n\u003cli\u003eSome distant areas can take a bit longer.But we'll get it to you\u003c\/li\u003e\n\u003c\/ul\u003e\u003ch3\u003e\u003cspan\u003eOUR GUARANTEE\u003c\/span\u003e\u003c\/h3\u003e\u003cul\u003e\n\u003cli\u003e\u003cspan\u003eWe truly believe we carry some of the most innovativeproducts in the world, and we want to make sure we back that up with a risk-free ironclad 90 day guarantee.\u003c\/span\u003e\u003c\/li\u003e\n\u003cli\u003e\u003cspan\u003eIf you don't have a positive experience for ANY reason, we will do WHATEVER it takes to make sure you are 100% satisfied with your purchase.\u003c\/span\u003e\u003c\/li\u003e\n\u003cli\u003e\u003cspan\u003eBuying items online can be a daunting task, so we want you to realize that there is absolute ZERO risk in buying something and trying it out. If you don't like it, no hard feelings we'll make it right.\u003c\/span\u003e\u003c\/li\u003e\n\u003cli\u003e\u003cspan\u003eWe have 24\/7\/365 Ticket and Email Support. Please contact us if you need assistance.\u003c\/span\u003e\u003c\/li\u003e\n\u003c\/ul\u003e"}
(Hot Sale)Spider-Man Costume Halloween Cosplay 3D Printed Suit-Buy 2 get free shipping
Product Description
Handling time>>

 Ship within 24

 hours

 after payment
Worldwide Shipping,

7-12 Days

 Receiving
100% Money Back Guarantee. 

This product was recommended by 99% of reviewers.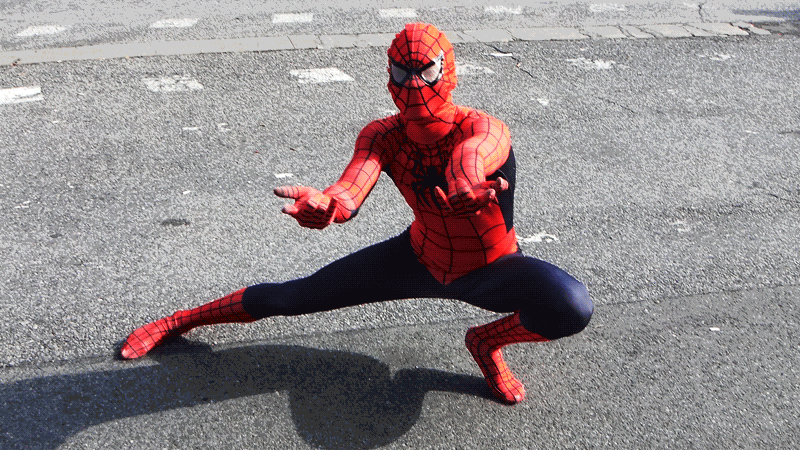 We have no Radioactive Spiders to offer you, so you cannot start climbing roof-tops and swinging around the neighborhood all of a sudden. But start rocking our Spider-man Costume Suit and you can impress your Family & Friends! 
The Spider-man Costume Suit makes a great choice for trick-or-treating, costume parties and role-play. 
FEATURES:
88% Polyester/12% Spandex.

Hand Wash.

Features a gel spider patch on chest.

Authentic theatrical quality costumes.

Give yourself a smooth and classic appearance like the one your favorite celebrity has by wearing these jackets in your gatherings or any costume event.
STUNT SCOOTER SPIDERMAN Toy Riding on Skateboards with Music and Sound Effect
Package
Shipping Weight : 

0.5 kg

Net Weight : 

0.45kg

Package Size :

 

40.0cm x 20.0cm x 5.0cm

What's in the box :

 

1 X Spider-man Costumes
Note: 

Try to pick the exact fit for your size
Both costumes are slightly elastic
If the size is too large it may not look as good
If the size is too small it will be uncomfortable
If your Chest or Waist is bigger than the average person for a particular height, consider selecting the larger size
You will probably want to wear additional clothing inside as it may get cold as we approach the Winter Season
As such, we recommend trying to match your body size based on your measurements
The 4 smallest sizes are for children and are slightly different - They come with a zipper. The 4 largest sizes are for adults - They do not come with a zipper and the chest/waist/shoulder widths are much broader.

Size refers to Height in cm. For those using the Imperial System, kindly refer to the conversion chart to convert your height from feet to cm. Length refers to the total length (height) of the costume. 

Supporting Goods Recommendations
NO 1 60% OFF TODAY - White Bunny Rabbit Bloody Creepy Scary Mask  $ 18.80 ONLY>>https://bit.ly/2zv3wdS
NO 2 60% OFF- IT - Pennywise Deluxe Edition Mask
$59.99ONLY >>https://bit.ly/2kNvUUK
4 GREAT REASONS TO BUY FROM US

SHIPPING
Shipping takes 

7-14 Days 

depending on location.
Some distant areas can take a bit longer.But we'll get it to you
OUR GUARANTEE
We truly believe we carry some of the most innovativeproducts in the world, and we want to make sure we back that up with a risk-free ironclad 90 day guarantee.

If you don't have a positive experience for ANY reason, we will do WHATEVER it takes to make sure you are 100% satisfied with your purchase.

Buying items online can be a daunting task, so we want you to realize that there is absolute ZERO risk in buying something and trying it out. If you don't like it, no hard feelings we'll make it right.

We have 24/7/365 Ticket and Email Support. Please contact us if you need assistance.